Wine Down to the Weekend
5-7 p.m. Oct. 19, Reitz Home Museum, 112 Chestnut St.
The last weekend of Wine Down features singer and guitarist Lindsey Williams.
The 1619 Project Book Discussion
6-7 p.m. Oct. 19, Your Brother's Bookstore, 504 Main St.
The reading group finishes its book discussion before author Nikole Hannah-Jones' keynote speech at the Mayor's Celebration of Diversity Awards.
The Spitfire Grill
7:30 p.m. Oct. 19, Academy of Innovative Studies, 2319 Stringtown Road
The Jacob Ball Wish Fund presents this musical about finding joy and redemption.
Lisa DeLucio and Joanne Massey Opening Reception
5-8 p.m. Oct. 20, The Rumjahn Gallery and Framery, 5901 Vogel Road
Meet the featured artists and explore their paintings on display.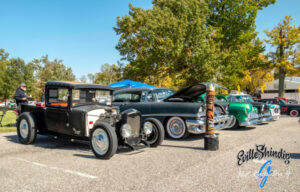 Eville Shindig Hot Rod Kustoms and Rockabilly Weekend
9 a.m. Oct. 20-22, Vanderburgh 4-H Center, 201 E. Boonville-New Harmony Road
Celebrate vintage cars with a rockabilly music festival and Monsters Ball Costume Party.
ROTC Norwegian Foot March
Oct. 21, University of Southern Indiana, 8600 University Blvd.
Participants complete this intense challenge by carrying a 25-pound rucksack across 18.6 miles.
Miles for Mutts 5K
8 a.m. Oct. 21, Warrick Humane Society, 5722 Vann Road, Newburgh, Indiana
Lace-up your sneakers for this race benefiting the Warrick Humane Society. Registration is $30.
The Inaugural Butterfly 5K Run/Walk
9 a.m. Oct. 21, 132 Second St., Henderson, Kentucky
For $35, help raise funds for the domestic violence group The Chloe Randolph Organization.
Urban Hike
10 a.m. Oct. 21, Sweet Schmitt's Candy, 422 N. Main St.
Join Evansville Trails Coalition's one-mile hike along the Virginia Street multi-use trail.
Vann Park Neighbors Fest
10 a.m. Oct. 21, 3101 Bayard Park Drive
Enjoy yoga, art, kids' activities, and food from Bruce Li, 3 Chicks Fudgery, and La Plaza.
NAMIWalks Evansville
10 a.m.-1 p.m. Oct. 21, Wesselman Woods, 551 N. Boeke Road
This walk raises mental health awareness and includes a photo booth, vendors, and a dog park.
Fall YART 2023
10 a.m.-4 p.m. Oct. 21, Angel Mounds State Historic Site, 8215 Pollack Ave.
This fine art sale benefits the artists directly. Enjoy food from Lashbrook's Barbecue.
Highland Challenger League Golf Scramble
11 a.m.-6 p.m. Oct. 21, Cambridge Golf Course, 1034 Beacon Hill
Prizes will be awarded to the top two teams, closest to pin, longest drive or putt, and craziest dressed foursome. Supports the Highland Challenger Baseball League family fund.
Evansville Holistic Expo
noon-5 p.m. Oct. 21, Washington Square Mall, 4800 S. Green River Road
Get a head start on your New Year's resolutions by meeting with chiropractors, massage therapists, and fitness vendors.
Evansville Vanderburgh Public Library Halloween Puppets Show
2-3:30 p.m. Oct. 21, Evansville Vanderburgh Public Library Central, 200 S.E. Martin Luther King Jr. Blvd.
Puppets tell spooky stories, followed by an arts and crafts project.
Oak Hill Cemetery Twilight Tour
5 p.m. Oct. 21, Oak Hill Cemetery & Arboretum, 1499 E. Columbia St.
This tour features reenactors and benefits the Adopt an Ash program. Tickets cost $15.
Dinner and a Movie
5:45 p.m. Oct. 21, First Presbyterian Church, 609 S.E. Second St.
Enjoy soup dinner and a screening of the silent movies "Easy Street" and "Dr. Jekyll and Mr. Hyde." Reservations are $20.
Thunderbolts Opening Night
7 p.m. Oct. 21, Ford Center, One S.E. Martin Luther King Jr. Blvd.
Evansville hockey heads back to the ice with a Zombie Night jersey auction. Tickets start at $16.
Stamp & Postcard Show
10 a.m.-5 p.m. Oct. 21; 10 a.m.-4 p.m. Oct. 22, Reed's Auction Barn, 10233 IN-662, Newburgh, Indiana
Indiana's longest-running philatelic exhibition features a stamp auction and postcards. Read more in the September/October issue of Evansville Living.
Honor Flight EVV15 Welcome Home Parade
6:30-10 p.m. Oct. 21, Evansville Regional Airport, 7801 Bussing Drive
Come cheer on local veterans as they return home from their visit to Washington, D.C. Attendees should park at Anchor Industries, 7701 U.S. 41, and will be shuttled to the airport for this free family event.
SNKR BST Evansville
11 a.m.-4 p.m. Oct. 22, Old National Events Plaza, 715 Locust St.
The ultimate sneaker extravaganza, where sneakerheads unite to buy, sell, and trade kicks in person.
Chemistry Day 2023
noon-5 p.m. Oct. 22, Evansville Museum of Arts, History & Science, 411 S.E. Riverside Drive
Watch scientists conduct experiments at this joint venture between the University of Southern Indiana, University of Evansville, and Kentucky Wesleyan College.
Catanese Real Estate Car Show
2-5 p.m. Oct. 22, Kenny Kent Toyota, 5600 E. Division St.
This car show benefits It Takes A Village No-Kill Shelter and includes a DJ, half pot raffle, and food from The Cheese Queen.