We enjoy everything about this season, but anticipation often is one of the most exciting parts. Just like an Advent calendar opens the door for 25 days of Christmas, Evansville Living presents 25 ways to make your holidays merry and bright.
---
1. Attend the lighting of the city's Christmas tree
It takes a village to give Evansville its beautifully decorated Christmas tree each year. An area resident, business, or organization typically donates a tree, which Skanska trucks Downtown to the Civic Center across streets blocked off by Evansville Police officers. Lighting by Advanced Network and Computer Services and decorating by the city's traffic engineering department can take up to a week of intensive labor before the tree is officially lit. The main event is well-attended, usually featuring a musical performance and a crowd of well-wishers with stars in their eyes.
---
2. Visit Ritzy's Fantasy of Lights
It's not Christmas in Evansville without visiting Ritzy's Fantasy of Lights. For six weeks, Garvin Park turns into a sea of shimmering lights designed and donated by local sponsors, businesses, organizations, and corporations. Those athletically inclined can prance through the displays during the Bright Lights 5K race and 1-mile walk, the only night that the path is closed to vehicular traffic. Aside from being visually stunning, Fantasy of Lights is a crucial fundraiser for Easterseals Rehabilitation Center and raised a near-record $223,141 in 2021. The event has brought in more than $4.1 million in its 28 years.
---
3. Stretch your legs
Have some holiday fun while you run. The Turkey Day 5K held on Thanksgiving raises money for Goodwill, while the Santa Run in early December benefits the Rotary Club of Evansville's grants and scholarships program. Doing good for ourselves and others? That's a holiday activity we can get behind.
---
4. Fill up on holiday treats
One of the best parts of the season is the food. We're specifically talking about dessert, because sweet treats are everywhere. Try a pint of peppermint stick ice cream from Lic's Deli & Ice Cream, traditional German springerle shortbread cookies from Donut Bank Bakery, or cute foiled Santas from Mike Libs and the Chocolate Factory. And don't miss our story on bourbon bonbons!
---
5. Volunteer at the Evansville Rescue Mission's holiday dinners
The City of Evansville reported 488 people experienced homeless in 2020. The Evansville Rescue Mission traditionally hosts Thanksgiving and Christmas dinners for the Tri-State's homeless population, which are possible through donations of money, food, and supplies, as well as volunteers to make the meals happen. This season, turn joy into action by helping an underserved community.
---
6. Mail Santa a letter on Main Street or to Santa Claus, Indiana
Every year, hundreds of Tri-State children write letters to Santa. Downtown Evansville Economic Improvement District makes it easier by installing a special Santa mailbox on Main Street to help ferry those gift requests to the man with the bag. There's also a more traditional option: Send a letter to Santa Claus, P.O. Box 1, Santa Claus, IN 47579, and Santa and his elves will mail you back a response postmarked from Santa Claus land itself. Donations to help offset the cost of postage are appreciated by Santa's elves in Santa Claus, Indiana.
---
7. Enjoy sounds of holiday music
Every winter, Evansville comes alive with the sound of so much music, even the biggest Scrooge will find it hard to avoid the holiday spirit. Start with a trip to the Victory Theatre for the Evansville Philharmonic Orchestra's Peppermint Pops, featuring classic holiday tunes played with fun, new twists including soloist Luther Lewis featured on page 28. Then, bask in the reverence of the Evansville Philharmonic Chorus and Orchestra's joint performance of Handel's "Messiah" gorgeously set at the historic Trinity United Methodist Church in Downtown Evansville. And don't forget about the philharmonic youth orchestra's winter concert, where young musicians display their talent for classics and popular music alike.
---
8. Go shopping for a live Christmas tree
There's nothing like the scent of a fresh fir tree at Christmas. Fans of real trees can browse a selection of firs sold by Boy Scouts, Venture Crew, and Cub Scouts troops and local tree farms around Evansville. Some lots even offer baling service and photos with Santa on select days. For the troops, their sales double as a major fundraiser, so you can indulge in the joy of a live tree while knowing your holiday dollars are helping out a local Scout.
---
9. Feel fancy at the Reitz Home Museum's Victorian Christmas
The spectacular Reitz Home Museum is an Evansville must-see any time of year, but it is even more special during the holidays when volunteers decorate the entire French Second Empire home with period-centric decorations, including black-and-white portrait ornaments, ropes of garland, and springerle cookie replicas. (That's the Reitz Home Museum on our cover. See what we mean?) Holiday tours are available, with funds supporting the museum's programming and maintenance.
---
10. Attend a "Nutcracker" ballet
The timeless tale of nutcrackers, sugar plums, and mouse kings continues to herald the holidays. Two dance companies offer the chance to catch a performance of "The Nutcracker" this season. The School of Ballet Indiana will take the stage of the Victory Theatre for two shows, while the Children's Center for Dance Education — accompanied by Evansville Philharmonic Orchestra musicians — plans six performances over two weekends across the Tri-State.
---
11. Go to a parade in a neighboring town
River City residents will have to go out of town if they want to see a Christmas parade this year, but what better time to admire our neighboring towns? In addition to its parade, Boonville, Indiana, decks the halls of its town square with decorations, craft booths, and food trucks, and more. Christmas in New Harmony, Indiana, is an old-fashioned affair, with a tree lighting, carriage rides, a house tour, caroling, artisan gifts, and even a gnome scavenger hunt. Henderson, Kentucky's holiday celebration includes a parade, Christmas in the Park light displays, and a tree lighting.
---
12. Drive a loop around town and admire holiday lights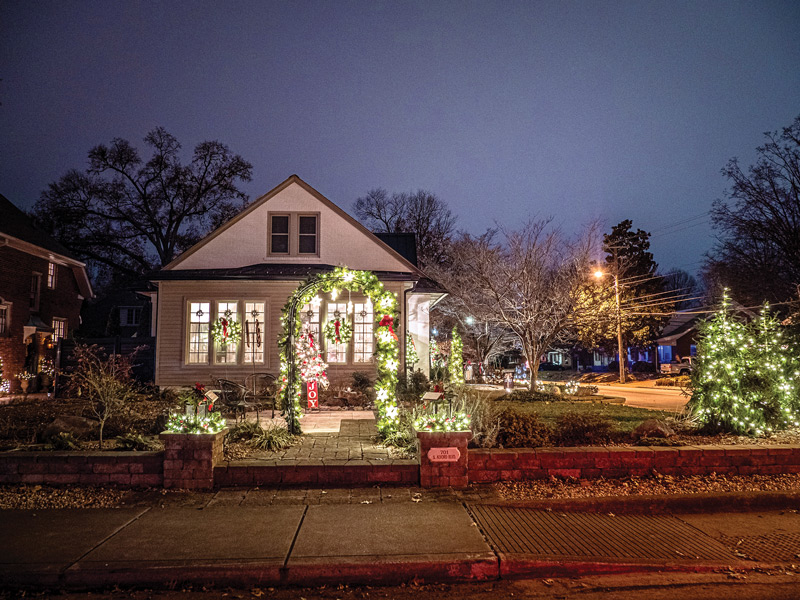 Around Evansville, lights are both a personal and public matter, with some residents and businesses turning their property into a decorative spectacle. You'll see light shows synchronized with music, animatronic Santa Clauses and reindeer, and many inflatable displays. Don't worry about missing any popular sites: A Facebook group called Evansville Christmas Lights is dedicated to Evansville-area holiday displays will light the way.
---
13. Observe the winter solstice
Celebrate the symbolic rebirth of the sun during the winter solstice on Dec. 21. A tradition dating to pre-Roman cultures, this holiday occurs when the planet's poles reach their maximum tilt from the sun. Evansville Vanderburgh Public Library has marked the holiday with lantern-making activities and reading lists, while First Presbyterian Church hosts a service for the "longest night" that includes hymns, prayer, and contemplation.
---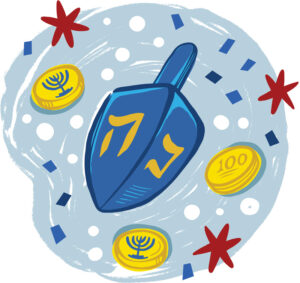 14. Play a dreidel game
Hanukkah stretches over eight days starting Dec. 18, and the gift shop at Evansville's Temple Adath B'nai Israel is a bustling spot for seasonal artwork, gifts, and menorahs. While shopping, pick up a dreidel game to play at your next holiday gathering. Players take turns spinning the dreidel once, and the letter it lands on determines if players gain or lose game pieces. The winner is the person who manages to collect all the game pieces.
---
15. Stop in Santa Claus, Indiana
What better place to celebrate Santa Claus than in the town named for him? In Santa Claus, Indiana, be sure to visit the Santa Claus Christmas Store but leave plenty of time for browsing. Drive through the dazzling, 1.2-mile Santa Claus Land of Lights, and make it an overnight visit by staying at Santa's Cottages or Sun Outdoors Lake Rudolph.
---
16. Attend a holiday show
The holidays are the perfect time to see an already entertaining performance jazzed up with seasonal tunes, creative costumes, and vibrant sets. This season in Evansville, Cirque Dream Holidaze performs awe-inspiring acrobatic tricks set to a holiday theme; "A Charlie Brown Christmas" offers plenty of nostalgia for parents; and Bloomington, Indiana-based Straight No Chaser returns to town for a show celebrating its 25th anniversary.
---
17. Set out luminaries
Several Evansville-area residents observe the season by setting out candlelit luminaries along their street in remembrance of those who are not here to celebrate the holidays with us. Start your own tradition if your neighborhood doesn't already participate. Place a candle tin — 8 ounces will do — in the bottom of a white, lunch-sized bag. Set the bag and candle upright on the sidewalk in front of your home and carefully light the candle, checking that the flame doesn't reach too close to the bag. Be sure to add sand or cat litter to the bottom of the bag so it doesn't blow away.
---
18. Donate to a local cause
Giving is a large focus of the season, with plenty of opportunities to help local families have happy holidays. Consider donating to SWIRCA & More's Angel Tree, which gives gifts to senior adults who don't have loved ones; the toy drives at the Salvation Army or Young & Established, so children have a fun present to unwrap; or the Santa Clothes Club, which provides new clothing to disadvantaged kids.
---
19. Hide a pickle in your tree
This tradition seems strange, but hear us out.  A decoration in the shape of a pickle is hidden in a Christmas tree, and the finder is rewarded with either a gift or good fortune in the coming year. The "Weihnachtsgurke" (Christmas pickle) often is made of blown glass and sometimes is fragile, so be careful as you poke around the tree in search of it. A pickle decoration has a number of different origin stories, but many link it to Germany. Regardless, it provides a perfect connection to Evansville's German heritage and a fun, Old World tradition.
---
20. Learn to make handcrafted decorations
Give the holidays an extra dose of fun by crafting ornaments and cards by hand. Whether guided by a kit, following along in a class, or studying online instructions, seasonal crafts can be simple and classic. Try your hand at  embellished origami decorations, puffy popcorn strings, cut-out snowflakes, painted popsicle stick photo frames, or sweet stenciled messages. Call your friends over, order a feast from a local catering expert (starting on page 80), and make it a fun evening!
---
21. Shop locally for gifts
Dollars spent in small businesses stretch far and stimulate the local economy. Give your dollar more power by shopping for holiday gifts and decor during the city-wide Small Business Saturday on Nov. 26 or other events such as Nov. 18's Jingle Mingle Mart and Dec. 3's A Downtown Christmas on Main Street. These events often double as fun outings, with costumed characters, prizes, and treats.
---
22. Take pet pictures with Santa
It's not just humans who love Santa. Many pets also are ready to have Santa Paws give them gifts for the holiday season. While most of their wishes may involve treats and toys, another way to celebrate is having your pet's photo taken with Santa. Several local organizations host pet-friendly photo sessions: Vanderburgh and Warrick Humane Societies both hold theirs in early November, while It Takes a Village No-Kill Rescue's event is slated for early December. Lend a paw to area pets by investing in these cuddle-worthy keepsakes.
---
23. Bake cookies using a family recipe
Grab your great-aunt's revered recipe for sugar cookies and pre-heat the oven for your dad's secret-recipe biscuits. Family recipes are one of the most treasured parts of the holidays, bringing together loved ones and celebrating their common bonds. Or, in lieu of a traditional family dish, start a new one by baking the simple, savory white Christmas cake that Newburgh, Indiana, baker Lexi Bailey shared on the cover of the November/December 2021 issue of Evansville Living.
---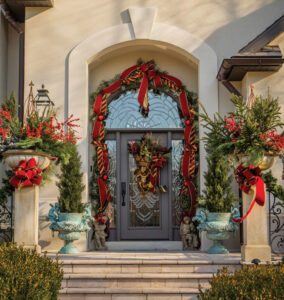 24. Peruse Newburgh's town-wide holiday decorating contest
Newburgh, Indiana's historic charm is on full display during the holidays with crowd-pleasing events. New this year is a good-spirited, town-wide decorating contest. Residences and businesses alike can show off their best holiday decorations and most inventive creations, with the winner earning a prize.
---
25. Take time to rest and reflect
With so many activities and events over the next few weeks, you may find yourself feeling overwhelmed. Don't forget to take time for yourself to rest, reconnect, and reflect on the year that is closing. Maybe that comes in the form of meditation or getting plenty of sleep. Churches — particularly during candlelit Christmas Eve services — also can offer a respite from the season's busyness.