The City of Evansville's Department of Parks and Recreation recently has seen a former executive director plead guilty to criminal charges, a heated debate over a new pickleball development, and persistent complaints about maintenance — the newly released Parks and Recreation Five-Year Plan lists numerous facilities that need improvement.
The city has a dizzying number of park properties — 45 community, neighborhood, and pocket parks; more than 12 miles of paved trails; and 22 special use facilities that include six swimming pools, four golf courses, two disc golf courses, and 10 other properties such as boat ramps, the C.K. Newsome Community Center, the Pagoda riverfront building, Swonder Ice Arena, and the Deaconess Aquatic Center.
City officials say it's difficult to keep so many facilities in pristine condition, with limited resources. They leave open the possibility of offloading park properties or finding new purposes for some of them.
But they also pushed hard this year for a new park amenity — the 16-court pickleball complex at Wesselman Park, which is one piece of a larger vision for that park, Wesselman Woods Nature Preserve, and the former Roberts Stadium site.
Adding to the department's challenges is the fact that it has been without a full-time executive director for two years.
Deputy Mayor Steve Schaefer has served as the department's interim executive director since July 2021, when former director Brian Holtz resigned amid allegations of financial irregularities. On July 26, less than a month before his trial, Holtz changed his initial innocent plea to guilty on two counts of forgery, one count of official misconduct, and five counts of misconduct. Each of those counts is listed in court records as being "amended" from its original filings. As of press time, Holtz was scheduled for sentencing on Sept. 26.
As Holtz's case played out in the court system, the new five-year master plan for the Parks and Recreation Department was presented to the city's Board of Park Commissioners on July 5, outlining areas of need, public concern, and recommended priorities. Much of the plan's implementation will fall to Mayor Lloyd Winnecke's successor, who will take office Jan. 1. (Read about the mayoral candidates' plans for city parks in the sidebar at right.)
The strategic plan will give current and future city officials guidance on how to prioritize park improvements, says Jerome Stewart, president of Evansville's Board of Park Commissioners. "It gives us a right sense of direction, and it's going to allow us to improve our overall parks system. That was the purpose," he says.
The master plan makes clear the city needs greater upkeep of its parks.
"The overall condition of the built facilities in Evansville's parks is fair to poor," the plan states. "There is a significant deferred maintenance backlog due to limited budget over multiple decades. Some facilities are in such an advanced state of disrepair that demolition is the only viable option."
Playground equipment in some Evansville parks is more than 30 years old, the plan states. It says Kleymeyer Park on North First Avenue "is in a state of disrepair," calls sections of Golfmoor Park on Golfmoor Road "isolated, deteriorated, and inaccessible," and points out that the lake in Garvin Park, known as Evansmere, was last renovated in 1984.
Fourteen city parks have play structures that are deemed in poor condition, and eight parks have play structures in bad condition, according to the master plan.
The $55,000 strategic plan authored by Rundell Ernstberger Associates of Indianapolis and Envirokinetics and Hafer of Evansville points out many problems with accessibility in city parks.
While noting the challenge of making so many facilities compliant with the Americans with Disabilities Act, the plan cites a lack of accessible parking at many properties, a lack of accessible routes connecting amenities within some parks, and issues such as poor sidewalk maintenance, a lack of public transportation to some parks sites, and signage and drinking fountains that don't meet ADA standards.
Fifty-four percent of Evansville residents responding to a master plan survey said city parks "need improvement," while another 39 percent called their condition "average," and six percent described them as "excellent."
Eighty-seven percent of survey respondents said they would like Evansville to invest more in parks and recreation.
The master plan takes a park-by-park approach in stating what large-scale and small-scale improvements should occur. Schaefer says the city continuously prioritizes its most urgent needs and fixes, and sometimes that is at the expense of quality of life projects.
"That's really a function of finances," he says. "The parks department is like triage in a lot of respects, in terms of what's the most critical thing that needs to be addressed. However, you need to balance that with making sure you're not only fixing the things that you have, but also creating a reason for people to come back to parks."
City officials view the $2.6 million pickleball development at Wesselman Park as one example of a project that will drive more use of local parks.
Its approval was a victory for local players of the fast-growing sport, who prevailed over opposition from some local parks advocates. The courts are touted as a lead-in to pickleball tournaments — $500,000 in Evansville Convention and Visitors Bureau funds were allocated in June partially for that purpose — but opponents say the project is a noise nuisance that was rammed through despite vocal opposition to the removal of green space.
A new $1.3 million fully accessible playground also is coming to Wesselman Park, paid for with American Rescue Plan funds, on the site of the former baseball batting cages. The city-owned Wesselman Woods Nature Preserve plans a reforestation and trail system on the park's former par-3 golf course, growing the preserve's acreage from 220 to 310.
City officials say all of that work, combined with a new entrance to Wesselman Park, festival grounds, an expanded trail network, and other amenities at the adjacent Roberts Stadium site and linking to the State Hospital Grounds across the Lloyd Expressway, will create a signature green space in Evansville.
A recurring theme in the master plan, however, is the condition of existing facilities. Why are so many in poor shape? Opinions differ, but data in the five-year plan offer some perspective.
As of this year, the Evansville Parks and Recreation Department has 38 full-time employees and 150 seasonal, part-time employees. Evansville has a population of about 117,000 people. By comparison, South Bend, Indiana, with about 103,000 residents, has 115 full-time employees and 236 part-timers in its parks department. South Bend also has less park acreage to maintain – 1,296 acres, compared to Evansville's 1,600 acres.
Fort Wayne, Indiana, with about 264,000 residents, has a parks staff of 120 full-time and 325 part-time employees, and 2,840 acres of park land.
Evansville's parks and recreation workforce doesn't just mow grass and trim shrubs. In addition to staffing and maintaining pools, golf courses, the 21-year-old Swonder Ice Arena, and other facilities, the department takes on unique tasks such as the current replacement of all pavers and the concrete ring around Evansville's Four Freedoms Monument. That is projected to conclude in mid-August.
In financial terms, Evansville has a per capita parks budget of $86.87, a figure that also takes into account the budget of city-owned Mesker Park Zoo. Excluding the zoo, Evansville's per capita spending on parks is $43.09 — which the master plan states is less than half the national standard of $93.01.
Evansville's total parks operating budget is nearly $10.2 million, including tax revenues and other revenue sources. Schaefer says Indiana's mandatory caps on property taxes limit local government's ability to raise revenue, negatively impacting areas such as parks. Those caps were passed by state lawmakers in 2008.
"When you have to make difficult cuts, I would assume an elected official would still keep public safety as a priority over other departments which, unfortunately, could be parks," Schaefer says.
A tax rate paid by both city and Vanderburgh County residents supports City of Evansville parks. The rate for 2023 is 12.6 cents per $100 assessed valuation, and it has changed little in recent years, says Russ Lloyd Jr., Evansville city controller and mayor from 2000 to 2003.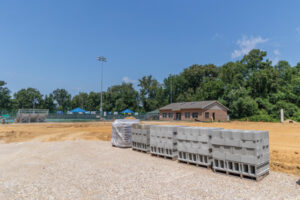 Revenues from that taxing district — about $8 million in total — are used by Mesker Park Zoo as well as by city parks. Creating a separate local tax rate to support the zoo would free up more revenues for city parks, but Lloyd says there has been no recent discussion among city officials about taking that step.
Schaefer cited some recent steps to boost maintenance, including adding a new crew and restructuring of parks management to the 2023 city budget, and new maintenance equipment purchased through the same Parks and Recreation bond issuance that is helping fund the pickleball courts.
Other funding streams include grants, public-private partnerships, and donations made by nonprofits such as the Evansville Parks Foundation. (Read more about the foundation's role in Evansville-area parks.) There could be additional moves in the 2024 city budget proposal, which Winnecke will present to City Council in August.
Parks department budgets and policies are governed by the Board of Park Commissioners, whose five members are appointed by either the mayor or the Vanderburgh County Board of Commissioners. Current members are Stewart, Michelle Peterlin, Derrick Cleon, Sarah Dauer, and Wayne Kinney.
City government has about 30 partnerships with private groups, organizations, and corporations that help maintain parks or run programming at them. Schaefer says the parks department currently is reviewing those agreements and is open to finding new ones.
One new partnership involves a group of Downtown residents who raised more than $25,000 to qualify for a matching grant toward an overhaul of the park along Sunset Avenue near the riverfront.
A leader in those efforts is Deborah Goldman, an Evansville pediatrician who says city officials are going "over and beyond" to help make the Sunset Park project happen.
She noted the city's donation of 10 decorative park benches, which were in storage because they were unable to be used in the North Main Street reconstruction project a few years ago. Donor engravings on those benches helped raise funds to achieve the matching grant for Sunset Park.
Residents raised about $5,000 beyond their $25,000 goal, and Goldman says those extra funds will go toward maintenance expenses for Sunset Park.
Quality parks are needed in any community, Goldman says, but she believes the city is doing what is possible with its available resources.
"They just don't have any money," she says of the Parks and Recreation Department. "They are always saying, we would love to pursue a project but we just don't have the funding, and we'll have to get creative. And they have done that with Sunset Park."
The parks department maintains another public-private partnership with the nonprofit Evansville Community Tennis Association. While the city built Wesselman Tennis Center's original eight courts, additional courts and the clubhouse were added by ECTA. Those facilities are available to the public and used by local high schools, colleges, and adult leagues. ECTA has invested more than $2.3 million in fundraising, grants, and revenue into Wesselman Tennis Center, which in July hosted The Women's Hospital Classic, a U.S. Tennis Association Pro Circuit event, for the 24th year.
"It's been a great working partnership up to this point," says Ryan McDaniel, general manager and head tennis professional at Evansville Tennis Center, another ECTA property.
With the new master plan as a guide, and with even more park amenities planned for the city, Schaefer says the city is taking stock of existing properties and their needs.
Before Winnecke's term ends, Schaefer says it's possible some recommendations about inventory could be brought to the Board of Park Commissioners for consideration.
Divesting properties "is possible, but we certainly want to make sure we have all the necessary conversations and talk to all the stakeholders," Schaefer says. "It may not be divesting a property, but it may be a new focus. If there's a park with equipment for a certain age group, but there are no families around it, we need to find out what purpose fits the neighborhood."
In its last days, Schaefer says the Winnecke administration will prioritize maintenance of existing parks and push its new park initiatives closer to completion.
"We want to make sure we set up the parks department for success in the next administration," he says. "I think with a new five-year plan, we're basically saying, OK, we've done all this work, and here you go. You can hit the ground running."