Joe Titzer is thrilled to be back in the River City. It is his first time working in Evansville since his days at the former Clearcrest Pines Golf Course. Since then, the Mater Dei High School graduate has been all over the world shaping renowned golf courses.
Titzer says he is not a golf course designer, architect, or landscaper, but rather an "artist with a bulldozer." He carves out the angles, creating those slight indents or slopes that keep the game of golf interesting.
"I have to take what [the designers] give me and turn it into 3D," he says.
Although his family is into golf, Titzer doesn't play. Starting in maintenance at Clearcrest Pines, he eventually rose in the ranks to assistant superintendent. In 1997, he got a call from famed golf course designer Tom Fazio about materials needed to build the course at Victoria National Golf Club in Newburgh, Indiana. That connection led Titzer to work for North Carolina-based Course Doctors before starting his own company, Titzer Golf Course Shaping, in 2011.
Today, Titzer — now a Charleston, South Carolina resident — is highly regarded enough to work closely with developer Beau Welling and TGR Design, PGA golfer Tiger Woods' course-building company. After traveling all over to construct acclaimed courses, Titzer says he is glad to be in Evansville so loved ones can see his work firsthand.
"It's kind of great. Nobody around here knows what I do. They've never seen it, 'cause I'm always somewhere else," he says.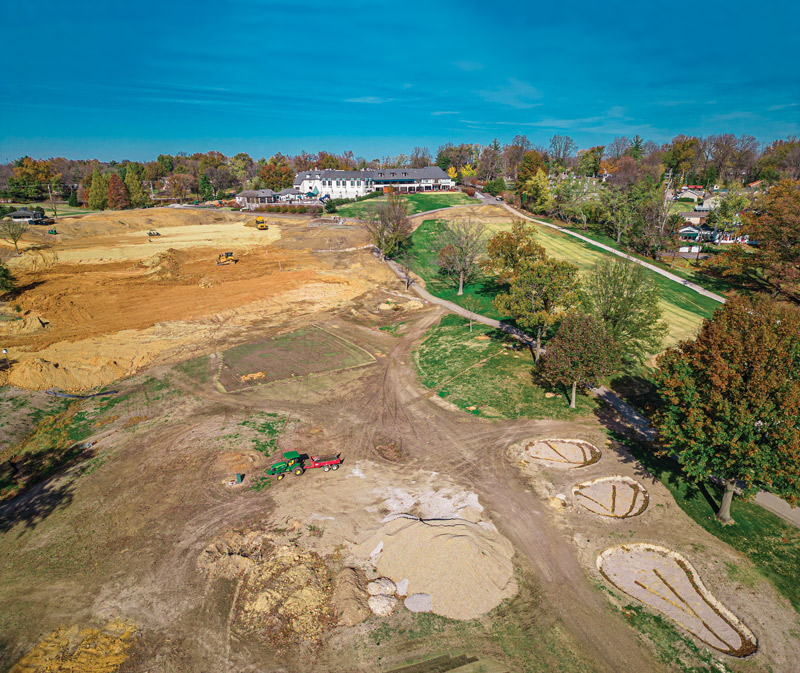 Since August, Titzer and his colleagues have been renovating Evansville Country Club's golf course at 3810 Stringtown Road, which is slated for completion next spring. The $6.5 million in improvements will take it from a 6,215-yard, par-71 course to 6,101 yards and par-70.
"His knowledge of golf course design and construction has made my life a lot easier and fun," says Jeff Sexton, ECC's certified golf course superintendent. "He's bought into the project because he's always wanted to do something for his community, where he grew up. That's resulted in a top-notch end result."
Construction involves relocating the green complex, building a new short game practice area and halfway house, laying new tennis and pickleball courts, rearranging golf cart paths, and re-grassing areas. The improvements will modernize the course and make maintenance easier.
"[It] gives the superintendent better growing conditions and playing conditions," he says.
SEE MORE OF JOE TITZER'S WORK ON YOUTUBE @TITZERSHAPING