It's been three-quarters of a century since Everett and Mabel Turley started their jewelry and watch repair business in a former H.A. Woods Pharmacy location at Locust and S.E. Fourth streets.
By 1969, the business had grown enough to need its own storefront, so Turley Mfg. Jewelers was established at 12 N.W. Third St. Everett, a former coal miner and World War II veteran, worked as a jeweler and watch repairman until he died in 2014 at age 95. According to the Turley's records, he cleaned 38,700 watches in his career.
Joan Turley, Everett and Mabel's daughter-in-law, who keeps the business going with her husband, Bryan, recalls Everett sitting behind his desk with his nose under the desk's edge to avoid breathing on minuscule watch pieces during repairs. Everett focused more on watches, while Bryan specializes in custom work with jewelry, including engagement rings and pendants.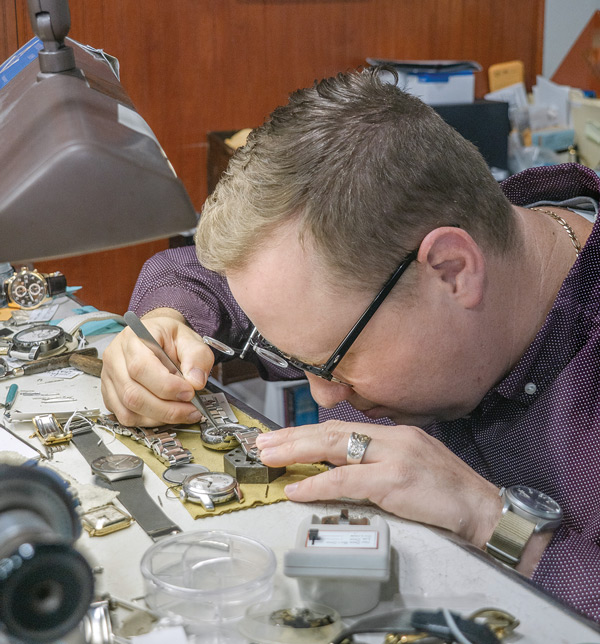 Bryan and Joan run the business with their daughter-in-law Cheyenne at their new location Downtown at 14 N.W. Third St. Their firefighter son Matt helps when he can, along with other close relatives, especially around Christmas.
The business has staying power. Bryan, who went to jewelry school in his 20s, says there used to be 16 inde- pendent jewelry and watchmaking/repair stores in Evansville's Downtown when his father started. In the past three years, at least four locally owned jewelry stores have closed across Evansville.
What keeps Turley's around? Bryan says it is the close relationships they have developed with their customers, relationships that go back as far as four generations to H.A. Woods. In fact, a restored neon-green sign from H.A. Woods reading "Watch Repairs" hangs in the shop to this day.
"It's been a good run," Bryan says. "I want to get to five generations."