For many people, retirement is a time to simply relax after a long career, and while these five Evansville-area residents enjoy having more command of their free time, they're not exactly resting on their laurels. They have branched off from successful careers in finance, humanities, news, and the arts and are making an impression in new ways. Alan Newman enjoys playing racquetball when he's not using his business acumen to address community needs. Lucy Himstedt regularly plays tennis and has picked up cooking as a hobby. Tess Grimm travels and channels her artistic energy into a cause close to her heart. John David Lutz frequently can be seen in the crowd at University of Evansville theater performances. Lu Porter continues to connect community organizations with needed resources. These five leaders have embraced retirement by serving their communities, expanding their horizons, and pursuing passions beyond their careers. They may enjoy more downtime since retiring, but as you'll read here, their success stories are far from finished.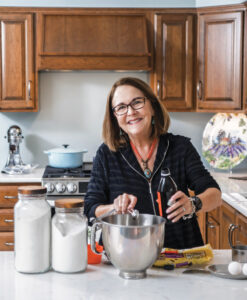 'Third Time's A Charm'
Lucy Himstedt finally is ready to retire for good — story by Maggie Valenti
From Arkansas to Alabama to Indiana, Lucy Himstedt has had quite a career in and outside of the River City. Now, the former vice president and general manager of WFIE-TV promises this third try at retirement will stick.
"Third time's a charm. This is it," she says.
Himstedt first attempted to retire in 2007. At that time, she left WFIE-TV Channel 14 after a 28-year career in local television news. She started at a local CBS station while she was studying at the University of Central Arkansas in Conway, Arkansas, in the late 1970s and early '80s.
"I was really ready to retire (in 2007)," she says.
She lasted only about six months before going to work in the University of Evansville's marketing and communications department. There, she was the editor of the university's alumnae magazine, her first time in print publications since she worked for her high school newspaper. She left UE in 2014 as its assistant vice president for marketing and communications.
"I had accepted another job, but when it didn't work out as expected, I told my husband I was going to retire for real," Himstedt says.
Within a year, the position of chief operating officer for the Girl Scouts of Southwest Indiana opened up. Himstedt had been involved with the organization throughout her girlhood and found it hard to say no to another gig.
Himstedt served as the Himstedt served as the Girl Scouts' regional COO for two years before retiring — for real this time — in 2016. Now, she has more time to try her hand at cooking, baking, and playing tennis.
"When I finally (retired), my stress level became non-existent," Himstedt says. "I used to have terrible migraines. I could never play a sport. Now, I work out almost every day playing tennis."
She also has more time to spend with her two stepdaughters, four grandchildren, and her husband, Don Richard, who himself retired last year. Himstedt describes herself as "happily retired."
"I want to be available for any opportunity to spend time with them," she says.
Himstedt stays involved with the community by sitting on the boards of ECHO Housing Corp. and UE's Theatre Society. She frequently takes students under her wing, looking out for them if they live far from home. Himstedt often thinks fondly about the connections she made at work and keeps in touch with many former colleagues.
"I'm still attached to the places I've worked emotionally," she says.
Ms. Evansville
Lu Porter's service to her community continues in her retirement — story by Maggie Valenti
Her peers have dubbed Lu Porter "Ms. Evansville" because of her impact on the community, particularly in her six years as executive director of the Evansville African American Museum.
Retiring in 2017 has not slowed her down.
"I'm hoping that with me involved in retirement, I can be an example," she says. "I hope I can be an example to individuals who want to connect with our great and amazing community."
Porter started her career in manufacturing and then went into banking, working at Integra Bank for 18 years — including as assistant vice president and community development officer — before it merged with Old National Bank. Even while working full-time, Porter was plugged into the community, and two years after Integra eliminated Porter's position in 2009, she became the executive director of the Evansville African American Museum.
"I stayed home for two years. I was on the African American Museum board, and they were looking for an executive director. I was asked to fill that role," she says.
Her "always say yes" attitude served her well over the years, and still does, connecting nonprofits to the funding they need. Porter has represented Evansville's interests on the local and state levels and served on 25 nonprofit boards and state commissions, including the Indiana Housing and Community Development Authority, ECHO Community Healthcare, Leadership Everyone, Black Women's Task Force, Women's Fund of Evansville, and the Deaconess Women's Hospital advisory board.
"I like to connect the dots … by being at the table or at an event or helping nonprofits that don't have resources," she says. "I have everybody's number in my phone, so I can connect them to the proper person they need to talk to. I carried that over from being at the bank."
Although she has scaled back her volunteerism, Porter continues to work hard. She says there is still a lot more work to do with the community, particularly with getting the youth involved. Porter balances her philanthropy in retirement by relaxing and spending time with her husband of 49 years, Jake, and their three children and four grandchildren.
"I can sit back and relax. I still get plugged into different things. 'Come to this event. Come to that event. Could you help me with this event?' And I still do all that because that's important. Everybody needs money. So, I don't mind putting myself out there for that. I've cut back on a lot because when I was working, I was just doing everything," Porter says. "My next steps are to continue to be involved in the community, with the youth and seeing things through their eyes."
Leaving a Legacy
Alan Newman shifts his focus to community endeavors — story by by Jodi Keen
Autumn 2019 was a period of significant transition for Evansville's Hilliard Lyons office. Just as the company was joining international wealth management firm Baird, Alan Newman closed the book on 39 years as a financial adviser. After careers in retail and finance, he was ready to try on retirement.
In the time since, he says his priorities of family, travel, skiing, and golf "didn't change a bit," but his plans did. Newman retired on Dec. 31, 2019, just as COVID-19 became a full-blown pandemic.
His first few months of retirement were spent close to home instead of globe-trotting, like on a long-planned trip to Australia and New Zealand that didn't pan out.
"It was a big change in life without the freedom and ease to do the things you set out to do," he says.
So, Newman relished time with his wife Sandy and their son, daughter, four grandchildren, and extended family in St. Louis, Missouri, and St. Joseph, Michigan. He also is finding his groove as a Baird client instead of an adviser, but he relishes the experience from "the other side of the desk."
"I haven't yet quite adjusted to the care and attention I get for being a client," he says. Now, having all the choices in the world, "I can't imagine working with anybody other than the Baird folks and the Baird Trust Company. That's been a joy."
Other than being with family, Newman says philanthropic work has been the most rewarding. After years of sitting on boards of directors and strategizing about fundraisers, he wanted to funnel what he'd learned into a new outlet. One such project is finding great organizations that operate in silos and identifying potential synergies. Newman is attempting to foster such a relationship between Ivy Tech Community College and Habitat for Humanity.
"One of the biggest problems in Evansville is housing," he says. "There appears to be terrific opportunity to marry education with the need for housing. There are 21 trade programs at Ivy Tech. If there were more skilled help, it would allow Habitat to build more housing while giving students on-the-job training. If we can get this off the ground, there are other organizations that can play in, and I believe the synergies of each of those organizations can help address poverty and education."
After years of seeing "the disparity between the haves and the have-nots," Newman says he feels fortunate to contribute to pressing issues that need to be addressed.
"As long as there's a breath in me, I won't have accomplished everything I'd like to," he says, "but how terrific is it to reach a certain age and feel that you might be able to leave a legacy — beyond amazing children — that will matter?"
Artful Living
Tess Grimm's new role combines family, friends, and humanities — story by Evansville Living staff, with Maggie Valenti
Those who know Tess Grimm see her as a whirlwind of activity, so they may find it hard to envision her in retirement. Indeed, she intended to work as the director of the Reitz Home Museum until she turned 80 years old because she loved the work so much.
Grimm retired in 2011 after serving as director for more than 22 years when her now-late husband, Ronald, became ill. She took pride in seeing the community get involved with historic preservation and learning about the Reitz Home Museum.
The house was built in 1871, so it requires a steady amount of upkeep. Grimm organized large annual events to engage the community and fundraise for the museum.
"There were a lot of people and a lot of committees that helped with the function of these events," she says. "We worked with numerous people in the community from all walks of life, and that was wonderful."
Since retiring, Grimm spends more time with her family, including three children, eight grandchildren, and three great-grandchildren, traveling, and volunteering at The Hope Gallery. Grimm's daughter Jennifer and son-in-law Andy Parker opened the gallery as a space for "team members" with autism and other developmental disabilities to create artwork and provide opportunities for job skills development, vocational training, and meaningful community development as part of their therapy. The gallery also employs team members, who create artwork to be shown and sold in the gallery, and features pieces from artists with disabilities across the country. The original Bargersville, Indiana, store opened in 2014, and expanded to Newburgh, Indiana, in 2021.
The gallery is named in honor of the Parkers' daughter, Hope Naomi, who was born with a congenital heart defect. She endured 17 surgeries, with the Grimms present for all of them. Hope passed away unexpectedly in 2020 at age 13.
"She's like her mother. She had so much personality," Grimm says about Hope. "She smiled at everybody, and she loved to play tricks on people."
The family keeps Hope's legacy alive by continuing the mission of The Hope Gallery: to provide a safe outlet for vocational training.
Grimm also chairs the building and grounds committee at St. Paul's Episcopal Church in Evansville, visits a different country every year, plays bridge, and attends weekly Pilates classes.
"We couldn't do a whole lot of traveling while I was working and while my husband was working. We sort of sacrificed there and said, 'We'll do it later,'" Grimm says. "I've gotten to do a lot since I've been retired, which is nice."
Not To Be Upstaged
John David Lutz's legacy provides a benchmark for the University of Evansville's Theatre Department — story by Jodi Keen
After John David Lutz graduated in 1964 with a theater degree from then-Evansville College, he immediately dove into teaching at his alma mater, culminating in one of the school's most illustrious careers.
Lutz taught at the University of Evansville's Theater Department for the next 53 years.
In that time, he refined the program's recruiting standards, elevated the program to national acclaim, and coached UE students and future prolific actors such as Ron Glass and Rami Malek.
The experience he gained in directing and set and costume design while a student served him well as an instructor, giving Lutz an understanding of all the pieces that create an impactful production.
Lutz retired from UE in 2018 at age 78. He and his wife Kathy spent the first two years traveling and seeing plays in New York City before John contracted COVID-19 in 2020. They still go on adventures, visit family, attend UE performances, and, since 2015, they enjoy a commanding view of the Ohio River from their sixth-floor condo on Riverside Drive.
The couple's home displays their deep appreciation for the arts. It is decorated with pieces by Kentucky and Indiana artists — including a wood sculpture by the late University of Southern Indiana professor John McNaughton — as well as their son's work. Theater-related artwork depicts August 1999 set sketches of two scenes from the stage production of J.L. Carr's novel "A Month in the Country" and a 1977 Paul Davis subway poster of Anton Chekhov's "The Cherry Orchard."
Another of Lutz's favorite retirement activities is relaxing in his plush Stressless recliner in front of a west-facing wall of windows and watching river traffic steam by. After more than five decades of long hours in theater, Lutz's retirement is one of leisure.
"I thought I would miss directing plays, but I don't really," he says, although he enjoys an ongoing friendship with many former students and coworkers of the tight-knit theater department.
Despite his program being invited to perform at the Kennedy Center several times and winning the center's American College Theatre Fest award for outstanding career achievement in directing in 2012, Lutz remains modest about his legacy.
"The relationships in the department have to be close because you work together so closely," he says. "I feel honored to be remembered."