In many ways, North High School band director Noah Farmer and his current senior class of students grew up together.
Farmer got to know the class when he led the North Jr. High band program, and when the students advanced to high school four years ago, Farmer made the move along with them.
The long-standing relationship culminated in North's first marching band state title. The Green Brigade captured top honors in Class B at the Indiana State School Music Association Open Class State Finals at Lucas Oil Stadium in Indianapolis, Indiana.
It also was the first state championship for any marching band in the Evansville Vanderburgh School Corp. Farmer says all 131 members of the Green Brigade deserve credit for the accomplishment, but the leadership of his 26 seniors was critical.
"It feels really good," Farmer says. "As a part of our program, we try not to emphasize the competitive success because, in a lot of ways, it's out of our control. We try to be our best and grow as individuals and performers.
"Because of that, it makes this (state title) even more rewarding," he adds. "We always focus on being our best, and when you wind up being judged the best, it's gratifying because of how you went about it."
North's band is known as the Green Brigade, but for this year's competition show, "Nimbus Caeruleus," students donned blue and white uniforms for a show that Farmer says is "loosely based around clouds" and "focused on music that could feel light."
Musical selections included "The Kids Aren't Alright" by The Offspring, "Shallow" from the 2018 Lady Gaga remake of "A Star is Born," and two original compositions.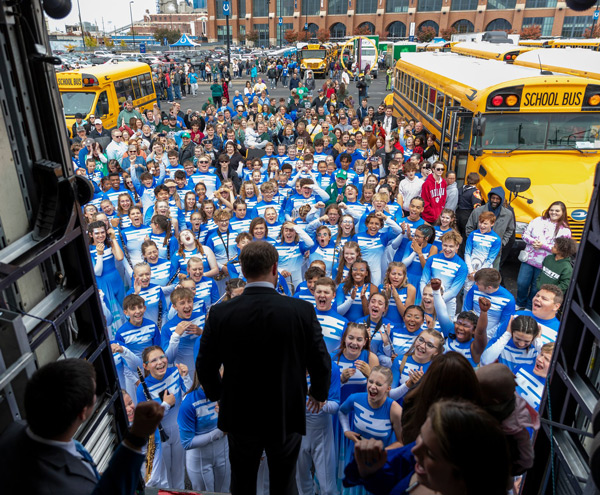 "Winning a state final was extremely special to me because not only is it my senior year, it truly shows how hard we have worked on this show," drum major Sophia Edwards says. "Getting to accomplish this with such a talented group of people is just so special and not something a lot of people can say. This year, we had an amazing show, we were truly able to put our emotion into it, and now we have seen the benefits of that hard work."
Farmer noted that North advanced to its first state finals in 2016, when this year's senior class was in the fifth grade. The students saw that accomplishment, he says, and made it their goal to continue to build the band program's tradition.
"They were able to finish their story by winning the state title," he says. "They put in eight years of work to build this into something, and it couldn't have been done without them."
Reitz, Mater Dei, Bosse bands also earn state honors
Also at the ISSMA state finals, F.J. Reitz High School captured ninth place in Class B, while Mater Dei High School — a parochial school within the Catholic Diocese of Evansville — received ninth place in Class D. Mater Dei won first in Class D in 2022.
In the recent ISSMA Marching Band Scholastic Class Finals, Benjamin Bosse High School finished second in Class B. It was the first-ever state finals appearance for Bosse's band.