Evelyn Steinkuhl's prints are a staple of Evansville. Self-taught, she often painted places she felt needed to be remembered, such as regional landmarks and schools, sitting for long stretches recreating sites throughout the region.
She sometimes filled her oil paintings with objects from her everyday life, including her son's truck in one painting titled "The Old Court House," according to Steinkuhl's daughter, Linda Ungetheim. Steinkuhl's teachers encouraged her to paint as a child and she never stopped, she says.
"Mom always wanted to be an artist as long as she could remember," Ungetheim says. "Mom always said, 'I'm going to be like Grandma Moses and paint till I'm 100.'"
Although Steinkuhl passed away in 2014, her memory lives on in her works of art.
Once her husband, Ray Steinkuhl, passed in 2021, the couple's estate went for sale. In an online estate auction, Evansville resident Marty Hollander and her husband bought Evelyn's artwork, a staggering collection of 47,000 prints and 27,000 postcards.
Hollander opened Evansville Consignments and Floral Design in July and has had success in selling much of Evelyn's work. So far, Hollander says she has sold several hundred postcards and between 35 and 50 prints.
"I'm trying to revive her artwork because it's our town," she says.
What makes Steinkuhl's work compelling, she says, is the attention to detail. In one painting, you can see an empty Coca-Cola can on the side of the road and a McDonald's billboard off in the distance.
"You can look at it 100 times, and every time you look at her art, you see something different," Hollander says.
Shoppers often come in to buy photos of their alma mater or a site they recognize close to where they live. Once, a woman purchased a print of a doctor's office she went to as a child, Hollander says.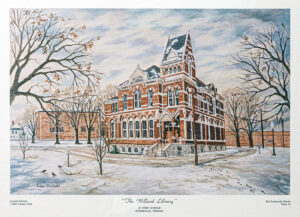 "People see a picture, and something sparks them to want to buy," she says. "She makes Evansville look good."
See more of Evelyn Steinkuhl's work at Evansville Consignments and Floral Design Monday through Friday, 9 a.m.-4 p.m., Saturday until 5 p.m., and noon-4 p.m. on Sunday.
EVANSVILLE CONSIGNMENTS AND FLORAL DESIGN
812-589-8712 • 311 N. Wabash Ave.