There's a new name in town. Well, not quite new.
Some people may not immediately recognize the newly minted Liberty Federal Credit Union's connection to Evansville, but it has nearly a century worth of history in the River City.
Evansville Teachers Federal Credit Union officially rebranded as Liberty Federal Credit Union in September, closing the chapter on a name synonymous with southern Indiana educators and opening the door for new opportunities at home and further afield.
The name "Liberty" came about from practicality. It stems from First Liberty Financial Mortgage, a division of ETFCU that the credit union acquired in 2016. First Liberty had loan production offices specifically for mortgage volume in Nashville, Tennessee, and Owensboro, Bowling Green, and Louisville, Kentucky. Since the acquisition, the credit union replaced those loan production offices with full retail branches branded as Liberty Financial.
"As business has grown regionally, the lack of brand awareness increased in our Louisville, Bowling Green and Nashville locations. Many members in these markets thought Liberty Financial was a wealth management firm or an insurance company," says Liberty CEO and President Bill Schirmer. "With the amount of growth we have experienced from these markets, it became more challenging, from a marketing and sales perspective, to have two brands."
Humble Roots
The rebrand reflects a new era for one of the city's most recognizable financial institutions. Founded in 1936 by teachers from the Evansville school system and what was then Evansville College — now the University of Evansville — Evansville Teachers Federal Credit Union started with humble roots. For its first 32 years, ETFCU operated out of classrooms during school hours and only served members in the education field.
The credit union continued to grow throughout the next three decades, offering expanded services such as certificates and checking accounts. Its headquarters relocated twice outside the school system, first to the Reed Building on Washington Avenue in 1969, and then again in 1980 when it opened its main office on Theater Drive. ETFCU's first retail branch opened in Vincennes, Indiana, in 1982. Then, the company added branches in Evansville and Newburgh, Indiana, in the early 1990s, as well as in Owensboro, Kentucky, through a merger with Owensboro Public Schools Federal Credit Union in 1992.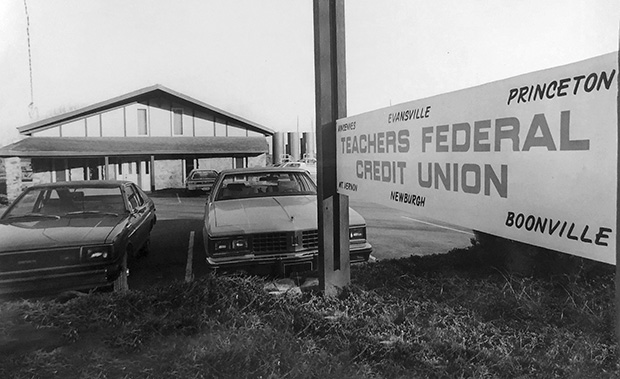 "The growth never stopped. We never felt settled, but not in a bad way," says Nancy Golding, the credit union's first marketing director who retired in 2018 after more than 30 years with the company. "When I started, we had fewer than 20 employees, but there were always changes and growth. It was exciting."
Though ETFCU continued to grow, it limited membership to those who worked in education. That would change in 1998; the federal Credit Union Membership Access Act became law and expanded chartering for federal credit unions to allow membership outside of a single type of occupational group.
"We were looking to serve educational employees and we did grow our footprint in southwestern Indiana among that group. It also included similar groups like libraries and a few organizations, but I think that was somewhat limiting until the rules changed," Golding says. "That allowed us to offer our services to other groups and organizations."
A rise in membership coincided with an increase in services, Saturday hours, and programs, the highlight being the introduction of a free, high interest checking account in 2015. "Vertical checking" quickly became the credit union's flagship product, and Newsweek recognized it in September 2021 as the nation's best high yield checking account for 2022. As of Oct. 1, Vertical Checking offers an annual percentage yield of 3.45 percent.
"Frankly, a lot of our members will tell us it just seems too good to be true," says Brent Joyce, Liberty's senior vice president of marketing. "We're living in an age where sometimes a free checking account isn't even on the table with a financial institution."
Snowballing Success
Aside from checking and deposit programs, Liberty receives significant business from mortgage lending. That service ballooned from 2020 to 2022 when interest rates dropped to historic lows to reinvigorate the economy during the COVID-19 pandemic.
"We originated $4.2 billion in total mortgage volume in that two-year timeframe," Schirmer says. "The refinance wave proliferated our mortgage operation and was foundational to the growth in sales and membership we've had over the past two years, especially in markets outside of Evansville."
The credit union has led all Evansville financial institutions in first mortgage originations since 2015. The American Credit Union Mortgage Association also ranked Liberty as the top credit union for 2021's total first mortgage originations in the Midwest. Nationally, Liberty ranks 11th out of 5,100 credit unions.
Schirmer adds that the success of the mortgage program gave Liberty the financial boost to offer a high return on vertical checking accounts, along with the high use of the program itself. This, he says, is what separates a credit union from a traditional bank. Since credit unions are member-owned cooperatives, they reinvest profits in members through their product offerings, such as vertical checking and lending programs.
"It's a snowball effect," Schirmer says. "As we become more successful, we reinvest in our products and services to offer the best value back to our members."
The credit union had 10 retail branches, $830 million in assets, and more than 62,000 members when Schirmer became CEO and president in 2012. Liberty now has 28 branches in Indiana, Kentucky, and Tennessee, $3.3 billion in assets, and more than 275,000 members. It has gained upward of 20,000 members annually throughout the past three years, with an increasing number of those new members residing in the Louisville and Nashville markets. Liberty FCU now is the second-largest credit union in the state, behind only Teachers Credit Union of South Bend, Indiana.
"We didn't build branches for the sole purpose of attracting new members," Joyce says. "We've added branch offices to serve existing members in those locations."
That said, not all of Liberty's expansion has come from new markets.
In 2017, the credit union opened its main office and administration building adjacent to its former location on Theater Drive. The 82,500-square-foot facility added new teller windows and advanced self-service technology.
Liberty plans to add five branches in 2023, including offices in Jasper, Indiana, and on Evansville's West Side on Rosenberger Avenue. Of its 768 total employees across the region, two-thirds of Liberty's staff still work in Evansville.
Construction on a planned three-story, 63,000-square-foot operations center on Morgan Center Drive will begin in spring 2023 and finish in fall 2024. The facility, which is an expansion of Liberty's main campus, will accommodate up to 480 employees to facilitate the growth of back-office staff. The credit union plans to hire more staff to work in the new operations center in the coming years.
"We've found that, with our outstanding growth in membership over the years, we've needed to increase our staff as well," says Liberty Chief Operating Officer Stacey Shourd. "It's great for our community in Evansville because we can offer new jobs locally due to our expansion."
Shourd, an Evansville native, began working at the credit union 35 years ago as a part-time intern during her freshman year at the University of Southern Indiana. She lived across from the ETFCU Main Office on Theater Drive when there were only 40 employees who staffed it.
"Our president at the time was a previous educator. He would have me bring him my report card so he could make sure that my grades were staying at a good level," she says. "And then they would publish my GPA in our staff news."
Now as COO, Shourd oversees the facilities, branches, and deposit operations, including checking account savings cards, electronic services, and the contact center.
"The rebrand brings uniformity to all of our locations now," she says. "It helps when we open up new accounts, at our various branch locations, that we don't have to explain to members that we have two separate names. Now that we have one consistent brand, the staff feels more unified."
Good for Business, Good for the Community
As the credit union expanded, its philanthropic efforts grew as well. In 2021 alone, Liberty returned more than $900,000 in sponsorships, scholarships, and donations to the community.
The Evansville Vanderburgh School Corporation remains one of the credit union's top beneficiaries, bringing its patronage full circle to its education roots. The credit union returned more than $100,000 to the EVSC over the past three years through Liberty's "affinity card" program, which returns a portion of all money spent through school-themed debit cards.
Other contributions include $150,000 donated to the Ted Hitch Scholarship program (longtime educator Hitch served as manager and CEO of ETFCU from 1961 to 1989), more than $50,000 to Cops Connecting with Kids, and fully funded live-stream access to EVSC athletic events that started during the pandemic and continues today.
Outside of education, Liberty FCU supports Habitat for Humanity of Evansville by committing a donation with every new checking account. Through that partnership, Habitat dedicated a home build fully funded by the credit union for the past five years.
"The employees really appreciate it because our mission aligns well with Habitat's mission in terms of giving those in need a hand up and not a handout," Schirmer says. "We help members by giving sound financial advice and education to elevate them for financial success. That's what Habitat does in terms of qualifying, training, and preparing partner families for home ownership."
Though its name is changing, and the credit union continues to gain national recognition, Liberty remains committed to supporting the Tri-State through its philanthropic efforts, local development, and expanded services. What began in a small classroom at Central High School in 1936 expanded into one of the country's top financial institutions, and its link to the River City cannot be understated.
"As a former employee, I'm extremely proud of the credit union's history and growth. I hope our existing membership feels the same accomplishment," Golding says. "I know it's different with the name change, but what members have contributed to the credit union just by using our services has allowed this success to happen."
"We know our recipe works, and that's bringing value to the marketplace and our membership through competitive financial products and services," Schirmer says. "When we do that on a consistent basis, members and consumers bring us more business. We take the profit from our business and reinvest it back into our staff, members, and communities we serve."