Evansville's winding, brick-covered Main Street has been revived over the last few years. Small businesses are filling up storefronts, offering passers-by an eclectic mix of gifts, treats, and beverages, plus opportunities to peruse local art or even adopt a cat.
Our bosses asked us to shop Downtown Evansville as part of our internship. The challenge: Find one really cool, special item in each of the nearly a dozen stores along Main Street.
Starting at Second and Main streets, we fueled up at Parlor Doughnuts, 204 Main St. Take time to look around at the Chicago School-style architecture of the old Bitterman Building. The Flagship coffee is a good choice, also. Beans from Brazil and Guatemala and have hints of chocolate, walnut, and pecan. They are sold whole bean for $20 per bag.
Memo, the sister store to River City Coffee & Goods and just six doors down at 209 Main St., is a specialty stationary store fit for all occasions. With pickleball being all the craze right now, a $5 pickleball "happy birthday" card is perfect for any enthusiast.
Our next stop was at Piece of Cake Bakery at 210 Main St., where, for $1.95, we tried the Raspberry Jammers: two butter cookies with a flavored jam of choice at the center, and covered in powdered sugar.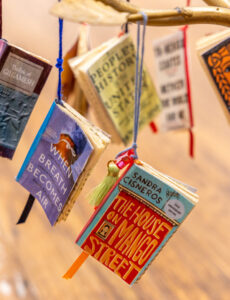 At the Arts Council of Southwestern Indiana, 212 Main St., visitors can find a unique $5 gift idea for book lovers — artist Elizabeth Isaac created several miniature books that replicate well-known novels, using cutouts of pages from the actual books and decorating some with charms.
River City Coffee & Goods, 223 Main St., has loads of regionally made products and Evansville-branded merch such as T-shirts and mugs – many of which come from the creative mind of shop owner Heather Vaught. Score a fan-favorite River City mug in mint for $15.
You don't HAVE to adopt a cat at River Kitty Cat Café, 226 Main St. — but yes, the opportunity is there. Stop in for a coffee drink, pick up a cat-themed trinket, or purchase a bottle of wine, some in the shape of a lithe cat. A bottle of Rheinhessen-Riesling white wine, which offers a balanced sweet-dry flavor safe for many palates, is one choice available for $18.
National chain Insomnia Cookies added a storefront at 318 Main St. in 2022, and River City dwellers are nocturnally grateful. We sampled a classic chocolate chip cookie, speckled with giant chunks of chocolate and paired with a cold glass of milk. At $3.95 a piece, treat yourself to several!
After satisfying our sweet tooth at Insomnia Cookies, we wandered into nearby Posh on Main at 330 Main St., Ste. B. The apparel and gift shop has a wide assortment of items, but Emma found the trophy wine stoppers most eye-catching. There were several different figurines – from an angel raising her arms in victory to a pair of hockey places facing off – that will make you feel like a winner next time you open a bottle of wine. The shiny stoppers are priced at $5.99.
Sixth + Zero, a provider of handmade soaps and sustainable products at 425 Main St., is forward-thinking with its buy-in-bulk food options. Customers can fill their own jars with organic and high-quality grains, spices, oats, and more — an environmentally-friendly way to source your food. Prices vary in item and weight. Sixth + Zero also offers beauty products, such as foundations that are plant-based and use ethically sourced ingredients. The Refresh brand comes in a variety of shades for $35, with refillable options available.
If you aren't the best plant parent, Emerald Designs at 425 Main St., Suite 12, has a propagation station from which shoppers can buy a plant shoot for $3 or trade one in for free. We selected from a collection that included philodendron, silver inch plant, and snake plant.
Next, we found a blind date at Your Brother's Bookstore, 504 Main St., but it's not a blind date in the traditional sense. Store employees will hand-pick one of their favorite reads, wrap it in a package without giving the title away, and provide only a brief description of it. Prices vary, but with a store membership, you can receive a blind date every month.
Our verdict? After some serious shopping, Emma and I were exhausted but thrilled by all our cool finds. We knew it would be an exciting assignment, but we did anticipate how hard it would be to resist buying every item! Main Street shoppers can easily spend all afternoon going from store to store. With such an eclectic, affordable selection spanning interests, tastes, and budgets, you won't walk away from Main Street empty handed.