2023 EVSC Festival of Nations
5-8 p.m. April 6
Old National Events Plaza, 715 Locust St.
This annual event brings together families, community leaders, organizations, and businesses in a celebration of Evansville's diverse international population. Sponsors are the Evansville Vanderburgh School Corp., English as a Second Language program, and Evansville Vanderburgh Public Library.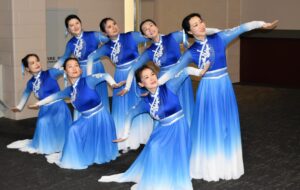 Good Friday Fish Fry
5:30-7:30 p.m. April 7
Germania Maennerchor, 916 N. Fulton Ave.
For $12, get two catfish fiddlers or one tilapia filet with sides including Nisbet Inn German potato salad, sour slaw, and baked beans. Dine-in or carry-out are available.
New Galleries Opening Reception
6-8 p.m. April 7
Evansville African American Museum, 579 S. Garvin St.
Learn about pivotal moments in Evansville's history in two new exhibitions, "Baptisttown & Prohibition" and "Baptisttown Reimagined: The Renaissances of the Black Community." This event is free and will feature light refreshments.
Cottontail & Cocktails Adult Easter Egg Hunt
6-10 p.m. April 7
Trunnell's Farm Market, 9255 U.S. 431, Utica, Kentucky
Why let kids have all the fun this Easter? Enjoy cocktails, live music, food from Texas Roadhouse, and more at this adults-only egg hunt.
Koch Memorial Lecture
7 p.m. April 7
Evansville Museum of Arts, History and Science, 411 S.E. Riverside Drive
What's the latest on the efforts to identify extraterrestrial life? Jeffrey Bennett will answer that question in his talk, "Beyond UFOs: The Scientific Search for Extraterrestrial Life." Admission is free.
Friday in the Forum
7:30 p.m. April 7
University of Southern Indiana Wright Administration Building Forum Wing, Forum 1 (FA1), 8600 University Blvd.
Spanish film "The Good Boss" is the first being featured as a part of the Friday Night in the Forum series, which is free and continues every Friday through May 5. Each film is shown in its original language with English subtitles, and adjunct English professor Eric Braysmith will lead an informal discussion following each film.
Breakfast With The Easter Bunny
8:30-10:30 a.m. April 8
Castle High School Cafeteria, 3344 IN-261, Newburgh, Indiana
Enjoy breakfast with the Easter Bunny and a performance of Castle High School's show choirs, the Knightingales and Knight Sensations. On the menu are pancakes, French toast sticks, sausage, and beverages, and attendees can enjoy children's activities, photos with the Easter Bunny, a silent auction, and a half-pot ticket booth. The event is $10 to attend and is a fundraiser for Castle's Show Choirs.
Evansville Model Train Show
10 a.m.-3 p.m., April 8
Evansville National Guard Armory, 3300 E. Division St.
Find more than 75 tables of model trains in all scales plus accessories, locomotives, cars, tracks, DCC items, photos, memorabilia, and more. Concessions will be available. Admission is $5.
3rd Annual Easter in the Park
11 a.m.-1 p.m. April 8
Friedman Park, 2700 Park Blvd., Newburgh, Indiana
Search through 15,000 plastic eggs at this Easter egg hunt that will also include food trucks, pictures with the Easter bunny, live entertainment, and booths featuring fun giveaways. Parking is $5 per car, with proceeds benefiting the Warrick Parks Foundation and maintaining Warrick County's parks and trails.
River Bend's Easter Egg Hunt
1 p.m. April 8
River Bend Nursing and Rehabilitation, 3400 Stocker Drive
Join this Easter celebration for three egg hunts for different age groups featuring golden eggs and special prizes, pictures with the Easter Bunny, and refreshments. This event is free to attend.
Easter Events
2-4 p.m. April 8
The Lutheran Church of Our Redeemer Evansville, 1811 Lincoln Ave.
Rain or shine, come out for Easter activities and an Easter egg hunt for all ages. This event is free to attend.