It was a sunny, 45-degree day in February 2022 when Rachael and Tyler Blocker were married in an intimate, backyard wedding. Rachael's grandfather walked her out of her childhood home and down to a dock on their farm, where her groom waited.
The couple's immediate family watched the ceremony nearby, but one important person was missing. Tyler's mother passed away from breast cancer in November 2021. On his wedding day, Tyler's sister gifted him a lasered handkerchief featuring their mother's handwriting so she could be present.
Tyler proposed to Rachael in his mother's home after three years of dating. They planned their wedding in under one month.
"Because our farm work life can be stressful during certain times of the year, we knew we wanted to keep our wedding small, simple and 'very us,'" says Rachael, a member of the family of farmers behind Mayse Farm Market. "Our planning process was smooth, and it all seemed to have happened naturally, just like how our relationship formed and blossomed."
Despite the abbreviated planning timeline, the couple found small businesses and vendors eager to help make their wedding happen. Timberview Flower Farm coordinated florals and greenery, and even the couple's dog sweetly sported a wreath for the occasion. After the ceremony, the guests enjoyed dinner at Biaggi's Italian Restaurant's private wine room and cut into cake from Piece of Cake bakery.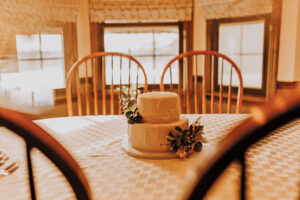 At the end of the day, the couple said their wedding was everything they wanted, and they couldn't have asked for a more perfect winter day.
"Getting married at the farm made our wedding day even more sentimental," Rachael says. "Our wedding day was so beautiful, and I loved how we just did our own thing."
Florist
Timberview Flower Farm
Photographer
Haley Raven Photography
Dress
Ella Park Bridal
Dress Alterations
Katelyn's Alterations & Design
Cake
Piece of Cake
Dinner Reservations
Biaggi's Private Wine Room