Tad Dickel's interest in bagpipes came from a variety of directions. The music major visited Scotland while studying at the University of Evansville's Harlaxton campus in England. He also has some Scottish heritage.
Then, in the mid-2000s, Dickel heard the unmistakable pitched sound of bagpipes in his West Side neighborhood. Wandering down the street, Dickel found local attorney Bill Nesmith, who at the time was part of the Evansville Pipe Band.
Nesmith encouraged Dickel to take lessons. Dickel bought a set of pipes and has since become an accomplished player, soloing on the nine-note instrument last summer with the Evansville Symphonic Band and performing at formal occasions.
"I was at the Reitz Home recently for its Wine Down, and a woman came up to me and said, 'You played at my wedding,'" Dickel says. "It was neat that she remembered. Her now-husband knew she loved the bagpipes. It was a surprise, and she said it was a meaningful experience."
Playing the pipes is a physical workout that requires being in shape, Dickel says.
"It's an unusual feeling to coordinate blowing into it, squeezing the bag, moving the fingers, all in coordination," he says, adding, "A lot of the time, bagpipers are moving when they play."
But Dickel — a former marching band director and administrator at Mater Dei High School who's now a leadership and strategy consultant for businesses and nonprofits — says he loves the instrument and an audience's reaction to hearing it.
"I enjoy the history and heritage of the instrument and sharing that with people," he says.
---
Anatomy of a Bagpipe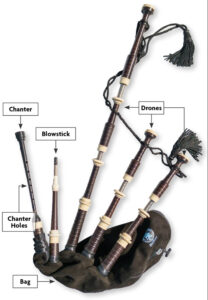 The piper blows air into the blowstick to fill up the bag. A chanter attached to the bag has a double reed (similar to a bassoon) that creates sound. The chanter has holes similar to a recorder, and it can only play nine notes. Three drones are attached to the bag that rest on the piper's shoulder. The bass drone plays a low A, and the two tenor drones play a high A. Each drone has a reed that makes the sound.