Don't leave Washington without visiting Seattle! As you plan your trip to Washington state and the Olympic Peninsula, be sure to build in at least two days (three if time allows) in the Emerald City (so called for its year-round greenery.)
Visit the Seattle Center
Three of Seattle's top attractions — the Seattle Space Needle, Chihuly Garden and Glass, and Museum of Pop Culture (MoPOP) are located at the Seattle Center:
The Space Needle, built for the 1962 World's Fair, is Seattle's most recognizable landmark. A major renovation was completed since my first visit to Seattle in May 2018. Visitors can now once again take a 43-second elevator ride to the saucer-shaped top level outdoor observation deck with its open-air glass walls, tilting glass benches that lean out over the city, and the world's first and only revolving glass floor. If time allows, return for a night-time cocktail event in The Loupe Lounge, guaranteed to have the best views of Seattle while watching the sunset over Elliott Bay.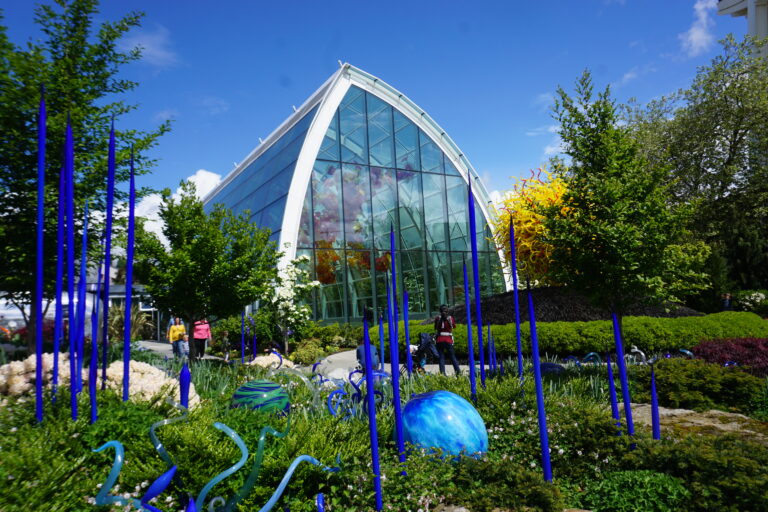 Chihuly Garden and Glass, located in the Seattle Center next to the Space Needle, is another must-do. Dale Chihuly's glass art is included in more than 200 museums worldwide, but the Washington native's premier long-term exhibition of glass sculpture is here.
The Museum of Pop Culture (MoPop) was opened in 2000 by Microsoft co-founder Paul Allen as the Experience Music Project. It now also houses exhibits covering science fiction and fantasy, horror films, and Marvel Superheroes as well as local music icons Jimi Hendrix, Pearl Jam and Nirvana.
Another day (or two, if time allows) can easily be spent near Seattle's waterfront.
Stop by Pike Place Market
Pike Place Market, overlooking Elliott Bay, is ranked as Seattle's number one tourist destination, but is popular with locals as well. Open daily (except Thanksgiving and Christmas Day). It's been around since 1907 and is still going strong. While it is the oldest continuously operating farmer's market in the country, it has expanded to cover nine acres and is now home to around 500 shops, restaurants, and other businesses. Even more specialty shops and restaurants are located across from the main multi-level market along Western Avenue.
Pike Place Fish is undoubtedly the most famous part of the market. It's been a staple since 1930 and has become world famous, not only for its fresh seafood which can be shipped anywhere in the U.S., but for its "fish throwing." Tourists video the fishmongers throughout the day as they throw fish from the ice-packed displays to someone behind the counter to be weighed, packed, and shipped.
Book a Chef's Tour with Eat Seattle Tours! Even if you're not a "foodie," you'll enjoy the two-hour tour ($51.99), which includes nine stops with tastes from vendors along the way. Besides enjoying the small bites, we learned a lot about the history of the market from our knowledgeable chef guide and later returned to make purchases.
Ready to see a quirky side of Seattle? Walk down a flight of stairs just past the fish market to find the Gum Wall on Post Alley. A 50-foot stretch of the wall has been covered in thousands of colorful pieces of chewing gum, first dating back to the 1990s. It is said to have started when people waiting to attend one of the productions at Market Theatre began leaving their gum on the wall. It's been cleaned off a couple of times, but visitors soon restore it to its past gummy glory.
More attractions await on Seattle's waterfront
Find the staircases (called the Hillclimb) behind Pike Place Market to get down to the waterfront. The Seattle Aquarium, another of the attractions covered in the CityPASS, is directly ahead at Pier 69.
It was too cold to enjoy taking the Harbor Tour with Argosy Cruises (also included in the CityPASS) when we were there in October, but if you visit during warmer weather, don't miss it! During my May 2018 visit, I was able to take great photos of the skyline while sitting on the top deck during the one-hour narrated tour.
The giant 175' tall Ferris wheel, known as the Seattle Great Wheel, is another fun thing to do at the waterfront when weather permits. It's just down from the Aquarium at Pier 57. You'll be able to get a bird's eye view of the Seattle skyline from it, too!
Note: While Seattle has a reputation for being a rainy city, most of its precipitation falls from October to April. We managed to dodge the rain, for the most part, during my mid-October visit, but gray skies prevailed. A few years ago, my husband and I visited in May and were blessed with sun and blue skies, so some of the photos are from that early summer trip.
When You Go
Stay
Hotel Sorrento
900 Madison St., Seattle, Washington
This historic seven-story, 76-room boutique hotel has Italian Renaissance architecture and opened since 1909. Dine in the hotel at Stella.
Kimpton Hotel Vintage Seattle
1100 Fifth Ave., Seattle, Washington
The 11-story wine-themed hotel was built in 1922 and reopened by Kimpton Hotels in 2014. It has 126 rooms and is pet friendly. Guests enjoy nightly hosted wine tastings in the lobby. Dine in the hotel at Tulio.
Transportation
If you're a first-time visitor, you'll want to maximize your time by taking in as many of its top attractions as possible. A great way to do that is by purchasing the Seattle CityPASS before you arrive. You'll save almost half off admission to five of the city's top six attractions and it's valid for nine consecutive days:
• Space Needle
• Seattle Aquarium
• Chihuly Garden and Glass
• Museum of Pop Culture (MoPOP)
• Argosy Cruise Harbor Tour
• Woodland Park Zoo
You can also stay overnight in the downtown area, where you can walk, call a ridesharing service, or take the Seattle Center Monorail.
Find Debbra Dunning Brouillette at https://www.tropicaltravelgirl.com/ and on Instagram @tropicaltravelgirl.