Kalisha Singh and Pratish Maharjan both were born in Nepal, and it was important to them that they incorporate Nepali details into their Hindu wedding. Because the bride's parents live in Evansville, family and friends traveled from around the world to celebrate the couple in the Tri-State at Pine & Co.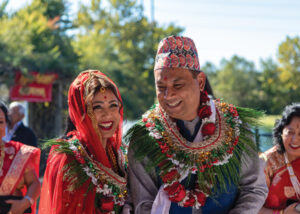 The couple dated long distance for about a year before getting engaged. They both have lived in the U.S. for 20 years — Kalisha in Los Angeles, California, and Pratish in Traverse City, Michigan. They were connected by family and met for the first time in October 2020. Pratish proposed a year later on a night walk in Manhattan Beach, California.
"We didn't have a wedding planner, and we just had a few months to plan for our wedding," Kalisha says.
Guests came from near and far to at- tend the couple's Sept. 30, 2022, wedding, including Pratish's parents, who flew from Nepal. The ceremony, held outdoors by a gazebo and pond on the grounds of Pine & Co, was an abbreviated version of a typical multi-day Nepali wedding.
The ceremony included traditions and rituals performed by a Hindu priest. Kalisha wore a red sari and red bridal veil in accordance with Hindu culture, and Pratish sported a traditional long shirt and pants called a daura suruwal, along with a dhaka topi hat that is popular in Nepal.
The couple and their guests enjoyed a cocktail hour and traditional Nepali food from Evansville eatery Yak and Yeti. Entertainment for the night consisted of music from Bruder Entertainment and a few songs sung by the bride's cousins.
"We're so thankful to our family and friends who helped to plan and coordinate, from outfits to decor and food," Kalisha says.
Venue
Pine & Co.
Photographer
Bolson Photography
Catering
Yak and Yeti
Cake
GaylaCake
Hair & Makeup
Madana Shrestha, POSH International Hair Studio
Music
Bruder Entertainment