Plotted a short distance from the University of Evansville campus — appropriately known as the University South neighborhood —is a revamped retreat on a corner lot on Bayard Park Drive.
The extensively updated home from Sarata 1 LLC — owned by F.C. Tucker Emge Realtors Chris Schafer and Mike Reeder — shows little sign of the small interior rooms that were standard when it was built in 1927. An entirely open concept layout is complemented by a renovated kitchen, freshly painted walls, updated lighting, remodeled bathrooms, and new roof and HVAC system.
"Everything in it is brand new," says Jacqueline Acker, a social media and marketing coordinator with the Mike Reeder Team. "I don't think we really kept much of anything."
The master bedroom is now in what was the dining room, and an adjacent master bathroom with twin vanities was added in the former kitchen. A large family room in the partially finished basement provides abundant space for recreation and entertainment.
Luxury vinyl flooring and ceramic tile back splashes were installed, while the upstairs bathroom retains original tile.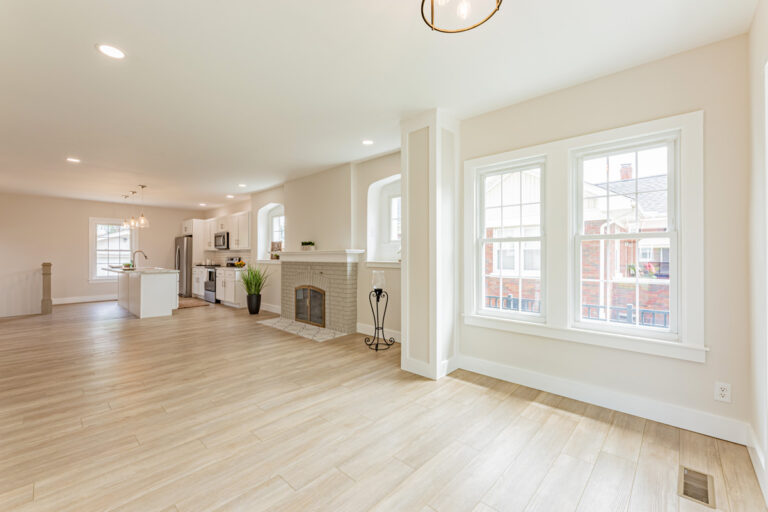 Landscaping was trimmed to make the front exterior more visible, and the red brick was painted a light tan. The resulting modern look is balanced by the original decorative brick trim around the windows and bay windows with built-in interior seating.
"I love that everything is new in it, but when you look at it and when you walk inside, you can still feel that old feeling," says Acker. "You can tell that the house has a history."
Photos provided by Chris Schafer.