Having been a successful swimmer at F.J. Reitz High School, Jordan Ambrose couldn't wait to help make history as part of the University of Southern Indiana's first-ever swim team.
The daughter of athletic parents, Ambrose started club swimming at age 8 and has loved it ever since.
"It was the one sport that my parents didn't do," she says.
But USI's squad didn't debut until last fall when Ambrose was a junior. So, during her first two years of college, she needed to whet an appetite for competition that bordered on obsession.
"My freshman year, I missed that competitive atmosphere to the point where I was having panic attacks," Ambrose says.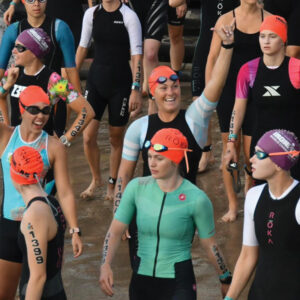 She texted her friend Anna Demerly, a swim coach and personal trainer who had competed in triathlons. That inquiry led to in-depth conversations, a lot of thought, and finally, a rigorous training regimen that took Ambrose to places — literally and figuratively — she never could have imagined.
Not one to meet a challenge halfway, Ambrose immersed herself in preparing for a full Ironman triathlon: 2.4 miles of swimming, 112 miles of biking, and 26.2 miles of running – known as 140.6.
"I thought, I'm good at running. I'm good at swimming. I can pick up biking. Why not?" Ambrose says. "And so, Anna led me into it, and it was just a spiral."
Demerly encouraged, pushed, and cajoled Ambrose as she took her already-fit self to an even higher level.
"The confidence Anna showed in Jordan was a big reason she kept on doing it," says Scott Ambrose, Jordan's dad.
Ambrose rose at 3 o'clock some mornings — "4 at the latest," she says — to get in a run or bike ride before going to USI's new aquatic center to swim. Later in the day, she'd finish whatever running or biking she didn't accomplish in the wee hours. In total, Ambrose trained about 17 hours a week.
After several months of that regimen, as well as some sprint triathlons and half-Ironman competitions — called 70.3s — Ambrose arrived in September 2021 in Tennessee for Ironman Chattanooga, for her first full Ironman event. It was a triumph, and with a time of 11 hours and 52 minutes, she qualified for the October 2022 Vinfast Ironman World Championship in Kona, Hawaii. Qualifying for the Worlds in a competitor's first Ironman is nearly unheard of. Ambrose took only online courses at USI during the fall 2022 semester because of her Ironman Worlds preparation.
After competing in pristine but hilly conditions in Chattanooga, it was a different story for Ambrose at Worlds. She faced gusty headwinds while biking. During the run, intense heat emanating from lava rocks pushed the temperature over 100 degrees.
Ambrose clocked in at 13 hours, two minutes, and nine seconds. She finished 20th in her age division, 802nd in her gender, and 1,541st out of more than 5,000 athletes — and these are the best of the best who qualify. While she had hoped to do a bit better, she had zero complaints. The Hawaiian views were incredible, she says. On race day, she made fast friendships with other Ironman athletes from all over the world.
And then there was the rush of emotions at the finish line.
"Usually at the end, you have about probably 200 yards of red carpet," Ambrose says. "But this is the Ironman red carpet. You hear 'em yelling out at everybody, 'You are an Ironman.' Yeah, it's a big scene. (The red carpet) probably went a whole half mile, and people line that whole half mile. And as you get to the actual finish, instead of running straight through like any other race, they actually had a hill where it stops you right at the top."
Ambrose had other thoughts while finishing the Ironman Worlds. Several months earlier, Demerly was diagnosed with brain cancer. She had been in hospice but now is in palliative care.
Ambrose says Demerly's teaching and inspiration are with her on each step of her Ironman journey, and "I did that race in honor of her."
Now back at USI full-time, Ambrose is immersed in studies, as well as swimming for the Screaming Eagles. She majors in exercise science and pre-physical therapy, and she'll soon apply to graduate programs.
She also loves being in the pool with her USI teammates, who in February finished their first season in the NCAA Division I Summit League. Ambrose competed in the 50-meter and 100-meter freestyle.
"Love my major, love my team," Ambrose says.
She also still loves triathlons, and her goal is to remain in that arena. With USI's swimming season over, Ambrose anticipated ramping up her biking and running once again, with an eye toward more Ironman participation.
That's Ambrose in a nutshell — always competitive and looking for new challenges, says Dave Baumeyer, Reitz High School's swimming coach.
Baumeyer recalls Ambrose dealt with a shoulder injury during her senior year of high school, but when the time came for conference and sectional championships, "you knew she'd give it all she had. She loved to compete," he says. Ironman events are as much about mental toughness as physical, says Baumeyer, who once witnessed an Ironman Worlds event in Hawaii.
"Some kids have it, some don't, and she's one that had it. A lot of times, you can be really talented, but without the fearlessness to fight through that pain, you won't get to the next level. I'm not surprised at all she did what she did."
Neither were Ambrose's parents, Scott and Dana, who accompanied her to Kona. Dana played high school basketball, while Scott was a track and field athlete while attending Purdue University. Scott says his daughter "is driven to be as good as possibly be at anything she's doing. She doesn't want to be mediocre."
"I always say, to be an athlete, you have to have the talent, the work ethic, and the toughness," Scott adds. "And if you have all three, you're probably pretty good."