Eclectic and colorful, Randy and Nina Lientz's art collection illuminates their Downtown Evansville office and East Side home with images reflecting history, wonder, and boundless creativity.
The Lientzes long have collected works by some of the world's most renowned artists, including a pair of Spanish artist Salvador Dalí's originals that are part of a lengthy series based on Dante's Inferno.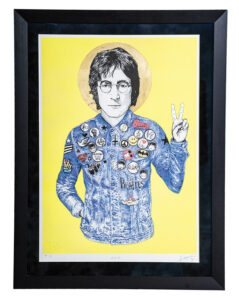 "It's a very large volume of work, and these are just two," says Randy, chief executive officer of AXIOM, a marketing, creative, and media agency. Nina is AXIOM's chief operations officer.
There's much more. The Lientzes own multiple creations by Shepard Fairey, an American whose works include the well-known "Hope" image of former President Barack Obama that became famous during his 2008 presidential campaign, as well as album covers and collaborations with other artists. Images of wrestler Andre the Giant's face are embedded in multiple Fairey-made creations the Lientzes own.
An electric bass guitar player himself, Randy's music fandom is reflected in the collection. His office is a step back into the legendary 1966-1969 psychedelic music scene in San Francisco, California, when groups such as the Grateful Dead, Jefferson Airplane, and Lientz favorite Quicksilver Messenger Service provided the era's soundtrack.
Randy was on hand for the generation-defining Wood- stock Music and Art Fair in August 1969 in Bethel, New York, and his three Woodstock tickets are incorporated in a piece of art in the AXIOM lobby.
Meshing with the 1960s psychedelic pieces is a colorful one from the early 1970s by German American artist Peter Max. It was created on behalf of the American Cancer Society and encourages the viewer to "breathe in love, don't smoke cigarettes" — demonstrating the seismic shift in messaging surrounding smoking tobacco.
Local artist Gary Hobdy's three-dimensional pieces of recycled material also are highlighted.
Randy says he's proud of the collection's diversity of artists and styles, and he and Nina enjoy showing off the dozens of pieces.
"There are certificates of authenticity and other prove- nance that accompany each piece of art," he says.