Craving a home-cooked meal in a relaxed, congenial atmosphere to get you through the end of the week? Make a reservation for the Thursday Supper Club at Schymik's Kitchen. The simple menu — a staple that helped make supper clubs popular in upper Midwestern states — is a departure from the restaurant's global flavors, but therein lies its charm.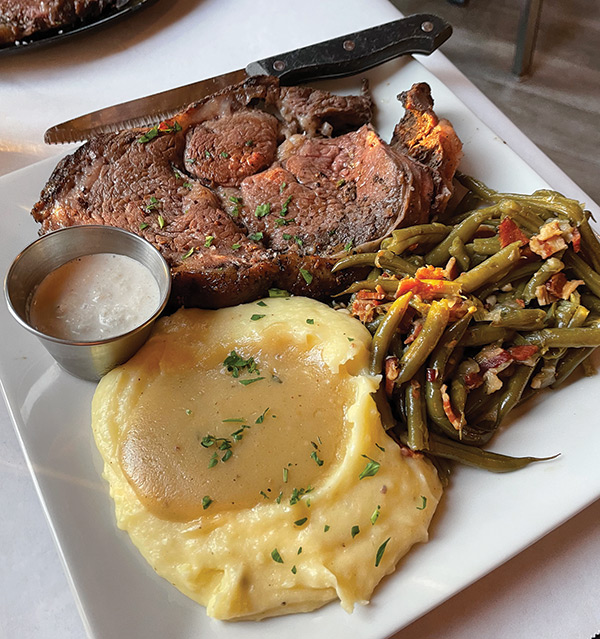 From 5 to 9 p.m., patrons can tuck into a plated dinner of prime rib, fried chicken, or fried catfish served with a wilted country salad dressed in a creamy red wine vinaigrette. Sides change regularly. Diners can enjoy a roasted squash casserole, delicately spiced Cajun fried rice, fluffy mashed potatoes with gravy, and more. Plates start at $25. Although separate from the supper club menu, dessert selections — including gooey pecan pie bread pudding — shouldn't be skipped.
Evansville native Scott Schymik opened the Haynie's Corner restaurant at 1112 Parrett St. in late 2019 and, in homage to the neighborhood's convivial nature, began offering a Thursday Supper Club menu in 2023. Meals originally were served with guests seated at long tables, but this fall, Schymik's started staging separate tables and offering a limited menu to cater to customers' varying dining preferences. Whether you want a cozy nook for a private meal or to pack eight friends around the table for a family-style dinner, Schymik's can accommodate.
Its supper club, though, still is an engine of community and connecting, allowing for free-flowing conversation across the dining room as servers deliver plates of crispy chicken, lightly breaded catfish, and tender prime rib. Bartenders set the scene by pouring cocktails like the Rum but Make It Fashion, a tropical version of the supper club's classic old fashioned. Bourbon and brandy are swapped out for rum and garnished with the standard speared orange peel and cherries for a sweet twist. Walk-ins are welcome, but reservations are recommended.