Fredericksburg, Texas, may be small, especially by Texas standards, but it extends a big welcome to guests.
Approximately 3.8 million visits, representing more than 1.4 million individuals, were tracked in Fredericksburg in 2022 — including Hoosiers, notes Brady Closson, President and CEO of the Fredericksburg Convention & Visitor Bureau. He reels off the lengthy list of what brings people to the Texas town of about 11,000 residents: history, from the original Comanche Territory to settlement by Germans; pioneer heritage; historical country school houses; the National Museum of the Pacific War; and horse racing.
Plus 36 challenging golf holes; an emerging food scene; more than 50 wineries; Altstadt old-style beer; live entertainment; 150 shops and boutiques; peaches; bluebonnets; a thriving art community; Enchanted Rock State Natural Area; Lyndon B. Johnson National Historical Park; Dark Skies; Oktoberfest; and Christmastime.
Visitors come for all that and more — the feeling of Gemütlichkeit (warmth, congeniality) they get, Closson says. Because Fredericks- burg is within a few hours' drive of 10 million Texans, thousands choose to make Fredericksburg a weekend destination. People coming from out of state are encouraged to visit Sunday through Thursday. Closson suggests guests make the Visitor Information Center their first stop. It's packed with information (beautiful, printed materials well organized), and a 10-minute video to help you get your bearings is shown in the center's theater.
Earlier this year, I visited Fredericksburg on a Tuesday through Friday, flying from Evansville to Dallas, Texas, then hopping a quick flight to San Antonio, Texas, and making a 70-mile drive to the heart of rural Hill Country in the center of Texas, Gillespie County. My itinerary focused on local history, food, and wine.
HISTORY
To learn more about the area, take a trolley tour with a local historian who can point out historic sites, including Sunday houses, buildings, and Der Stadt Friedhof Cemetery, which was founded by the German pioneers who settled in Fredericksburg.
Sunday houses are architectural oddities found only in Fredericksburg. Modest one-and-one-half-story wood structures, Sunday houses are defined by an outside stairway, one large downstairs room, no kitchen or a lean-to cooking area, and an upstairs sleeping loft.
When 120 Germans settled Fredericksburg in 1846, each pioneer received 10 acres of farmland plus a lot in town. Their real estate was divided this way because the new settlers thought their American lives would follow a traditional German path — work on the farm by day and return home in the evening. But Texas farming was more challenging than anticipated; the farms required constant attendance, and the journey from farm to town was too rough to be undertaken daily. Families would travel to their secondary houses — their Sunday houses — on Saturday to do their shopping, attend evening beerhall get-togethers, and Sunday morning church services. Today, many of these Sunday homes remain and have been converted into rentals.
Noting the very wide Main Street, local historical and trolley tour guide Dave Schafer explains the street was designed wide so farmers could turn around their wagons.
"Today there is room for traffic, parking, parades," Schafer says. "This town loves its parades."
The National Museum of the Pacific War is recognized today as a world-class cultural institution. NMPW is a Smithsonian affiliate and accredited by the American Alliance of Museums and provides one of the nation's most comprehensive account of World War II in the Asiatic-Pacific Theater.
The museum started in the childhood home of Fleet Admiral Chester W. Nimitz on Main Street and expanded to a large campus that includes several state-of-the-art buildings with thousands of artifacts, including full-size planes and vehicles. Recently opened is a new gallery, Children on the Homefront: Growing Up with War, featuring three vignettes — a rural scene, a city scene, and one of a Japanese internment camp.
Next to the museum is the Japanese Garden of Peace, a gift from the people of Japan to Americans honoring the friendship between Nimitz and Admiral Togo Heihachiro. The garden was dedicated and opened to the public in 1976 on the 130th anniversary of Fredericksburg's founding. A $400,000 renovation in 2015 restored the garden to the architect's original design, and since then, the Admiral Nimitz Foundation has become a member of the North American Japanese Garden Association. A full-time, trained gardener now maintains the garden.
FOOD
The food in Fredericksburg is delicious thanks to its farming traditions. At the award-winning Cabernet Grill, owner and Executive Chef Ross Burtwell features a highly curated food and drink menu specializing in Texas wines. Among the pairings I tried: bacon-wrapped grilled Texas quail from Lockhart, Texas, with Ron Yates Tempranillo (a High Plains red wine).
Eaker Barbecue is owned by a husband-and-wife team who trace their respective roots to Texas and Korea. The couple pairs slow-roasted prime meats with traditional Korean side dishes such as kimchi for a tasty combination.
Otto's German Bistro is another must-try, uniting German recipes with locally sourced ingredients in an intimate setting. Owners John and Evelyn Washburne bring their top-drawer taste-making to seven additional food concepts in Fredericksburg, including La Bergerie, an artisanal wine bar and market.
The menu at Hill & Vine incorporates southern staples and Hill Country favorites like black-eyed pea hummus, chicken schnitzel, and sweet cornbread.
Finally, don't miss Das Peach Haus, a Fredericksburg institution and home to the food specialty company Fischer & Wieser where jams and jellies are made from local fruits, including peaches grown in the orchard behind the store.
Deanna Fischer, chief experience officer at the company, says, "If you have been to parties in Texas Hill Country, you've tried the famous Original Roasted Raspberry Chipotle Sauce served with cream cheese."
If a trip to Fredericksburg isn't in your immediate plans, you can peruse Fischer & Wieser's products at the company's memorable website – jelly.com.
WINE
Though Fredericksburg has produced wines commercially for more than 40 years, the winemaking boom came more recently when vintners began to explore the terroir of the area. The mineral-rich soil and dry weather of Fredericksburg, they found, were ideal for growing grapes.
"We had an ah-hah moment," says Mike Nelson, co-founder and winemaker at Ab Astris Winery, in Stonewall, Texas, also in Gillespie County. "Rhône varietals do very well in Texas."
At this winery, I enjoyed a white wine crafted from Clairette Blanch grapes in the classic white wine style of the Chateauneuf-du-Pape region of France, as well as Avignon, a Rhône-style red.
Meierstone Vineyards is a new winery that lies on the 555-acre Meierstone Ranch, a fifth-generation working farm and ranch also in Stonewall. Meierstone offers seated, curated tasting flights that included a delicious white Trebbiano and a Reserve Malbec.
Ferris & Fletch is another new winery with a tasting room on Main Street. Owners Rarig and Ellery Ross were inspired by the birth of their first son, Ferris, to begin their own wine brand. When brother Fletch was born, his name, too, was incorporated into the brand. Here, I particularly liked the Viognier, a creamy white with hints of oak and vanilla.
Not surprisingly, the growth of wineries in Texas Hill Country receives much of the credit for Fredericksburg's entrepreneurial — and tourism — boom. To balance resident quality of life with visitor satisfaction, the CVB last year launched a stewardship campaign urging visitors to Love FGBTX.
"To show care for the community while visiting, a gracious guest is far more likely to be received and welcomed by gracious hosts if you show care for the community as if it was your own. This will ensure that Fredericksburg continues to be a special place for future generations," Closson says.
ALL WELCOME
Make This Your First Stop:
Fredericksburg Convention & Visitor Bureau
302 E. Austin St. VisitFredericksburgTX.com
Accommodations:
With more than 1,500 vacation rentals, Sunday Houses, bed and breakfasts, inns, and cabins, choices abound. We suggest: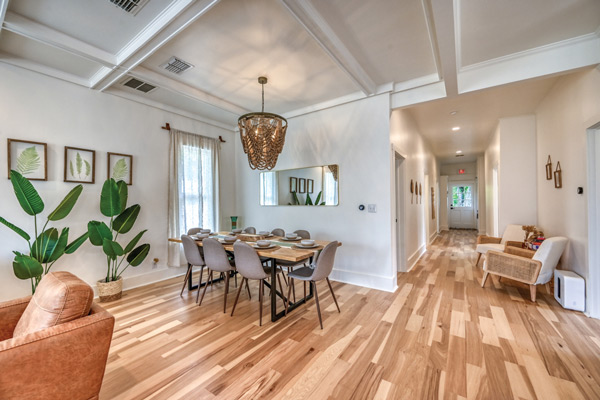 Cozy Vacation Rentals cozivr.com
Hill Country Herb Garden hillcountryherbgarden.com/our-cottages
Porch Light Hospitality porchlighthospitality.com
Fredericksburg Inn & Suites fredericksburg-inn.com
Gastehause Schmidt Second Home fbglodging.com
Splendid Inn — Charlotte's Cottage airbnb.com/rooms/867415778452605553
Drink
Ab Astris Winery abastriswinery.com
Meierstone Vineyards meierstonevineyards.com
Ferris & Fletch ferrisandfletch.com
La Bergerie labergeriemarket.com
Dietz Distillery dietzdistillery.com
Eat
Das Peach Haus Fischer & Wiser Specialty Foods jelly.com
Otto's German Bistro ottosfbg.com
Cabernet Grill cabernetgrill.com
Eaker Barbecue eakerbarbecue.com
Hill & Vine hillandvinetx.com
Chocolat liquidchocolates.com
Clear River Ice Cream, Bakery & Deli icecreamandfun.com
Do
National Museum of the Pacific War pacificwarmuseum.org
Pioneer Museum pioneermuseum.com
Fredericksburg Tours fbgtours.com
Luckenbach Texas luckenbachtexas.com
Enchanted Rock State Natural Area (Reservations for cars are required!) tpwd.texas.gov/state- parks/enchanted-rock