The merits of small businesses are well known. They help keep dollars at home and circulating in the local economy. They create jobs for friends and neighbors. But to be a small business in a less-populated area adds an extra challenge. How does one carve out individuality and draw customers in? What incentives should a town offer to attract small businesses? Here, business owners and officials in five area communities share how they create a unique identity, and the pride they take in their towns.
---
Boonville, Indiana | Population: 6,600
Town Square upgrades create a 'hallmark movies' vibe
Pam Trickey is relishing the opportunity to live, work, and play on the revived, picturesque, flag-laden town square in Boonville, Indiana.
Her business, Trickey's Brews and Bevs, is open five days a week at 120 W. Locust St. There's coffee (the special house blend was concocted by Alex Gale, owner of New Harmony, Indiana's Black Lodge Coffee Roasters), tea, local Derr's soda, and a sandwich, soup, and baked goods menu, with beer and wine available, too.
Live music is scheduled every Friday and many Saturdays through the end of this year, with an emphasis on local talent. This includes younger musicians just entering the entertainment industry.
Its story dates to 2019, when Trickey and her husband, Ken, bought the empty building. They lived on Evansville's West Side at the time.
"It needed a lot of work," says Trickey, who grew up in Warrick County. The building has 3,000 square feet and tall ceilings on each of its three floors, and the couple's vision was to live on the second floor and have a business on the ground level.
Trickey's Brews and Bevs opened in late 2021 and has found a niche alongside Downtown Boonville restaurants such as Commander's Grill, 3rd Street Saloon, and Yesterdaze Bar & Grill.
It's an environment where folks often traipse from one establishment to the next, Trickey says, and "with the small-town vibe, a lot of people have said it's like the Hallmark movies."
This is the image of Boonville's town square that Mayor Charlie Wyatt had in mind upon taking office in 2016.
From that year until 2019, the city spent $2.5 million to give Boonville's historic Downtown a facelift, with refreshed sidewalks, decorative lighting, new parking lines, and a whopping 65 flagpoles. At the same time, the Warrick County government completed a courthouse improvement project.
The result of those efforts, Wyatt says, is an inspired new Downtown Boonville where small businesses can succeed, bringing in local residents as well as those from elsewhere seeking something new. He says special events such as Boonville Square Flair and Halloween Boo in Boonville lure people Downtown, as do Christmas activities when the square shines for the season.
"I know that especially at Christmastime, we scour the parking here in Boonville," Wyatt says. "I've been pleased to see that it's not all Warrick County license plates. I think we have made a little bit of an impact."
---
More about Boonville
With about 6,600 residents, Boonville was founded in 1818 and is the largest city in Warrick County and also the county seat. Famous natives include James Hemenway, a U.S. representative from 1885 to 1905 and U.S. senator from 1905 to 1909, and Jeremy Spencer, a drummer who in 2005 co-founded the heavy metal band Five Finger Death Punch.
---
Newburgh, Indiana | Population: 3,300
Small business owners harness Newburgh's history and charm
Support for small business is no small thing in a town like Newburgh, Indiana, which has cultivated a commerce ecosystem where anyone can make their mark as a small business owner, from the seasoned to those trying something new.
Rita Simmons grew up shopping at 224 W. Jennings St. at the Newburgh Country Store, which was owned by the same family, the Klugers, for nearly 50 years. Before that, it was built for and housed St. John the Baptist Catholic Church from 1867 until 1964.
The historic building, complete with belltower, has seen turnover since it was sold in 2013. It housed multiple incarnations of The Refinery, including a coffee shop, boutique, and "soul space" offering quiet coworking options.
When the building again went up for sale in 2022, Simmons jumped at the chance to buy it.
Simmons opened The Newburgh Mercantile on July 1, 2022. Daughter Christen Angermeier, a North High School graduate, left life as a hotel and restaurant manager to become the store's general manager.
The Newburgh Mercantile offers gifts — really, "everything you could ever think of," Angermeier says — and capitalizes on nostalgia by splashing local images, landmarks, and town names across shirts, mugs, jewelry, puzzles, and more. A coffee and tea bar includes an 1867 blend, named for the year the building was constructed.
Simmons had previous experience in boutique businesses as owner of R4 Design, with storefronts in Newburgh, French Lick, and Carmel, Indiana. The French Lick and Carmel locations closed during the COVID-19 pandemic, while R4 Design was revamped into The Newburgh Mercantile.
Due to Downtown Newburgh's creation options and regular foot traffic, Simmons also plans to open a nearby bike rental shop offering both electric and traditional bicycles.
Newburgh is a tale of two cities: the historic district along the Ohio River, and the spate of newer small businesses that have turned the area around State Road 66 into a shopping, dining, and service destination.
But through holiday events, walking tours, and small business shopping nights, Downtown has harnessed a mix of nostalgia and history to remain Newburgh's public gathering place.
The old town's foot traffic has helped The Newburgh Mercantile increase its presence each month as more people stroll by and learn about the shop — and celebrate the historic building's reinvention.
"It seems like every month is getting better as people get to know we're here. The biggest challenge is people realizing this is a different space than The Refinery," Angermeier says. "Once they come, they keep coming back."
---
More about Newburgh
Newburgh in 1812 became the first town established in Warrick County. The town of about 3,300 people enjoys several footnotes in history, including as a regional riverport, a stop on the Underground Railroad, and the first town north of the Mason-Dixon line to be captured during the Civil War.
---
Mount Vernon, Indiana | Population: 6,400
Small business entrepreneurs in Mount Vernon are finding their niche
Running a small business is hard, as anyone who's tried it would tell you. But 3 Chicks Fudgery in Mount Vernon, Indiana, has made it through 10 years thanks to bold steps and a supportive home base.
Owner Rachel Rainey began her journey selling specialty fudge at Second and Main streets. She outgrew that space and moved a block away, to 305 Main St., expanding her offerings from decadent homemade sweets to include gifts, ice cream, coffee, smoothies, and lattes. A popular recent addition was mini doughnuts.
Rainey also recently started a 3 Chicks Fudgery food truck, giving the business more region-wide exposure. She had already been visiting events such as farmers' markets in Evansville.
All roads lead back to Mount Vernon, however, where 3 Chicks Fudgery's storefront continues to lure customers.
Rainey says the town's robust calendar of local events, like classic car shows and September's annual River Days festival, gives her and other local small businesses a boost.
During Independence Day festivities, "we're slammed," Rainey says, and she's open for extended hours prior to Christmas.
"There're two or three other gift shops in town, and around Christmas time, people hop around and shop at the different locations," Rainey says.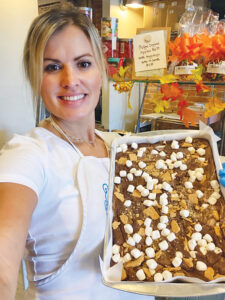 Special events are vital for small businesses, Mayor Bill Curtis says, noting several years' worth of upgrades to the town's core. He says Mount Vernon is blessed to have a quaint courthouse square alongside a majestic Ohio River view.
In the last 7-8 years, we've totally redone Main Street up to where City Hall is," Curtis says. "We have new sidewalks, streetlights, a walkway, and bicycle bath. We've worked to make downtown a bit more of a destination, a place people can go and walk. And the riverfront is as pretty as any."
For Gerton Auto Sales, which has sold classic cars, RVs, and late-model vehicles in Mount Vernon for nearly 20 years, a combination of small-town flavor and effective social media marketing is bringing big success.
"We've literally had people fly in from Alaska to get their RV from us," owner John Gerton says. "We have an exceptional reputation." Case in point: Winnebago has bestowed its Flying W Award for top customer service to Gerton's dealership.
Gerton notes the advantage of Mount Vernon's proximity to clients from major cities such as Indianapolis, Indiana, St. Louis, Missouri, and Louisville, Kentucky.  He says his customers enjoy doing business in a small community, and today's technology gives local businesses a wider reach.
"Social media and internet presence is everything right now," he says.
---
More about Mount Vernon
Eighteen miles west of Evansville is Mount Vernon, the seat of Posey County. With about 6,400 residents, the community is rural but also a major manufacturing hub in the Tri-State. SABIC (Saudi Arabia's Basic Industries Corporation), a chemical manufacturer, has its largest North American plant in Mount Vernon, and AstraZeneca, a British-based pharmaceutical company, employs about 680 people at its Mount Vernon plant. The Port of Mount Vernon, near the confluence of the Ohio and Mississippi rivers, is a major gateway for regional agricultural, energy, and manufacturing industries, generating an estimated $54.2 million in annual tax revenue.
---
New Harmony, Indiana | Population: 687
A town defined by its ingenuity welcomes young creatives
New Harmony, Indiana, has seen a resurgence of young entrepreneurs opening and reviving local businesses while keeping the town's historic integrity.
In March, Adam Williams and his fiancée, Nikki, reopened Firehouse Antiques and Advertising on 608 Main St., a business in a historic late-1800s building that was once New Harmony's firehouse — hence the name.
Upon buying the 20-year-old business and historic building in 2021, Williams, a North High School graduate, remodeled the downstairs while still keeping many original aspects, including the wood floors, exposed brick, an old belltower, and even a firepole on the upper floors where Williams lives with his growing family, which includes two children.
"People come to New Harmony for the history, and antique shops go hand in hand with that," Williams says. "We find stuff that means something to us and potentially someone else."
The couple particularly are fond of authentic antique advertising pieces, traveling all over the U.S. knocking on doors, following leads, and purchasing from other collectors to find unique items that stand out. Buyers like knowing the story behind the items they purchase, Williams says. Many shoppers also are interested in the firehouse's history, and the owners often take visitors upstairs to view the living space as well.
There is a lot of opportunity in New Harmony, Williams says, noting that many of the area's successful businesses are antique dealers and restaurants. In that vein, the Williamses plan to open a sandwich, soup, and ice cream shop next door this summer called Fire & Ice.
What also attracts people to New Harmony is its tranquil atmosphere, something unattainable in a city, says Kari Mobley, the executive director of Visit Posey County and a member of the One New Harmony board. She says many younger people are buying up older buildings to fit their businesses, maintaining the history of New Harmony while bringing in something new.
"We offer something that you can't get in a big city. We're more of a small-town charm, locally owned community that really supports each other," she says.
---
More about New Harmony
History defines a large chunk of New Harmony's out-of-town attraction, as it was the home of two early Utopian communities. More recently, New Harmony — with a population of just under 700 — joined Indiana Main Street, a branch of Main Street America, which helps revitalize Downtown areas of Hoosier cities. The towns of Boonville and Newburgh are members of the same program, which Kari Mobley says will help rebrand Visit New Harmony as One New Harmony. One economic obstacle has been the 2012 closure of the bridge linking New Harmony with Crossville, Illinois, over the Wabash River. In need of repairs, the decade-long closure significantly impacts transportation of the region's oil and agriculture industries. The New Harmony Toll Bridge was given a top priority of rural bridge repair in a 2021 transportation bill that was killed in Congress.
---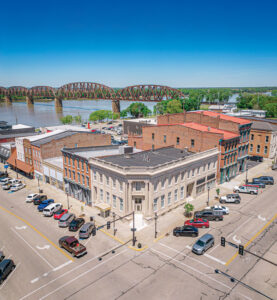 Henderson, Kentucky | Population: 27,697
Long-established companies and new businesses root hard for one another
Henderson, Kentucky, takes pride in being a place where southern hospitality begins. Community advocates say the U.S. 41 bridges represent not only a state border but also a paradigm shift in culture, and this is especially evident in small businesses.
Bradley Hebert has experienced Henderson's warmth first-hand since arriving from Waco, Texas. Hebert runs Whims & Wishes at 112 N. Main St. with his wife Allison, a Henderson native, selling custom-made signs for home décor, children's rooms, weddings, holidays, and occasions.
The business also can host up to 40 people for private sign-painting parties. Hebert relocated to Henderson in 2018 to work for former Whims & Wishes owners Leslie and Tore Stuen and bought the business from them in 2021. Hebert met Allison shortly after arriving in Henderson, and the couple now have two young children.
Small business owners in Henderson, Hebert says, "are a close-knit group. Everybody watches out for each other. We're all just making a living, supporting our families. It's a humbling thing to be a part of."
Whims & Wishes is next door to the Henderson Chamber of Commerce, which cultivates this type of environment.
Chamber President Lindsay Locasto says Henderson's small business base is solid for many reasons, including loyal local customers, a robust calendar of festivals that draw thousands of outsiders, and Ohio River cruise lines that bring passengers into town.
"Our community prides itself on having a collaborative nature and wanting everybody to have success," Locasto says.
Perhaps no Henderson small business has succeeded on a greater level than Simon's Shoes, which is around the corner at 100 N. Main St. and has been a Downtown stalwart for 104 years. Henderson residents love to shop local, but third-generation owner Bruce Simon estimates that 90 percent of his sales come from outside the community's 42420 zip code.
"The key to our business is customer service and inventory," he says. "We carry a lot of shoes and sizes most stores don't carry. We get people from Lexington, Louisville, Indianapolis, Nashville, all over Southern Illinois. We carry a lot of narrow to wide sizes … (and) we are always trying to find something new in designs and styles."
Simon's Shoes still is going strong at a time when its surrounding area also is demonstrating small business strength, drawing visitors from near and far.
"Right now, the Downtown area is booming – new restaurants, shops, and boutiques," Simon says.
---
More about Henderson
Despite its presence directly across the Ohio River from Evansville and a 30-mile drive west of Owensboro, Kentucky, Henderson — population 27,697 in a July 2022 update to the 2020 U.S. census — has a flair all its own. A 700-acre state park is named for French-American painter, orthinologist, and naturalist John James Audubon, who lived in Henderson from 1810 to 1819. Another green space, Audubon Mill Park, overlooks the river and is home to major events such as the W.C. Handy Blues & Barbecue Festival and the Bluegrass in the Park Folklife Festival.