New Hires/Promotions
The Evansville Regional Sports Commission has named Brandon McClish its executive director. The University of Southern Indiana graduate most recently worked as general manager for Learfield Sports at the University of Evansville. His prior positions include director of operations and sales with the Evansville Otters. The Sports Commission is a nonprofit arm of the Evansville Regional Economic Partnership, and its mission is to attract, create, and promote high-profile sporting events for the region.
---
The Evansville Philharmonic has signed a new three-year contract with Music Director Roger Kalia through May 2026. Kalia, who three years ago succeeded longtime Music Director Alfred Savia, has launched initiatives with the philharmonic such as the New Traditions Diversity Series featuring Eykamp String Quartet performances of works by diverse composers in community venues; the Uncorked Series blending drinks and musical performances in local establishments; Symphony Happy Hour pre-concert talks; and concerts at Bosse Field and the Evansville Wartime Museum.
---
Julie McCullough, interim associate provost for academic affairs, has been appointed dean of the College of Nursing and Health Professions at the University of Southern Indiana, effective July 1. McCullough has served as interim associate provost since January and functioned as the assistant dean of health professions with the CNHP from 2017 to 2022. The graduate of Purdue University in West Lafayette, Indiana, and the University of Tennessee Knoxville in Knoxville, Tennessee, also serves as chair of the Food and Nutrition Department and is an associate professor of nutrition. McCullough will succeed Constance Swenty, who has served as the college's interim dean since 2021 and will retire in June.
---
Willard Public Library has announced George Carter as its new library director, starting in June. Carter has been in the library industry more than 20 years, including the last five as manager of the Victorville City Library in Victorville, California. While there, he led the library through significant growth and development and created several programs and initiatives. The graduate of the University of California in Riverside, California, and San Jose State University in San Jose, California, was active in the Victorville community, and he previously worked in a leadership capacity at the San Bernardino County Law Library in California.
---
A magistrate judge merit selection committee has selected Evansville native
Crystal S. Wildeman as a United States Magistrate Judge serving in the Evansville Division. Wildeman will fill the vacancy created by the recent promotion of Matthew P. Brookman from Magistrate Judge to District Judge of the Southern District of Indiana. Magistrate judges are appointed by the Judges of the U.S. District Court for a term of eight years and are eligible for reappointment to successive terms. Wildeman holds Bachelor of Science and Bachelor of Arts degrees from Indiana University, Bloomington, Indiana, and a law degree from DePaul College of Law in Chicago, Illinois. From 2006 through 2014, Wildeman worked as an associate at Evansville law firm Kahn Dees Donovan & Kahn, LLP, and then until 2022 was a partner at Wooden McLaughlin LLP, which has since merged into Dinsmore & Shohl LLP. She currently is a partner at Barber & Bauer, LLP, and works as a general civil practitioner. As a community member, she is involved in the Evansville Bar Association, Rotary Club of Evansville, and Youth First, Inc.
---
Business Spotlight
Always Innovating
Pizza Marketplace, an industry media company, recognized Azzip Pizza with its Menu Innovation award. The Evansville- based chain of restaurants was honored for its variety of crusts and toppings, including its Square Zip and ZeroCarb crusts. (Read more about ZeroCarb LYFE crusts in the February/March 2023 Evansville Business article "A New LYFE.")
The company's March Crabness and Pizza of the Month Club subscription program were singled out for praise. Azzip Pizza co-founders Brad and Andy Niemeier credit head chef Blake Kollker with his talent and dedication to innovation playing a big part in the company's success.
"We are thrilled and honored to receive this award for Menu Innovation," Brad Niemeier says. "Our team is constantly experimenting with new and exciting ideas to delight our customers, and this award is a testament to their creativity and hard work."
In addition to 10 current locations in Indiana and Kentucky, Azzip Pizza plans to open a location in Indianapolis, Indiana, this summer. — By Maggie Valenti
---
University of Evansville head men's basketball coach David Ragland has elevated Craig Snow to the role of associate head coach. Snow was hired by Ragland last year to join the Aces' coaching staff. A former UE player, Snow was a member of the Aces' 1998-99 Missouri Valley Conference championship team and remains one of the program's top-10 all-time scorers, with 1,530 career points.
---
Old National Bank has promoted George Day to Evansville Market President. The southern Indiana native has worked at ONB since 1995 and will continue to serve as its director of business banking. The University of Evansville graduate is a member of the university's Theatre Society board of directors and finance committee. He also serves as treasurer for the Sigma Phi Epsilon Fraternity Alumni Corporation Advisory Board; is on the board of directors for the Indiana Statewide Certified Development Corporation; and volunteers with the YMCA of Southwestern Indiana on its Community Outreach Board and chairs its annual golf outing.
---
Hafer has promoted architect Jarus Jones to senior associate and manager of its Carbondale, Illinois, location. Jones had been with hmb Architects — the Illinois firm Hafer acquired in 2021 — since 2004 and will lead Hafer's new operations there.
---
Ashlyn Thompson has joined Camelot Jewelers as the new head of marketing. Thompson is an Evansville native and, while attending North High School in 2018, won full tuition to the University of Evansville during the fourth annual High School Changemaker Challenge. She and two teammates ideated a musical swing set that would serve as a stress reliever and community builder in Downtown Evansville.
---
The Evansville Philharmonic unveiled a new logo and branding when announcing its 2023-24 season lineup on April 21. The logo, simplified to "ep," features four soundwaves emanating from it, with each philharmonic family member — orchestra, chorus, youth orchestra, and guild — representing a wave.
---
Awards/Recognitions
Deaconess Health System has pledged $550,000 to help Ivy Tech Community College expand its Evansville nursing program. The gift — made through the Invest IN Ivy Tech Capital Campaign — will allow four more cohorts of students to join clinical rotations by increasing space for classrooms and labs, providing scholarship support, enhanced training equipment, and added nursing staff.
---
The West Side Nut Club has donated $600,000 to several area schools and nonprofit agencies during its 101st Annual Founders Day and Awards Banquet. Among schools, Mater Dei and F.J. Reitz high schools received $27,000 each, while several other public, parochial, and private schools in Evansville received $2,000 to $5,000. Donations to nonprofits include $20,000 to Youth First, $16,000 to Albion Fellows Bacon Center, and $15,000 to Cops Connecting with Kids. Other donations include $15,000 each to Howell Booster Club, the Evansville Fire Department, Vanderburgh County Sheriff's Office, and Evansville Police Foundation. Additional nonprofit groups and public safety agencies also received donations.
---
The University of Southern Indiana Intensive English Program has received
a 10-year reaccreditation from the Commission on English Language Program Accreditation. This follows an original five-year initial accreditation by CEA, a specialized accreditation agency recognized by the U.S. Department of Education. During accreditation, programs undergo a rigorous review of their curriculum, faculty qualifications, student achievements, assessment practices, support and services, facilities, and fiscal and administered capacity.
---
Two Evansville-based companies, Atlas World Group and Old National Bank, are
included on the 2023 list of Most Trustworthy Companies in America. Published by Newsweek in collaboration with market research firm Statista, 3,100 companies across 23 industries were evaluated based on an independent survey from a sample of 25,000 consumers. Of the 700 companies that made the list, Atlas ranks 14th among 35 companies in the transportation, logistics and packaging category, while ONB is listed 12th among 37 honorees in the banking category.
---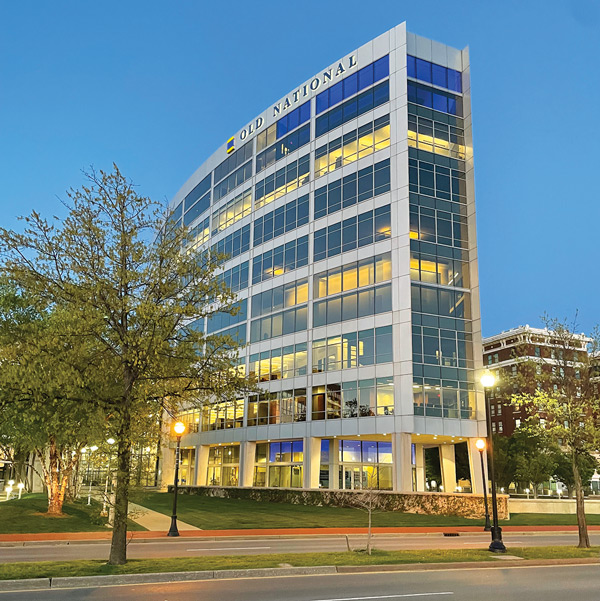 Business Spotlight
Honoring ONB Victims, Survivors
Following a fatal shooting April 10 at an Old National Bank branch in downtown Louisville, Kentucky, the Evansville-based bank announced $1 million in donations for those impacted and in appreciation to those who responded.
Five Old National Bank workers – Josh Barrick, 40; Deana Eckert, 57; Tommy Elliott, 63; Juliana Farmer, 45; and Jim Tutt, 64 – were killed at the bank. Eight others were wounded, including two responding police officers. The shooter, an Old National Bank employee, was killed by police.
The $1 million donation by Old National Bank includes $600,000 for the Love for Louisville Old National Survivors Fund, established by the National Compassion Fund in partnership with the Community Foundation of Louisville.
One hundred percent of the fund assists victims and survivors of the shooting.
"Old National is committed to providing continued care and support to all our impacted team members and the families of those who lost their loved ones," Old National Bank CEO Jim Ryan says.
The remainder of Old National's donations includes $150,000 for the Louisville Metro Police Foundation, supporting critically injured Louisville Metro Police Officer Nickolas Wilt; $150,000 for the University of Louisville Hospital Trauma Center; and $100,000 for the American Red Cross. — By John Martin
---
Evansville Deputy Mayor and Interim Parks and Recreation Executive Director Steve Schaefer has received the 2023 Outstanding Public Official Award from the Greenways Foundation of Indiana. The foundation's annual awards recognize those who contribute to the advancement of trail development in the state.
---
North Posey Junior High School business teacher Matthew Winegar has been named Posey County Teacher of the Year. A U.S. Navy veteran and North Posey High School graduate, Winegar was recognized at the recent 2023 Posey County State of the Schools event, sponsored by the Evansville Regional Economic Partnership.
---
The Evansville Alumnae Chapter of Delta Sigma Theta Sorority has honored women leaders in Evansville during its Red Shoe Luncheon recently. Honorees are in fields that support economic development, educational development, international awareness and involvement, physical and mental health, and political awareness and involvement. Those recognized were Serita Cabell, executive director of Memorial Community Development Corp.; Wendy Chinn, director of diversity, equity, and belonging at Ivy Tech Community College; Aleisha Sheridan, CEO of Building Blocks; Jaimie Sheth, CEO/President of JD Sheth Foundation; Arlinda Payne, founder and president of Evansville Area Black Nurses and Tristate Advocates Inc.; and Melissa Morehead Moore, CEO of Melissa Morehead LLC. Additionally, the organization Fabulous After 30 Evansville (FATE) was recognized for exceptional community outreach.
---
Noah Stubbs, Director of Communications for Evansville Mayor Lloyd Winnecke, has been named Leadership Everyone's Alumnus of the Year during the organization's annual meeting in May. Stubbs is a Leadership Everyone board member.
---
Evansville-based Berry Global Group has received a Climate Change rating of
A- from CDP, an international nonprofit that helps companies and communities disclose their environmental impact. To earn an A score, companies must show environmental leadership by disclosing action on climate change; demonstrating best practices in strategy and action; and undertaking actions such as setting science-based targets or creating a climate transition plan.
---
The 46th annual Easterseals Telethon has raised $936,339 for the Evansville
rehabilitation center, which serves about 5,200 individuals with disabilities across 31 Tri-State counties. The telethon again was broadcast live April 14 on WEHT-TV, which continues to donate 100 percent of telethon-related production costs to Easterseals.
---
D-Patrick Boonville Ford has presented $1,000 to the City of Boonville for the
purchase of new American flags for the Boonville Public Square Historic District. D-Patrick Honda has presented $1,500 to various programs at the Albion Fellows Bacon Center, a nonprofit agency with the goal of preventing domestic and sexual abuse and assisting victims of such abuse in 11 Southwest Indiana counties. D-Patrick Ford/Lincoln has donated $2,500 to Big Brothers Big Sisters of Southwestern Indiana, which provides mentoring for youths in Vanderburgh, Warrick, Posey, Spencer, and Gibson counties in Indiana and in Henderson County, Kentucky.
---
Business Spotlight
On the Grow
Chandler, Indiana, is adding to its ranks. The town council voted 5-0 to annex three parcels of land on April 17. The annexation adds nearly 32 acres, three properties, and potentially 30 new residents to the municipality.
One parcel is 10.2 acres near Heim Road to the west. Another adds 11.75 acres off Gardner Road to the south. The third tacks on 10 acres off McCool Road to the northeast.
The new residents will have access to Chandler's utilities, while the parcels open doors to more development for the town. The annexation bumps up Chandler's population. The town recorded 3,693 residents in the 2020 census and experienced a 27.9 percent population increase in the 10 years prior. After Boonville, Chandler is the second largest community in Warrick County. Newburgh ranks third with 3,344 residents in the 2020 census.
"We are excited to welcome these new residents into our community," Town Council president Tonya Wester said in a statement. "This annexation is a win-win for everyone involved." — By Maggie Valenti and Jodi Keen
---
The University of Southern Indiana's Historic New Harmony program has been awarded an implementation grant of more than $2 million from the Lilly Endowment Inc. The funding is through the Lilly Endowment's Religion and Cultural Institutions Initiative and will support a project that includes the restoration and renovation of two historic buildings for exhibition and programming space; development of a new permanent exhibit detailing New Harmony's religious history; and the creation of community engagement programming, including a multi-day interfaith festival. The five-year grant also funds the development of a Collections and Exhibition Curator and student fellowship to work with exhibition design and programming. The Lilly Endowment's Religion and Cultural Institutions Initiative has awarded more than $86 million in grants to U.S. museums and other cultural institutions to develop exhibitions and educational programs that fairly and accurately portray religion's role in national and global history.
---
Growth/Development
The University of Evansville and Warrick County School Corporation are offering a new program for high school students interested in careers in exercise science/ physical therapy and education. Warrick County students enrolled in the Exercise Science/Physical Therapy Pathway and the Education Professions Graduation Pathway can complete and earn credit for both high school and post-secondary courses simultaneously. These courses then may be transferred to UE or other colleges. Programs will be taught at the Warrick Pathways & Career Center, scheduled to open in fall 2023 on American Way in Boonville, Indiana. Scholarship support will be offered to students who complete one of the two Next Level Study Programs. Students will be offered a minimum $25,000 annual scholarship at UE upon admission.
---
Oak Street Health has conducted a grand opening of its new Riverside health care center at 2201 S. Weinbach Ave. The national company provides primary health services to adults eligible for Medicare. Oak Street Health recently was acquired by CVS Health.
---
Crunch Fitness has opened at 306 N. Green River Road. The company has more than 400 fitness center franchises nationwide and offers circuit training, hydromassage, sauna, tanning, fitness classes, a HIITZone, personal training, and more.
---
Evansville Rescue Mission and Southwest Indiana Association of REALTORS have partnered with the Four Corners initiative to form the Thrift Store Furniture Warehouse. The Four Corners community effort aims to collect unwanted or unneeded furniture and keep useful items out of local landfills. When clients move residences, realtors will transfer leftover furniture to Four Corners, which will then sell it as part of Evansville Rescue Mission's thrift store operations at 1107 Washington Ave. All proceeds from sales will help ERM provide clothing, meals, shelter, and programming for the city's homeless community.
---
The University of Southern Indiana Geriatrics Workforce Enhancement Program has launched a new telehealth initiative to meet older Vanderburgh County residents' health needs and improve their access to medical care through telehealth appointments. Four branches of Evansville Vanderburgh Public Library began assisting GWEP participants with telehealth appointments with Deaconess Clinic medical providers by helping set up necessary technology. Participating locations include EVPL Central and Oaklyn on Monday and Wednesday mornings, and EVPL North Park and Red Bank on Tuesday mornings and afternoons.
---
Nothing Bundt Cakes has celebrated a week of grand opening activities at its new
Evansville store, 6436 E. Florida St., Ste. 100, in The Promenade. Customers can select a variety of tiered cakes, "bundtlet" single-serving cakes, "buntini" mini cakes, and more in flavors including blueberry bliss, gluten-free chocolate chip cookie, and snickerdoodle. The chain started in 1997 in Las Vegas, Nevada, and has grown to more than 500 locations in at least 40 states.
---
Businesses Closing
Bed Bath & Beyond has announced it is seeking Chapter 11 bankruptcy protection and is closing all remaining retail stores, including the Evansville location at 280 N. Green River Road.