As the nights get longer and the days get colder, many of us crave contentedness. Thankfully you don't have to upend your life to find it. Often, it's small things — curling up in a quilt by a fire, adding heirlooms to a decorative tabletop, or taking a stroll through the winter wilderness — that stoke happiness around the holidays. We're drawn to people, traditions, and objects we hold dear. In this feature, Evansville Living has distilled that pursuit into two words — "comfort" and "joy." Here's a closer look at simple ways to capture the spirit of the season.
---
Cozy Cornerstones
Don't be afraid to break out that heirloom quilt
Picture it: The temperature plummets, driving you inside toward the heat from a crackling fire. A light dusting of snow falls, stilling the night. Content to just be, you pull a soft, patterned quilt out of the chest it's sat in since last winter, patiently waiting for the moment a throw blanket just won't do.
"Come winter, I bring out a heavier quilt, and I change them throughout the year," says Donna Fischer, a Posey County resident who began quilting in 2015 and joined the 130-member-strong Raintree Quilters Guild in 2017. "Other people change them out for decor or different holidays. … A lot of people like to change them for the season."
But don't mistake a quilt for a mere decoration.
"Back in the day, they needed quilts for a reason — warmth. They weren't put aside, although special ones did get put away," she says.
"When you walk in my nephew and his wife's house, their wedding quilt is on a quilt rack in the hallway. But when someone comes over and needs it, it comes down," adds Fischer, who hangs quilts made by her mother and grandmother on racks in her home. "In certain families, they do probably mean more because they have grown up with them as gifts from special relatives, especially grandmas."
Fischer attributes a quilt's longevity to gentle use and regular surface dusting. Leave stains and repairs to a professional conservator and skilled quilters.
Above all, don't be afraid to wrap yourself up in these beautiful heirlooms — in fact, many quilters prefer their work be appreciated through use.
"I like to know that (recipients are) using them," says Fischer, who has gifted handmade quilts to loved ones celebrating weddings and childbirth. "That makes me feel good that they're not putting it away."
---
Ties That Bind
In a diverse world, people seek similar comforts at the holidays
A
season of holidays approaches for billions globally, and observances will vary across belief systems, traditions,
and cultures.
There are common threads, though. Human beings generally like being together— it's a source of comfort, and annual holidays of all types provide this opportunity, says Kyle Clark, a visiting professor of anthropology at the University of Evansville.
Holidays and expectations surrounding them "reinforce this kind of sociality that humans have," Clark says. "That applies cross-culturally. No matter what the holiday is, humans will typically find joy in being around their kin."
Clark notes that such holidays across different cultures bring other common sources of joy. Usually, they come with getting a respite from work and day-to-day activity. There are travel opportunities for many, too.
Other things that bring holiday season comfort across different cultures, Clark says, include dressing up, feasts that bring special significance, and giving and receiving gifts.
Faith traditions also are central to so many holidays all over the globe, he notes. "Many holidays have religious undertones, so people might find a kind of comfort in their religious faith, whatever that may be."
Clark's studies of anthropology have taken him far from Evansville. He's conducted research projects in Indonesia, as well as Vanuata, an island nation in the South Pacific, giving him a unique perspective on how people all over the work celebrate holidays.
Clark says Vanuata generally observes Christian holidays familiar to many in the U.S., while in Muslim-majority Indonesia, a popular holiday is Lebaran. That's where people take time to celebrate with others, usually family, for the Islamic holidays of Idul Adha and Idul Fitri (which are Indonesian versions of Eid al Adha and Eid al Fitr). Idul Fitri marks the end of the Ramadan fasting period.
A project Clark led in Indonesia centered on religion and kinship, and he says Lebaran is a major national observance with feasts, time off from work, dressing in nice clothes — traditions familiar to many Americans who also covet holiday comfort and joy.
Lend a Helping Hand
Find comfort and joy through service
Comfort and joy can be found by looking outward, too. Here are a handful of ways to help others this season.
When shopping for little ones, pick up a few extras to donate to the Salvation Army's Toy Town drive, which provides new gifts to children up to age 11. The Salvation Army also has a teen program for youth 12-17 and seeks gifts for this age group as well as volunteers for its outreach services.
The Evansville Rescue Mission needs volunteer power at its daily meal service three times a day, seven days a week, in addition to its Thanksgiving and Christmas meals. Supporters can lend funds to help cover food costs, or even take up a serving spoon themselves.
If you'd rather do good while breaking a sweat, join the Rotary Club of Evansville's Santa Run. Many runners and walkers don Saint Nick suits to raise funds for causes such as Ronald McDonald House Charities' Care Mobile.
For those with an artistic flair, VOICES Inc. —an advocacy group for long-term care residents — conducts an annual holiday card drive to bring cheer to those residents.
---
Walk in a Winter Wonderland
These activities embrace the season's brisk air
Staying indoors sounds appealing with the arrival of winter weather, but there's nothing like taking a deep breath of cold, clean air while out for a winter walk.
The city of Evansville offers 12 miles of paved trails — including the 6.75-mile Pigeon Creek Greenway Passage — and 45 parks of varying size, meaning plenty of places to stretch your legs.
The Evansville Trails Coalition regularly plans seasonal urban hikes at different locations throughout the city. Wesselman Woods Nature Preserve, with four miles of trails on a 190-acre old-growth forest, makes a good spot for urban hiking. Also under Wesselman's umbrella is Howell Wetlands, with two miles of traversable area.
Angel Mounds State Historic Site offers four miles of trails. On the opposite side of the county, Burdette Park boasts three miles of paved trails connecting the park to the University of Southern Indiana's trail system. Eagle Slough Natural Area near the Kentucky state line has a mile of trails on a 127-acre area that features an observation deck overlooking wetlands.
Take a short drive up northeast to the Blue Grass Fish and Wildlife Area for 2,532 acres of biking and wildlife watching, along with hunting, foraging, and fishing. Other areas slightly outside Evansville include Patoka River National Wildlife Refuge and Management Area in Oakland City, Indiana; Tern Bar Slough Wildlife Diversity Conservation Area in Winslow, Indiana; and Twin Swamps Nature Preserve in Posey County.
Across the river at John James Audubon State Park in Henderson, Kentucky, two naturalist-led hikes are planned for late fall: the mile-long National Take-a-Hike Day Family Trek is Nov. 18, and Nature's "Switch to Winter" Hike is set for Dec. 16.
---
O Tannenbaum
Enjoy a holiday tree in the Great Outdoors
Finding the right Christmas Tree is a staple of the season. Eventually, age and time — and all those needles to clean up — may make people search for alternative options, including trees they can plant and decorate outside.
Ball and burlap trees are previously planted and grown, then — as the name suggests — dug up with a ball of soil and covered in canvas or burlap. Jesse Meyer, assistant manager for retail at Colonial Classics in Newburgh, Indiana, says the garden and landscape store sells these trees year-round but notices an uptick in purchases around the holidays. The most popular are Norway spruce and white pine trees, which people can purchase for privacy, shade cover, aesthetics, or a Christmas tree that will last a lifetime.
"With a live tree, your family can grow with it. It's something they can decorate for years to come," Meyer says.
The first thing to know is that these trees are between 200 and 500 pounds, much heavier than the 25-50-pound fresh-cut trees people typically purchase. Live ball and burlap trees also are between four and eight feet tall and fully grown at around 50 feet.
Ball and burlap trees do not shed their needles as much as cut trees do. Meyer says the tree can stay indoors for the first holiday season, but once planted outside, it must stay there. However, a tree can be cut from the top, and that part can be used as an indoor holiday tree.
Other than that, ball and burlap trees are relatively easy to maintain.
"The hardest part is how heavy it is, and then remembering to water it," Meyer says. "No one usually has any problems."
---
Embers of Comfort
Unwind in the alluring appeal of a crackling fire
What's more comforting than gathering around a fire? According to Mike Schopmeyer, that is tough to beat.
With winters typically chilly in Southwestern Indiana, opportunities to warm up by a fire are not limited. Mike has two firepits in the backyard of the East Side home he shares with his wife, Laurie, but he has loved firepits for a long time.
"We've always had one," he says. "I'm a Boy Scout, so maybe it comes from that."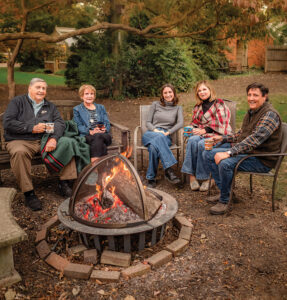 By his estimate, Mike has owned a half dozen firepits over the years. They are used year-round at the Schopmeyers' residence, but especially around holidays like Easter, Thanksgiving, and Christmas. Many of their friends also have firepits.
"Around a holiday weekend, the fire would be lit the whole time," Mike says.
With continued use, many of these pits can give way to rust and heat, but one copper firepit Mike bought online from Frontgate will last longer. The Schopmeyers' current firepits sit in different areas of their backyard. One rests in the shade close to the house, and another sits in the sun in a secluded part of the yard close to the woods. Mike also takes them to tailgates.
"They're a good place for friends and family to gather," Mike says. "They've been more of a gathering place for us than swimming pools."
It's a comforting image: a fire going surrounded by people who care about each other, a drink in hand, wildlife bound- ing and chirping, the sun go- ing down, and, eventually, the stars overhead. Mike adds that standing by a fire in the early morning is just as enjoyable.
"It's pretty neat to sit back and watch all of that," Mike says. "It's quiet, like a big private park in a sense. Just remember to load wood."
---
A Natural Approach
Keep creature comforts in mind when decorating outdoors
One of the great comforts of winter is seeing bright, cheerful decorations. It's why Brian Wildeman, who founded the landscaping business Wilde Horticulture Services seven years ago, finds holiday decorating so rewarding.
"I think it's fun to add something interesting to what can be a boring and glum time of year," Wildeman says.
Many of Wildeman's winter projects involve installing Christmas lights, large ornaments, and colorful bows. For the occasional outdoor tree decoration, where critters such as birds and squirrels often scamper, he has more natural decoration recommendations.
Products made from natural wood, including pinecones and twigs, are ideal. Although fake berries last longer, decorating with real winterberries is better for wildlife snacking,
as are puffs of popcorn and birdseed balls. Avoid plastic, string, and anything otherwise not natural to the environment, as it may harm wildlife who try to ingest it.
Wildeman says, like any holiday decorations, natural ones must withstand and be made for the winter elements, including strong winds.
"Make sure your decorations can endure the outdoors," he says.
---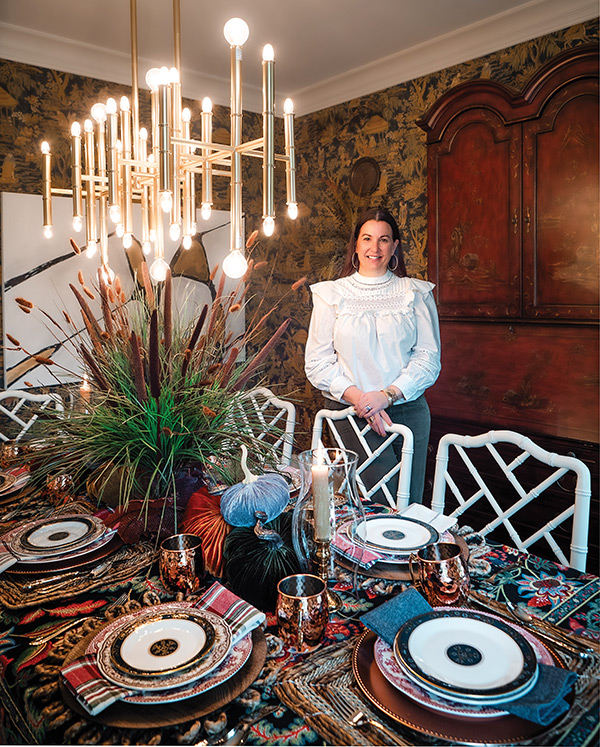 A Seat at the Tablescape
Little details can make your holiday decor go bold
Patterns always produce a punch, but especially at the holiday dinner table. When
Evansville Living wanted to create lively seasonal place settings, Amy Davenport — a Henderson, Kentucky, resident and former event coordinator for the now-called Dea- coness Henderson Hospital — expertly mixed common items with antiques and pops of color to dress a person- able holiday tablescape.
Take your favorite family heirlooms and throw in a vividly embroidered tablecloth with muted plaid napkins, brass candleware and hurricane glass, copper Moscow mule mugs, woven place settings, passed-down china, and plump, velvet pumpkins in demure jewel tones for an eclectic tabletop filled with heritage and style.
---
'Beyond Invitations'
Soup Fest stirs up a spirited contest between friends
"There's something about soup that is so homey and cozy."
That's how Evansville real estate agent Philip Hooper describes the reason behind an event that brings friends in closer each autumn.
The first gathering took place in 2007 in Indianapolis, when Hooper and his wife Amanda served batches of soup and chili for a gathering of friends. The response was so great, they joked about hosting a soup contest.
"What's fun is everyone has really great soups they like to make," he says. "Making a really good soup is so labor intensive that it seems to be something you only make for friends and family."
Starting in 2008, friends arrived with pots of soup in hand. Votes are cast for the $20 buy-in, winner-takes-all contest, but the format has changed. The first two years, a panel of judges decided the winner. Three years in, "we moved to a democracy," Hooper says, and voting was opened to all attendees. Winners get their names emblazoned on a brass plate affixed to the Board of Champions — which, this year, is nearly at capacity.
"I remember thinking, when I run out of room, my son will be going on 16 and I'll be in my 40s. And here we are," Hooper says.
The first winning soup maker claimed the champion prize with a cream of roast chicken. Subsequent winners have cooked up a spicy white Bambi chili with deer meat, Indiana bison Irish stew, butternut squash and curry soup, chicken gumbo, cheesy chicken chili, Kentucky hot brown soup, Congolese chicken soup, burgoo, roasted vegetable, Portuguese caldo verde, and New England clam chowder. Last year's prize was won by an unlikely entry: diner cheeseburger soup.
One year, a cold Ukrainian soup won. "People said, I can't believe I'm voting for a cold soup," Hooper says.
When the Hoopers moved to Evansville's historic district in 2012, Soup Fest came with them. Hooper crafts a custom flyer each year, but he long ago stopped sending invites — if you know about Soup Fest, you know.
"One year, my son said, 'Dad, I think I understand Soup Fest a little more. It's like you've made your own holiday," he says. "It's a party of friends that goes beyond invitations."
---
Eyes on the Pies
A delicious fit this holiday season
Is there a better aroma during the holiday season than a freshly baked pie? Jenny Lamble likely would say no. Such scents are the stock and trade of Lamble's business, Be Happy Pie Company, and this time of year, it's something people crave.
"Everyone celebrates around food, especially dessert, and (a pie) is something special you don't have all the time," she says. "That's why we pour ourselves into our desserts. We are really proud of the fact that we bake from scratch. People remember that from their grandmas and moms. And it's not only delicious; it's pretty."
Lamble speaks from experience. Her grandmother always would ask the family what they wanted for dinner and dessert, and her pie game was solid: cherry, apple, and coconut cream, to name only three. "It was the best," Lamble says.
Be Happy Pie Company, at 2818 Mount Vernon Ave., Ste. B, draws from Lamble's family inspiration. That includes never letting crust-baking scraps go to waste. The business sells Scrappies — so named by Lamble's daughter, Emma — that are sticks of leftover pie crust, with a cinnamon and sugar coat.
Lamble doesn't leave her love for baking at work. Her family is treated to seasonal comforts at home, including bread and cookies.
"I'm not deterred by my occupation," Lamble says. "I still love to do it at home."
---
Winter Reading
Recapture holiday magic by curling up with a childhood book
They might be old and dusty, sitting on a shelf untouched for months – if not years – at a time. But many of us find a comforting lull of familiarity in thumbing through old books, which can conjure sweet memories of family, friends, or happy times earlier in life.
It might be a religious text, a songbook, or a copy of "A Visit from St. Nicholas" — "'Twas the Night Before Christmas"— or "The Polar Express" that someone read to you when you were a child. If you have such a connection with a book, there's magic in the pages. You might not want to read them all the time, but don't even think about throwing them away.
There's science behind the sentiment. "The evidence has become so overwhelming that social scientists now consider 'read aloud' time one of the most important indications of a child's prospects in life," says author Meghan Cox Gurdon in her book, "The Enchanted Hour: The Miraculous Power of Reading Aloud in the Age of Distraction."
Those of a certain age will remember having stacks of Little Golden Books, the series of children's books that dates to 1942, featuring authors such as Richard Scarry. This holiday season, take a trip down memory lane with the wonder of "Baby's Christmas," the frivolity of "Frosty the Snowman," the magic of "The Biggest Most Beautiful Christmas Tree," or Scarry's illustration of "Rudolph the Red-Nosed Reindeer."