Sara Rhoades is well-versed in art. Among her creative endeavors — she owns East Side boutique The Confectionery and a jewelry-making business, S.K. Rhoades, and is a University of Evansville adjunct professor of metals and jewelry — Rhoades also collects vintage.
The West Sider's collection began when her husband, Nicholas, gifted her several items that belong to his grandmother, including a set of pink Pyrex nesting bowls Rhoades uses still today.
The University of Southern Indiana graduate says she sees that moment as the "start of a love story." The items she buys once made someone else happy and have that lived-in feel, which is what makes vintage collecting so special for her. For Rhoades, it's all about passing that vintage joy along from one life to the next.
"I love knowing the bowls fed my husband as a kid and his mom as a kid," Rhoades says. "I love that kind of nostalgia, the joy these things brought and continue to bring to people."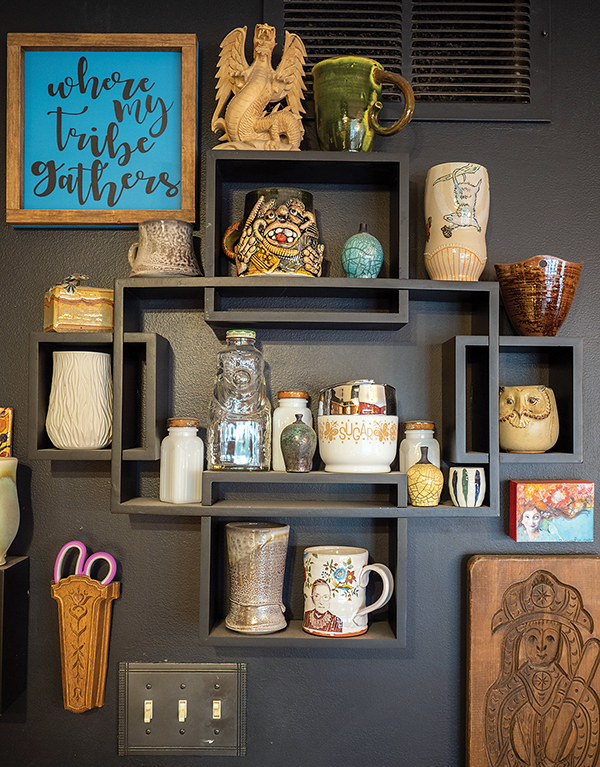 Rhoades' vintage collection grew during the COVID-19 pandemic. She sells some of her collection at The Confectionery, a flea market, and an antique booth. Still, she owns more than 1,000 vintage items, including glass, home decor, kitchen tools, and art, with a sizable portion of her collection on display at home.
Vintage glass holds a special place in her heart, especially mid-century modern pieces. Among this collection are items by now-defunct Viking Glass and glass made in Empoli, Italy.
"The glass is still as shiny and perfect as the day they were put in the kiln, like gemstones," she says.
It's also important to her that her daughters, Lyra, 14, and Wren, 9, grow up around beautiful things.
"I want my kids to grow up around art and beautiful things," Rhoades says. "The imperfections are what make vintage beautiful."
MADE FROM HOME theconfectionerysweetsoap.com