Andy Herbertz always has been a creative type, and he believes Evansville's arts community has nurtured his creativity.
"I always enjoyed art. It was encouraged throughout my childhood," Herbertz says. "I've made relationships through art since I've been here."
The Indianapolis, Indiana, native graduated with a degree in graphic design from Ball State University in Muncie, Indiana, and started a career in advertising. He eventually found his way to Evansville's Casino Aztar before it was Tropicana — now owned by Bally's — where he serves as advertising and public relations manager. Herbertz has engaged with the regional arts community since moving to the Tri-State in the late 1980s.
"All these little artistic projects I've been involved in along the way have made living in this area fun," he says. "My style has evolved over the years, but I try to use more color now."
His work primarily consists of paintings, including watercolor and oil, though he has dabbled in other mediums like stained glass. Herbertz's pieces on display in August at New Harmony, Indiana's Black Lodge Coffee Roasters were avian-centric works titled "The Spirit of the Hummingbird." In his home studio are more hummingbirds in all colors, in different places and positions, under sunlight or within the branches of a tree.
"Hummingbirds represent loved ones, spirits of those from your past," Herbertz says.
Art is on almost every wall in Herbertz's Mount Vernon, Indiana, home, which he shares with his husband, Terry. Much of it is by Evansville-connected creators, including singer Luther Lewis III, University of Southern Indiana professor emeritus of art Michael Aakhus, ceramist Julie Byczynski, and painter Nikki Pritchett.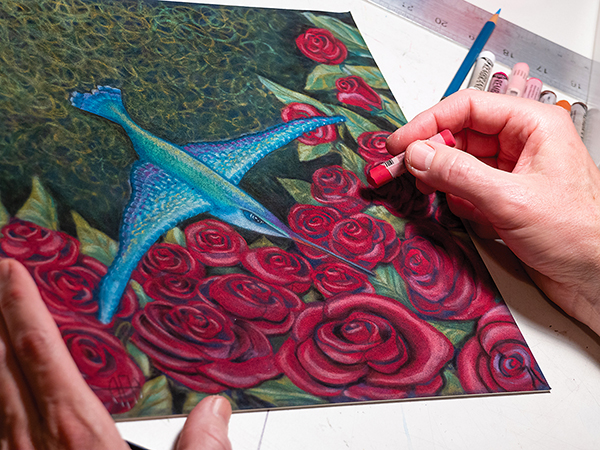 Herbertz hopes more of his work can be displayed around Southwest Indiana.
"As I look forward, this is something I want to do more of," he says.