Seven years into its existence, Farmer & Frenchman Winery continues to provide a dining experience unique to the Tri-State. It offers a worldly menu prepared with locally sourced ingredients, in an idyllic, countryside setting.
An upscale setting for a duo, group of any size, or major life event, Farmer & French-Man bills itself as a place where memories are made. Co-founded in southern Henderson County, Kentucky, by Hubert Mussat (the Frenchman), and his wife Katy (the farmer), this family enterprise wants everyone coming onto the property to feel like family.
The Mussats work closely with another couple, chef Steven Vanover and his wife Shelby, an events coordinator. Shelby assists Katy with planning Farmer & Frenchman's many events, and the menus that Hubert and Steven create are sparked by Hubert's French and Italian heritage.
"Whenever we have our weekly meetings, it's two couples that get together," says Katy, a Henderson native.
Farmer & Frenchman loves celebrations. Its barn is available year-round and seats 200 people at tables with space for a dance floor. In-house catering is provided for all events, which include weddings, holiday and corporate parties, class reunions, and more. Adjacent to the barn is a vineyard lawn with room for more than 250 people. Guided vineyard tours also are available.

Since opening in 2016, Farmer & Frenchman has added three rental cabins on the property for those wanting an overnight excursion in addition to a fine meal. Amenities in the solar-powered cabins include a private patio.
Dining, though, is what brings most people to Farmer & Frenchman. The Mussats take pride in being a farm-to-table restaurant, using products from vendors such as Henderson County's Cates Farm and Henderson Farmers Market, plus many others from the Tri-State and Kentucky.
The menu's influence, though, comes from a continent away.
"The story of why all of this came to be is Hubert had a restaurant in Miami, Florida, and it was inspired by his father's restaurant and his family recipes," Katy says. "The family is from Italy, even though he is French. He is the only Frenchman out of the Italian family."
"It was a simple menu whenever we opened in 2016 because it was the Italian family recipes," she adds. "We had comfort foods from Italy — lasagna, baked ziti, pizzas. We call that the Italian heritage portion of the menu, and we keep those items, always."
Other parts of the dinner menu — such as the French Quarter section — fluctuate a bit more, and that's where Hubert and Steven collaborate on offerings that are tasty and trendy. The Mussats travel to France often to visit Hubert's family and scout what's new in French cuisine.
"That is my purpose, even if I go to see my family also," Hubert says with a laugh. The Mussats bring in guest chefs from around the world to train the Farmer & Frenchman kitchen staff. The culinary team, made up of local talent, always is ready to learn new dishes and share them with Farmer & Frenchman diners.
French Quarter specialties now on the dinner menu include duck confit, coq au vin blanc (chicken in wine sauce), salmon and risotto, and ratatouille over risotto.
"The French and Italian style of eating is very local and seasonal, so that's why we change our menu seasonally," Katy says. "And if you're local, you have to be seasonal." What to order? The Mussats say chicken parmesan is a frequent top-seller from the Italian heritage side of the menu, while duck confit (Hubert's favorite) also is popular.
"Our chef really enjoys doing specials every day," Katy says. "If people ask, 'What should I have,' I always recommend doing the specials, because that's where he gets to have a lot of fun."
The Farmer & Frenchman lunch menu, meanwhile, is a stripped-down (and generally cheaper) version of the dinner menu, with several salad, sandwich, Italian, and French choices.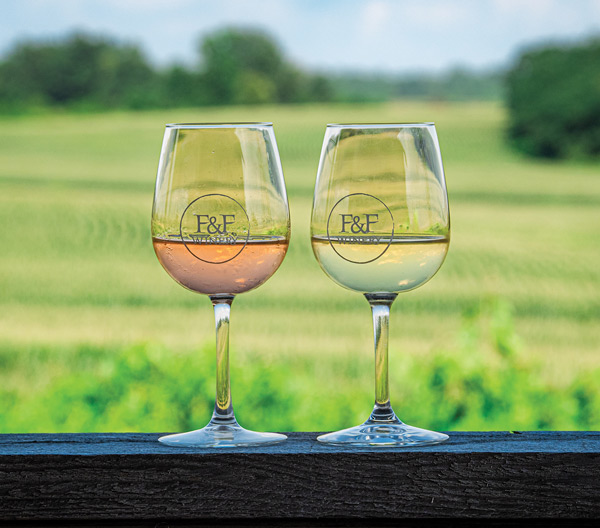 The dessert menu at lunch and dinner rotates, with chocolate mousse and crème brulée among the sweet options.
For a special Farmer & Frenchman outing, the Mussats offer a private dining room for groups, as well as ticketed five-course, wine-pairing meals, during which Hubert will guide guests through differing flavors and aromas.
About that wine: Farmer & Frenchman usually has about 17 varieties of its own product available, and a total list of roughly 300 includes Hubert's favorites from France, Italy, and beyond. There's something here to satisfy any palate.
"He's really a collector," Katy says.
Farmer & Frenchman's reputation is expanding beyond Henderson and Evansville. The Mussats don't know where all diners come from, but cabin guests arrive from throughout Kentucky, Indiana, Tennessee, and Illinois.
Kentucky Living magazine has named Farmer & Frenchman one of the state's top three wineries every year since 2018.
The COVID-19 pandemic was difficult for businesses everywhere, but as fewer people boarded airplanes, they sought more rural, drivable destinations, and Farmer & Frenchman noticed that trend.
"We saw our region get bigger, during and after COVID," Katy says.
The Mussats say they are proud of what they have built in seven years. They look forward to welcoming more guests from near and far to their lush green vineyard in Henderson County and making them feel like family.
"I think we are becoming a destination," Hubert says. "I hope so, because with this view, this location, it's worth something."
---
Specials and menu updates can be found on Farmer & Frenchman's Facebook page, and special event announcements are made via email. To join that list, send an email to katy@farmerandfrenchman.com.