Homes are private, personal retreats, where you can shake off the day's stress and relax with the people and things you love. They also can be works of art, as the stately new Victorian at 24 W. Jennings St. in Downtown Newburgh, Indiana, can attest.
Drs. Cindy and Steve Basinski were looking to instill a modern Victorian vibe in the charming 1895 abode originally existing on that lot. But one month into the renovation, they learned their new property had big problems. Making the gut-wrenching decision to raze the existing home and build anew, a team of contractors and designers forged ahead with the Basinskis to bring to life a Victorian home that not only featured sleek modernity but was respectful of its past.
A Quick Start … and Stop
Cindy and Steve had considered selling their custom Mediterranean-style home on Newburgh Road but hadn't yet pulled the trigger. A push came when another Evansville resident fell in love with the property and made an offer in summer 2020. The Basinskis accepted the offer, realizing they had to move fast to find a new dwelling of their own. Six days later, while strolling on Jennings Street in Newburgh, they impulsively visited the dollhouse-like Victorian painted a warm taupe and knew it was the house for them.
"We felt like it picked us," Cindy says. "We walked in with our family, and we said, 'This is it.' We felt like we were home."
The Basinskis envisioned a modern Victorian look with a more open floor plan, connectivity to Jennings Street, and lots of natural light.
"We were trying to incorporate bigger spaces, especially along the east side, which was the most closed off," says Greg Mullen, a principal home designer at H.G. McCullough Designers, "but the main thing we ran into was holding the old structure up and putting the new structure in."
Using Mullen's artful sketches, the plan was to renovate the existing 3,200-square-foot house and 700-square-foot addition by opening the interior and modernizing the exterior. The whole renovation was slated to take just a few months.
We felt like it picked us. We walked in with our family, and we said, 'This is it.' We felt like we were home.
It didn't happen that way.
Once Elpers Brothers Construction began tearing into the home in August 2020, the Basinskis' dream home quickly became a nightmare. The foundation sat on a sand bed and was crumbling. The rafters had termite, water, and mold damage. Studs were rotted and unbalanced. The house also was sinking in the back — concrete had been poured underneath in an unsuccessful attempt to level uneven floors — and would have to be hydraulically lifted.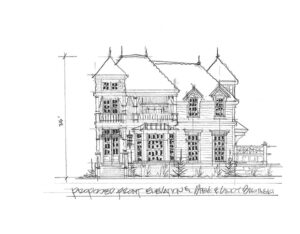 "We didn't expect to see what we saw," Jeremy Kiesel, a partner at Elpers Brothers Construction, says. "With an older house, you know there are going to be some things that need to be addressed, but every time we turned around, it was something else." 
The intent was to keep the original bones, but one month and several thousands of dollars of renovation work revealed the home couldn't be saved. The homeowners were devastated.
"The Basinskis had us working there for a month trying to salvage the house," Kiesel says. "It's hard to tell a client, 'This remodel is going to turn into 10 times more than you were planning to put into the house.'"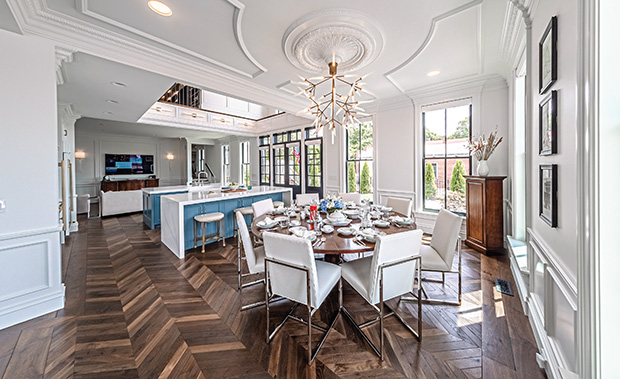 By late September, the team knew they needed to pivot, but first, they had to convince local officials this was necessary. Hesitant to see a beautiful old home razed in a neighborhood revered for its history, Newburgh officials and historical society members weren't originally sold on the updated plan. So, Paul Elpers, president of Elpers Brothers Construction, invited them to tour the home in October and see the damage firsthand. Their resistance faded immediately.
"At the door, everyone said, 'We're not going to let you tear it down.' After seeing it themselves, they said, 'This house is beyond repair,'" Elpers says.
The Newburgh Town Council unanimously approved the new building plans. By Nov. 4, what once was a classic Victorian with gingerbread corbels and a sweeping porch was reduced to rubble. But from the splintered remains, a new dream arose.
The New Plan
The Basinskis were proceeding with their home, albeit a revised version. Despite their heartbreak, the couple embraced the opportunity to completely customize their new floorplan — but many of their original goals remained.
"Steve and Cindy were adamant about keeping the home true in design to the town of Newburgh. They have great respect for Newburgh and wanted the home to feel as if it was always there but with an updated, modern feel," says Keith Fehrenbacher of Wood Specialties by Fehrenbacher. 
As the foundation was dug in January 2021, Mullen, Fehrenbacher, Elpers Brothers, and interior designer Beth Greer were hard at work implementing a fresh take on a traditional Victorian. Intricate mouldings would hark back to the impressive trim frequently used at the turn of the 20th century.
"These features were typical of the Victorian home, but we ever so slightly cleaned up the profiles and simplified the designs to give it a more modern flair," Fehrenbacher says.
Tying the styles together is 18,000 feet of breathtaking interior plaster and wood mouldings, designed by Greer and then drawn and supplied by Fehrenbacher. Installation could be a painstaking process: Each piece had to be laid precisely to seamlessly link together. Gaze up at the stunning plaster medallion over the dining table, and you'll never spot the separate pieces that were carefully carved and glued together.
Steve and Cindy were adamant about keeping the home true in design to the town of Newburgh.
Composites such as Versatex were used in certain areas of construction for their longevity over typical wood, but the home's 16,000 feet of exterior siding and trim is genuine western red cedar painted white. The front entry's custom mahogany doors sport a high-gloss red finish. The hardwood flooring laid in a chevron pattern was imported from France. Gorgeous Schonbek crystal chandeliers illuminate the kitchen and second floor stairwell. The crystals were individually wrapped, and Cindy and her daughter Rachel hand-strung every single one onto the light fixtures.
The largest chandelier hangs from a staggering vaulted ceiling over the kitchen's gleaming quartz counters by Cabinets & Counters and appliances by Ferguson Bath, Kitchen & Lighting Gallery and is supported by wainscoting, paneling, fluted pilasters, and acanthus leaf and rope pediment over the windows.
"Big windows change the whole horizon. The original house didn't have a lot of views; the windows were tall, but they didn't capture the outside elements," Mullen says. "We put a bay window in front and windows in the kitchen and dining room so you can see more of downtown."
Whenever the Basinskis want a little privacy, one click of their Lutron automatic shades from Budget Blinds of Evansville brings down synchronized coverings over their new windows from Pella Windows & Doors Evansville.
As the team worked to create a period look meshed with contemporary furnishings, they plugged into their new surroundings. Understanding all eyes were on their home due to its prominent spot in Historic Newburgh, they sought opportunities to connect with neighbors and smooth over community concerns.
"When you're shutting down lanes of traffic, to either move equipment around or to unload building materials, that definitely creates conflicts. The neighbors worked with us and were understanding. Everybody worked together," Kiesel says. 
The couple started by removing a polarizing privacy fence along Jennings Street.
"We want it to look more inviting than the last home," Cindy says. "We want to have it become part of the town."
Making It Home
The Basinskis moved into the four-bedroom, four-bathroom home on March 17, 2022. Geothermal loops were installed to help with heating and cooling along with a Aromatech system to keep the circulated air fresh. With the advancements in modern vehicles the carport is wired to charge an electric vehicle.
Steve's favorite spot is the upstairs sitting area overlooking Jennings Street.
"Our last house was so secluded you couldn't see anyone," he says. "Here, it's a lot more fun."
Greer, a Newburgh native, came out of retirement when the Basinskis called.
"I'd only do this for Cindy," she says. "They know what they like and don't like, so they make it easy. This is my favorite house in my entire career."
"Beth did a wonderful job of keeping the design in check," Fehrenbacher says. "I feel like with today's internet findings, unique architectural elements are so easy and look great in a photo but putting hundreds if not thousands of these items together in one home and have them all work together is another story."
The new home's footprint — 4,000 square feet — is a bit bigger than the old house's 3,200 square feet, but a big difference lies within the levels and in the 10.5-foot ceilings.
"The levels are due to where the carport was. That drove us to create a taller ceiling in the main area," Mullen says. "The original ceilings were only eight feet tall, so dropping the main floor helped us incorporate taller windows and make it feel more spacious when you walk in. They wanted to increase the horizon line when they look out."
Heirlooms and irreverence give this refined home a personal touch. German china that belonged to Cindy's mother, Kimmie Tomi Maiden, rests in a powder blue custom hutch designed by Brad Schnur of Custom Woodcrafters. A wood and gold partition that was owned by Cindy's parents stands in the upstairs sitting room. The Basinskis' karaoke machine currently is perched in the brick-lined basement bar.
After unexpectedly spending more than a year crammed into a two-bedroom apartment, Cindy and Steve finally feel at home.
"There's not a single thing I would change," Cindy says. "That's extremely rare."
"This home was one of my favorite projects," Fehrenbacher says. "Steve and Cindy assembled a great team. We all chipped in and bounced ideas and designs off each other."
"Everything flows really well. There's not one piece that overpowers anything else," Mullen says. "All the features of the house coincide with each other. There's no one focal point. The whole house is the focal point."
Photos by Zach Straw.
---
Local Resources 
Budget Blinds of Evansville
812-490-4457
budgetblinds.com/evansville
Cabinets & Counters
7387 State Road 66 Newburgh, IN
812-858-3300
cabinetscounters.com
Custom Woodcrafters Inc.
5288 Vann Road
Newburgh, IN
812-457-1755
Elpers Brothers Construction, Inc.
11911 Winery Road Wadesville, IN
812-963-9540
elpersbrothers.com
Ferguson Bath, Kitchen & Lighting Gallery
6620 Interchange Road South
812-473-1721
fergusonshowrooms.com
H.G. McCullough Designers Inc.
2146 Glenview Drive
812-428-0174
hgmccullough.com
Pella Windows & Doors of Evansville
5420 Vogel Road
812-228-7000
pellaofevansville.com
Wood Specialties by Fehrenbacher
8920 Big Cynthiana Road 
812-963-9414
wsfinc.com