Looking for Evansville's leading places to score local art, jewelry, and gifts? Want to know who cooks up the best food and pours the best drinks? How about the top spots for recreation and hanging out? Wonder no more: Votes have been cast, and 40 winners have been crowned in our 2022 Best of Evansville awards. Celebrate our readers' top picks, plus a few of our own.
---
Mission BBQ
Best Barbecue Restaurant
If you spot a black military-style truck commuting across town with a smoker in its flatbed, know that its mission isn't combat — it's barbecue. Armed with smoked briskets, ribs, chicken, pork, and more, our readers salute Mission BBQ for its military-precision catering, mouthwatering meats and classic sides, and dedication to the stars and stripes. The restaurant's efforts also extend to the community: Mission BBQ rolled its smoker to the East Side and helped feed emergency personnel responding to the Aug. 10 home explosion on North Weinbach Avenue.
1530 N. Green River Road • 812-213-0200 • mission-bbq.com
---
Brinker's Jewelers
Best Jewelry Shop
Brinker's Jewelers is no stranger to our "Best of Evansville" awards, earning our readers' votes for "Best Jewelry Shop" for the 10th consecutive year. From custom designed rings, hand-selected diamonds, and top brand watches, Evansville shoppers know that if it comes in a little green box, they're in for something special.
111 S. Green River Road • 812-476-0651 • brinkersjewelers.com
---
Igleheart Gardens
Best Kept Secret ★ Editors' Pick
Hidden behind a gated drive at the crux of Lincoln Avenue and Newburgh Road is Igleheart Gardens, one of the most beautiful estates you've likely never seen. The well-heeled Igleheart family turned the original 25 acres of farmland into a lush oasis filled with mature trees, ponds, vibrant azaleas, fountains, and a bird sanctuary. Before her death in 2016, philanthropist Phyllis Igleheart established a foundation to maintain her family's Edward J. Thole-designed chateau and manicured grounds. So why haven't you heard of Igleheart Gardens? At present, only garden clubs, visiting horticulturists, and select high school reunions have been welcomed so as to keep potentially damaging foot traffic to a minimum. Evansville Living staff members have had the privilege of attending gardening lectures at Igleheart Gardens — invitations are emailed, and admission generally costs $20, which then is donated to a local cause— and wish more community members could see and appreciate this Evansville treasure.
3500 Lincoln Ave. • igleheartgardens.com
---
The Bauerhaus
Best Venue to Get Married
No need for beach weddings or hotel ballrooms when you can get hitched Bavarian style at The Bauerhaus. As a full-service venue, The Bauerhaus takes care of it all across its 9,000-square-foot, multi-level dining room and accompanying 15-acre park — a picturesque scenery for nuptials. The Darmstadt, Indiana, event venue even has its own pastry chefs to bake the wedding cake of your dreams.
13605 Darmstadt Road • 812-867-3169 • thebauerhaus.com
---
The Old Courthouse Catacombs
Best Haunted House
Paying to cower through dark tunnels under the Old Vanderburgh County Courthouse is one of Evansville's premier fall experiences. One half of Downtown's haunted house hub, the catacombs are a dungeon of horrors amplified by the tunnel's spooky history, making it the most popular Halloween haunt each fall.
201 N.W. Fourth St. • oldcatacombs.com
---
Dakri Sinclair
Best Local Artist/Artisan/Craftsperson
Two words describe Evansville transplant
Dakri Sinclair's childhood: paint and papier-mache. A River City resident since 1980 and voted Best Local Artist two years in a row, her whimsical murals of funky, colorful cityscapes and custom-designed goods sold on Etsy have become popular items that Tri-State residents can't get enough of.
---
Randy Moore
Best TV News Personality
A fixture on Tri-State television for three decades, Randy Moore's mainstay in the Evansville market is in no small part due to his methodical approach to covering news stories, whether it's a U.S. visit by Pope John Paul II or 1992's C-130 plane crash near the airport. Moore has some bling in his trophy case, including a recent Ohio Valley Emmy Award from the National Academy of Television Arts and Sciences.
---
Burdette Park
Best Place for a Family Outing
Our readers beat the summer heat by visiting Burdette Park to cool off, explore the outdoors, and get restless children out of the house. A sprawling 170 acres of rolling hills, the park is ideal for day trips to the pool or fishing pond, and overnights with cabin rentals, campgrounds, and a spectacular event venue.
5301 Nurrenbern Road • 812-435-5602 • burdettepark.org
---
Nellie's
Best Place for Breakfast
It's the most important meal of the day, served up Nellie's way. Whether you start with fluffy pancakes or waffles, savory omelets and skillets, or classic French toast, a Nellie's breakfast will get you going for the day. And for those who like to sleep in, the Newburgh, Indiana, restaurant offers breakfast all day long.
8566 Ruffian Lane • 812-629-2142 • nelliesnewburgh.com
---
Mater Dei/Reitz
Best High School Football Rivalry
There's no love lost when these two schools square off for the West Side Nut Club trophy. Dating back to their first meeting in 1952, Reitz leads the series 47-23. But we'll see who claims bragging rights this year when the Panthers meet the Wildcats on Oct. 14 at the Reitz Bowl.
materdeiwildcats.com • reitzfootball.com
---
Makaila Blackburn
Best Teacher
It's the "lightbulb" moments from her students that drives Makaila Blackburn in her 34th year as an educator. The first-grade teacher at Highland Elementary School has inspired students for generations, but she isn't slowing down. "I love kids. I always have," she says. "I like that they keep me busy and young and moving." The Evansville native and grandmother of three followed in her mother's footsteps when she began teaching in 1983. Our readers say she made the right choice.
---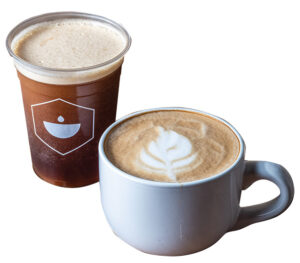 Honey Moon Coffee Co.
Best Coffee Shop
Growing from a small shop near the University of Evansville's campus, Honey Moon Coffee Co. has been crowned Evansville's "Best Coffee Shop." Now with three locations and an expanded menu including wine slushies, ice cream, tea, and breakfast quesadillas, you'll be over the moon when you taste one of its signature roasts from Black Lodge Coffee Roasters in New Harmony, Indiana, or a Nutella-topped Hong Kong-style bubble waffle.
612 Weinbach Ave. • 1211 Tutor Lane • 20 W. Water St., Newburgh, IN honeymooncoffeeco.com
---
Kelley Coures
Best Phone-A-Friend ★ Editors' Pick
In addition to holding a finger on the pulse of city development, Kelley Coures is a walking encyclopedia on local history, architecture, and LGBTQIA+ culture. He will tell you that the Hotel Lincoln's Blue Bar got its name from its dark blue walls, painted so as to cover the line where the 1937 Ohio River flood stained them. What is Evansville's tallest structure? Coures knows it's the former Swans Down flour mill at 1600 N. First Ave., not the Fifth Third Bank tower. He is the friend Evansville Living phones with questions about Historic District streetlights or old nightclubs, and he always answers in exquisite detail, making Coures our BFF for trivia nights.
---
Helfrich Golf Course
Best Golf Course
Teeing off through Helfrich Golf Course's tree-lined fairways and driving balls across its many hills and valleys remains a favorite pastime for Evansville golfers. Helfrich was built in 1923 and designed by renowned architect Tom Bendelow. (Watch out for the water on Hole #6.) If you'd rather eat than play, the Sandbox Bar & Grill overlooks the hilly fairways.
1550 Mesker Park Drive • 812-435-6075
---
The Pizza Revolution
Best Food Truck
Evansville's food truck frenzy is led by The Pizza Revolution, which takes home our readers' pick for "Best Food Truck" for the second consecutive year. Climb aboard Stephanie and Aaron Peckenpaugh's 1986 Leyland Olympian double-decker bus for a slice of authentic Neapolitan-style pizza smeared with a fig glaze or speckled with hot pepper flakes.
Based at Farm 57, 3443 Kansas Road • 812-760-0186 • thepizzarevolution.com
---
Smitty's Italian Steakhouse
Best Outdoor Dining/Patio Atmosphere
Step away from bustling Franklin Street and into a picturesque alfresco meal under twinkling lights on Smitty's patio. Complete with a trickling fountain in the center and lush foliage creating a secluded area, it's no surprise our readers voted this local spot Evansville's "Best Patio Atmosphere."
2109 W. Franklin St. • 812-423-6180 • smittysevansville.com
---
Pronto Pup
Best Fall Fest Food Item
In a haven of fried foods and outrageous combinations, the classic Pronto Pup reigns supreme as Fall Fest's best menu item. And yes, it IS different than a corn dog. In fact, this regional staple made of a hot dog dipped in pancake batter for extra sweetness is also known as the original corndog.
West Franklin Street • nutclubfallfestival.com
---
Turoni's Pizzery and Brewery
Best Pizza
What do a pizzeria, a brewery, and a cartoon Italian named Vinny have in common? They're all found under one roof at Turoni's. With three locations across the Tri-State, the iconic Evansville brand keeps diners coming back for slice after slice of its signature thin-crust pizza topped with rich sauce and gooey cheese. Pair it with a pint of their own Honey Blonde craft ale, and you've got a classic Evansville meal.
408 N. Main St. • 4 N. Weinbach Ave. • 8011 Bell Oak Drive, Newburgh, IN • turnois.com
---
Ron Rochon
Most Magnetic Smile ★ Editors' Pick
Nothing brightens USI's campus quite like President Ron Rochon's beaming grin. From greeting incoming students at freshman convocation to cheering on USI athletes, Rochon's radiant aura is a friendly indication of his warm personality. Maybe it's an abundance of Screagle Pride, but it's tough not to perk up a grin yourself around Rochon's infectious smile.
---
Vanderburgh Humane Society/Going,Going, Gone to the Dogs!
Best Nonprofit and Best Charity Gala
Furry, four-legged, scaly, or shy — it's doesn't matter what kind of cuddly critter needs sanctuary, the VHS' doors are always open. Housed in a 20,000-square-foot-facility, the humane society cares for Evansville's cutest residents through its shelter, spay and neuter clinic, Happy Tails Resale Shop, River Kitty Cat Cafe, and community events such as Cardio for Canines.
Saving lives is a costly business, but VHS makes it look easy with its annual fundraising event, the Going, Going, Gone to the Dogs! benefit dinner and auction. In addition to a cocktail party and dinner, guests are treated to in-person snuggles with kittens and puppies. What other fancy gala does that?
400 Millner Industrial Drive • 812-426-2563 • vhslifesaver.org
---
The Honey Vines
Best Local Band
Peace, love, and harmony. Those are the keys to Andrea Wirth and Melanie Bozsa's successful run in the local music scene. Voted "Best Local Band" by our readers for the second year in a row, catch The Honey Vines perform an eclectic array of original songs at local farmers markets, bars, summer festivals, and wineries.
---
Colonial Classics Landscaping & Nursery
Best Garden Center
Colonial Classics is Newburgh, Indiana's own plant expert with a sprawling nursery and expanded garden center. A longtime gardening anchor with multiple specialties and friendly staff, it's no wonder that so many homes Evansville Living calls on for its Curb Appeal and Most Beautiful Homes stories have entrusted their gardens to Colonial Classics.
3633 Epworth Road, Newburgh, IN • 812-853-6622 • colonialnewburgh.com
---
Rare Bird Uncommon Gifts
Best Boutique/Gift Shop
Specializing in products from independent makers and fair-trade vendors, you're sure to find the remarkable at Rare Bird Uncommon Gifts. From singing bowls and hand-felted birdhouses to magnetic, mesmerizing MOVA Globes, it's no surprise Evansville Living readers are charmed by the unique wares at this East Side shop.
2605 Lincoln Ave. • 812-473-0645 • rarebirdgifts.com
---
Agape Graze
Best Place to Play with Your Food ★ Editors' Pick
Finger food takes on a whole new meaning with Agape Graze's gourmet charcuterie boards. You're encouraged to dig in with your hands and load up your plate with meats, crackers, cheese, chocolate-covered strawberries, and more treats. Owner and crafty curator Jessica Machen also offers DIY charcuterie classes and team-building workshops so you can play with your food and eat it too.
1401 N. Boeke Road • agapegraze.com
---
Hilltop Inn
Restaurant with the Best Breaded Tenderloin
What's a more iconic Evansville food than a breaded tenderloin? If you're looking for a top notch River City tenderloin, Hilltop Inn on the West Side is the place to be. Forget the brain sandwich: The only meat that needs to go between two buns here is a crunchy, flattened, breaded pork cutlet from one of the city's oldest taverns.
1100 Harmony Way • 812-303-3732 • hilltopinevv.com
---
La Campirana
Best Latin American Restaurant
East, West, and North Siders alike are drawn to the image of a sun cresting over a hill as a sign that authentic Mexican food is nearby. But La Campriana isn't famous for its logo. Diners continue to return for its fresh ingredients, diverse options, and lunchtime specials. You can't leave without a signature smoothie, or stop by La Campirana's Downtown outpost inside Arcademie, 22 N.W. Sixth St., for its newest culinary venture, Botanas.
724 N. Burkhardt Road • 812-550-1585 • la-campirana.com
---
Sarah Pepper
Best Radio Host/Personality
HOT 96 Morning Show listeners know they can begin each workday with endless fun delivered by dynamic host Sarah Pepper. Having started her career in Evansville, Pepper returned to HOT 96 in 2021 after 11 years charming the airwaves in Houston, Texas. She's a jolt of rapid fire energy first thing in the morning, whether playing "What's in Sarah's Purse" or grilling cohost Clay Roth about his wedding registry selections.
---
Myriad Brewing Company
Best Brewery
Ever participated in an adult coloring contest? How about a Downtown block party? At Myriad Brewing, you can do it all. Opened in 2018, the taproom has expanded this year with a new location in Newburgh, Indiana. Can't stay for the fun? Most homemade taps can be taken to-go in cans or growlers.
101 S.E. First St., Suite 1 • 8245 High Pointe Drive, Newburgh, IN • myriadbrewing.com
---
Riverside Antique Mall
Best Antique Store
Whether you're a collector or looking for a new, one-of-a-kind piece for your home, Riverside Antique Mall is our readers' one-stop shop for all things antiques. Peruse more than 12,000 square feet to find vintage decor, rare collectibles, or even an old fire horn.
1205 E. Riverside Drive • 812-469-2255 • riversideantiquemall.com
---
Pump-Out Island
Best Way to Make Something out of Nothing ★ Editors' Pick
Evansvillians display their ingenuity during the annual dredging of the Ohio River. Boaters circle the U.S. Army Corps of Engineers' pumping operations like moths around a flame, ready to jump on the sand-laden island that springs to life. The novelty of a white-sand beach in the middle of the river is too much to resist, and the island attracts recreationists for swimming, sunbathing, and picnicking each day of its short-lived life. This year, a prankster upped the ante by hauling a camper onto the island in the dead of night, enshrining it with a delightfully vulgar name, and then leaving it to eventually be overtaken by a rainwater-swollen river — much to the consternation of authorities. As it sank, the "saloon" was celebrated by irreverent boaters and followed by a curious public via a 24-hour "camper cam." Its story, like the island, was brief, but its time in the spotlight was endless and notorious.
And because we must … Evansville Living's editors' pick for "Best Tribute to the
Camper" goes to Rachel Wambach of Sprout Design, who was inspired to create cheerful, tongue-in-cheek merch emblazoned with the sunken saloon against a setting sun.
---
Doros Hadjisavva
Best Chef
Growing up in a sunny Cypriot village, chef Doros Hadjisavva's extensive knowledge of Mediterranean fare has charmed local diners since opening Acropolis Restaurant and Catering in Evansville in 2003 with wife Ellada. Patrons have savored Hadjisavva's herb-rich food with the occasional "Opa!" He's also learned a thing or two from Evansville cuisine, incorporating favorites like the breaded tenderloin into the menu of his latest restaurant, Riverwalk, and Venue 812 event business.
6 Walnut St. • 812-758-4644 • riverwalkevv.com
---
Mo's House
Best Bar
Mo's House has a unique rule: "If it ends in the word bomb, we don't do it. No Jager, Vegas, etc. …" But at this craft cocktail lounge, the menu is anything but limiting. The highly trained staff has curated a standout menu of drinks only found at this Haynie's Corner locale, making it Evansville Living readers' "Best Bar" two years running.
1114 Parett St. • 812-401-3800 • mos-house.com
---
E'ville Iron Street Rods Frog Follies
Best Cool Cars ★ Editors' Pick
Frog Follies isn't just home to the best cool cars — it also has the most cool cars. Packed into the Vanderburgh County 4-H Fairgrounds, Frog Follies features more than 3,000 pre-1949 street rods, making it the largest event of its kind in the world. Why is it called the Frog Follies? The name stems from a bull frog race at the first event in 1975. Make no mistake, though, the modified classic cars are what draws thousands of auto enthusiasts to this event every year.
201 E. Boonville-New Harmony Road • 812-428-3764 • frogfollies.org
---
Cork N' Cleaver
Best Romantic Dinner Spot
Nothing says "date night" like a trip to Cork N' Cleaver. Renowned for its amorous, Southwestern decor, romantic lighting, crackling fireplaces, and high-end entrees, our readers voted this Arcadian chophouse as their top choice for an intimate night out with their significant other. Though the food is simple and straightforward (who doesn't love their overflowing salad bar?) Cork N' Cleaver delivers on elevated, consistent quality and elegant dining.
650 S. Herbron Ave. • 812-479-6974 • evansvillecork.com
---
Haynie's Corner Arts District
Best Place to Buy Local Art
A cultural heart of the Downtown-adjacent community known for its diversity, music, nightlife, events, and — of course — art, Haynie's Corner is as hipster as it gets. From festivals such as First Fridays and Funk in the City to the walls of Haynie's Corner Brewing Company, you'll find art in all forms everywhere you look.
---
Wesselman Park
Best Neighborhood Park
Adjacent to 200 acres of old-growth forest, Wesselman Park is our readers' preference for outdoor fun. Take to the tennis courts, dig into sand volleyball, have a picnic, or explore the park's walking trails. The endless entertainment options and sprawling grounds make Wesselman Park a neighborhood favorite. Plus, don't miss the little-known cemetery that hosts one of Evansville's earliest pioneer families on the nearby par 3 golf course.
551 N. Boeke Road • 812-435-6141
---
Your Brother's Bookstore
Write-In Winner: Best Bookstore
Open less than a year, Your Brother's Bookstore already has won the hearts (and votes) of our readers. The Main Street bookstore is brimming with works from local authors and artists, board games, rare books, and gaming gear, and hosts book clubs, workshops, game nights, and readings. The store also is home to a fascinating piece of Evansville history: Ask owners Sam and Adam Morris about the recently discovered secret Prohibition tunnel underneath the store.
504 Main St. • 812-612-1222 • yourbrothersbookstore.com
---
Ma T 888 China Bistro
Best Asian Restaurant
Step inside the elegant Ma T 888 China Bistro for authentic Asian cuisine. Place an order, and you'll be rewarded with good fortunes — triple fortune, actually — in the form of creamy crab Rangoon, steamed handmade dumplings, custom dim sum, lemongrass-marinated tilapia, Mongolian-style tofu, and sliced ginger pork.
5636 Vogel Road • 812-475-2888 • mat888chinabistro.com
---
Bokeh Lounge
Best Live Music Venue
Drag shows and rock 'n' rollers alike have graced the stage at the neighborhood hot spot, which welcome acts to its patio during the pandemic. Bokeh Lounge is embracing a surge in live music by giving its indoor space an industrial chic vibe and adding a new outdoor stage and covered seating. Exterior renovation is slated for completion in September; work on the interior is expected to begin this winter.
1007 Parrett St. • 812-909-0388 • bokehvibes.com
---
Panaderia San Miguel
Best Hidden Gem
You may not have heard of Evansville's only Hispanic bakery, but the word on the street is you can't beat Panaderia San Miguel's bountiful Mexican and Salvadorian pastries. With dozens of Mexican cookies, freshly kneaded breads, and three-milk cakes to choose from, this bakery's fresh and fluffy pastries somehow still fly under the radar. For now, we'll be glad there are more conchas and cerillos for us.
2004 Washington Ave. • 812-814-8037