Roses are red, violets are blue, but bacon is best, and Kari Mobley shares why, too. Sometimes flowers don't cut it when it comes to putting a smile on someone's face. Bacon roses, however, are just the floral flair to brighten anyone's day.
This sentiment holds true in the River City, where the WIKY Extortion Breakfast hosts all kinds of morning meals. This summer, cured pork belly was front and center, courtesy of bacon roses by Mobley, Visit Posey County's executive director.
"You always have to bring bacon when you go there," says Mobley, who baked the roses for the first time for the June 10 breakfast. "I like doing things outside of the box, so I was like, 'I'm going to make them some flowers on this bacon.'"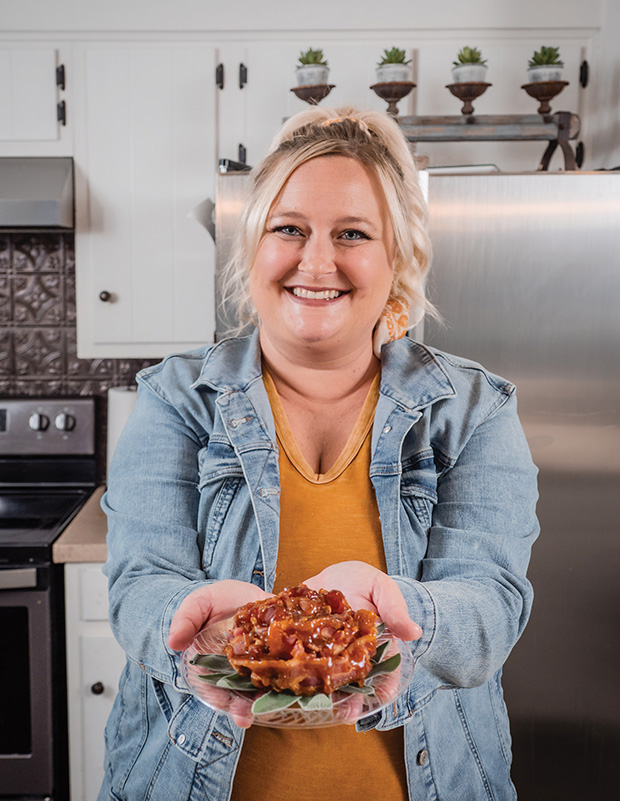 The bacon roses are five to six layers of the savory strips curled around each other to create a flowery display. Mobley suggests microwaving the bacon for two minutes before layering each piece in a circle and using toothpicks to hold it together.
"It's really easy. You kind of just do it in waves," she says. "It's easier to work with when it's cooked a little bit, but not all the way cooked or raw."
Using a muffin tin to hold the roses in place, Mobley bakes the bacon at 375 degrees for 5-10 minutes until crispy. Be careful not to overcook. She removes the roses from the oven and, once cooled, takes out the toothpicks.
To add some sweetness to the bacon bouquet, melt a small amount of sugar in a separate pan and pour over top of the roses for a glossy finish. Once the sugar cools, the roses are ready to satisfy those bacon lovers. And no, it's not too pretty to eat.
Crispy Creation
visitposeycounty.com