Julie and J.T. McCarty are no strangers to intricate, stunning landscaping. The owners of Colonial Classics have designed gorgeous residential gardens and premier outdoor spaces for decades. But when it comes to their own backyard, the McCartys leave no stone unturned in creating the same peaceful oasis they deliver to customers.
Their vibrant landscape in Newburgh, Indiana's Jefferson Park neighborhood has undergone constant upgrades and remodels since the couple moved into the four-bedroom, 3,300-square-foot French country home 13 years ago. Bushes, undergrowth, indigenous shrubs, and diseased trees were removed and replaced with reblooming plants, climate-conducive shrubs, and high-pollenating flowers, many of which have been transplanted as the McCartys' garden evolves.
What may seem like painstaking work — consistently reinventing a landscape — is one of life's joys for J.T. A third-generation horticulturist, he has turned his vocation into his vacation.
"When I want something fun to do on the weekends or when I get home from work, I can just play in my yard," he says. "To me, it's not really work."
The McCartys remodeled their ranch-style home, constructed in 1997 by Evansville home builder Bill Badger, shortly after moving in. The entire
first floor, including the dining room, living room, master bedroom, and kitchen, was gutted and renovated to open the floor plan. One of the best glimpses of the well-manicured garden is from the livng room near the back of the home. A wall of French doors opens to the outdoor space for a full, unobstructed view.
In February 2021, work began on a major overhaul of the back and side yards. Sixty-five triaxles of soil were excavated, partially backfilled, and graded. The once mildly sloping land-scape transformed into a sweeping, terraced terrain retained by a four-foot stone wall and staircase lined with vivid herbage.
At the foot of the terrace, the McCartys installed an in-ground, temperature-controlled Thursday Pool using extra space from the excavated soil. Colonial Classics is an authorized dealer of Thursday Pools, manufactured in Fortville, Indiana; the McCartys buy what they sell.
The leveled landscape is stunning and also contains technical benefits. The series of flat areas reduce rainwater runoff to the base of the home. Additional drainage was installed around the pool to further limit excess runoff.
"Our sump pump would be running all the time," J.T. says. "After it rained, it would run for two or three days, because that groundwater just keeps moving down."
Bordering the living room overlooking the spacious backyard is a Pennsylvania Bluestone-paved patio with an adjacent pond. The patio tile extends past the pool to the base of a retractable aluminum pergola that canopies an L-shaped bar with a built-in grill.
"The pergola has louvers on the top, so if you want sun, you can open it," J.T. says. "If you don't, you can close it just with a remote control button. And if you're gone and you forget, it has rain sensors that automatically close the roof for you."
Throughout the rest of the yard are more stone elements, fountains, outdoor seating areas, a hot tub, eloquent landscape lighting, and, of course, a wide assortment of plants.
"It's not finished yet," Julie says. "There are still some changes I would like to make, but it is coming along beautifully."
To ward off pesky insects, the McCartys installed odorless mosquito-repellent devices throughout the garden.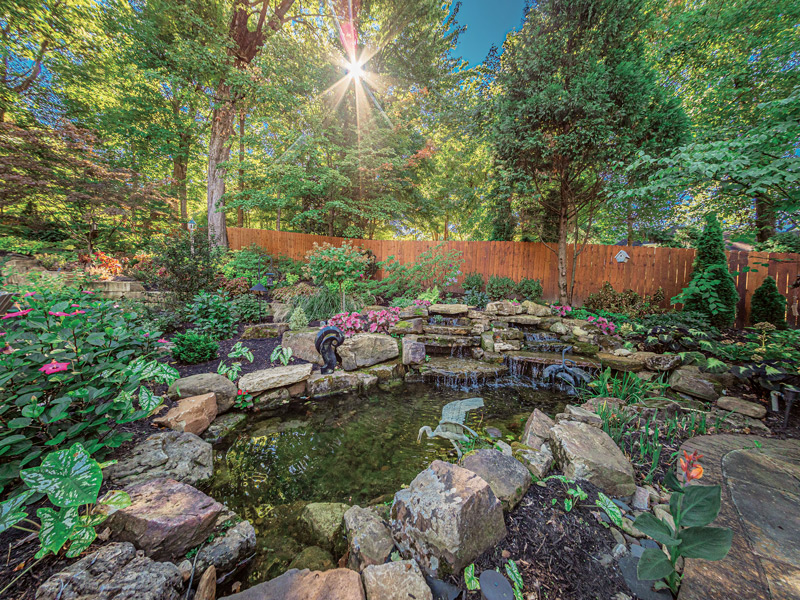 "I can leave the doors open and never have a bug come in this house," J.T. says.
The driveway extends all the way up the property and back east to Jefferson Street. J.T. himself graded it and lined it with stones on both sides. Then concrete was poured up to the edge.
"We just feel delighted to live here because it's private. It's close to Downtown Newburgh, which is quaint. Now with the driveway extended, you can also get to the Lloyd [Expressway] in no time," he says. "I get to work in less than 10 minutes from here."
The part of the property closest to Jefferson Street is a contrast, with just a few trees and shrubs. J.T. plans to locate a work shed and possibly a beehive there.
The sheer collection of plants — numbering in the thousands — scattered throughout the property is a horticulturist's dream. Purple petunias, coleus, Japanese maples, dogwoods, redbuds, weeping cedar of Lebanon, pampas grass, crepe myrtle, Norway spruce, sugar and red maples, ginkgos, ornamental grasses, and tropical plants are just a sample of what you'll find.
"These are all different plants that you probably wouldn't see in most people's yards," J.T. says. "My biggest challenge is narrowing the field down to use something that I know is going to look good three-to-five years from now. It's really easy when you are a plant junkie to bring home too much stuff, and then it just gets all mixed and looks bad."
The McCartys also use their yard as a testing ground for plants sold at Colonial Classics, seeing how shrubs, flowers, and trees will fare in local soil to gain insight on what to recommend to customers. J.T. adopts the "orphaned plants" — damaged, infected, or new species — and finds a place for them among the abundance of flora across the McCartys' 2.75-acre property.
"For me, this is a little piece of heaven," J.T. says. "It's a horticultural paradise."
Photos by Zach Straw