Five years have passed since Hurricanes Irma and Maria swept through Puerto Rico in September 2017. Since that pair of devastating events, the U.S. territory has made significant strides toward putting the deadly Category 4 storm in the rear-view mirror. Recovery efforts were hampered by the COVID-19 pandemic, but tourism made a great comeback in 2021.
Puerto Rico's resilience was again tested on Sept.18, 2022, when Hurricane Fiona made landfall, with damage concentrated mainly in the southwestern portion of the island, away from San Juan and many areas frequented by tourists.
Puerto Rico officially was acquired by the U.S. in 1899 with the Treaty of Paris between the U.S. and Spain. Puerto Rico was designated a U.S. territory in 1917, and residents born on or after April 25, 1898, became U.S. citizens, albeit without voting rights. In recent years, there has been a growing movement for Puerto Rico to become a U.S. state, which would allow residents to obtain full citizenship.
Because Puerto Rico is a U.S. territory, Americans can visit the lush island without a passport. Puerto Rico is a no-hassle destination in other ways. There's no need for currency exchange, and your cell phone will work perfectly; no international phone plan is necessary.
Most visitors to Puerto Rico spend time in San Juan. The east coast also is popular because of its proximity to El Yunque National Forest, the only tropical rainforest in the U.S. Forest Service. Several of its best beaches are here, and there is easy access to the islands of Culebra and Vieques, which attract scuba divers to its pristine reefs. Spend several nights in both areas, and you'll get the best of both worlds.
START IN SAN JUAN
Since San Juan is the largest and busiest cruise port in the Caribbean Sea, many visitors spend several hours exploring the historic district of Old San Juan. Most Eastern and Southern Caribbean cruises either depart from or make a stop here. I briefly visited on an extended layover before, long enough to take a taxi into Old San Juan for lunch and a stroll through the streets of the walled city.
My base for this portion of the trip was the Sheraton Puerto Rico Hotel & Casino, located within 20 minutes of the airport and 10 minutes of Old San Juan. It worked well for me, but if you'd prefer to be in the heart of the historic district, the Sheraton Old San Juan Hotel is an alternate choice.
As a self-confessed foodie, one of my favorite experiences was the Old San Juan Walk & Taste Tour offered by SPOON. Choose from several walking tours and two cooking classes. Besides sampling local foods and cocktails at three stops along the way, we were treated to a mini-history lesson as we walked the blue cobblestone streets of the city.
If you love rum, you will want to tour Casa Bacardi, the world's largest premium rum distillery, located 30 minutes outside San Juan. Book a mixology class or a rum-tasting tour. And if you're really, really into rum, download the Puerto Rico Rum Journey app to create a route to visit other rum distilleries on the island.
The piña colada, a sweet mix of coconut cream, pineapple juice, white rum, and ice, is said to have been invented in San Juan, but when and by whom is still contested. Regardless, it became Puerto Rico's national drink in 1978.
Art and culture can mix nicely in San Juan as well. For a change of pace, plan a day in the Santurce neighborhood. Spend the morning at the Museum of Art of Puerto Rico, one of the largest in the Caribbean. Have lunch at Lote 23, a "gastronomic park" filled with food kiosks serving up fare ranging from mofongo to fried chicken, and then stroll through the neighborhood's plethora of colorful street and mural art.
STAY AT EL CONQUISTADOR ON PUERTO RICO'S EAST COAST
Ready for some beach time and adventures in the rainforest? Travel an hour and a half east of San Juan to reach one of the island's most popular seaside resorts, El Conquistador. Located in Fajardo on the far eastern tip of Puerto Rico, it is in an ideal location for exploring El Yunque National Forest, as well as islands and islets located off the coast.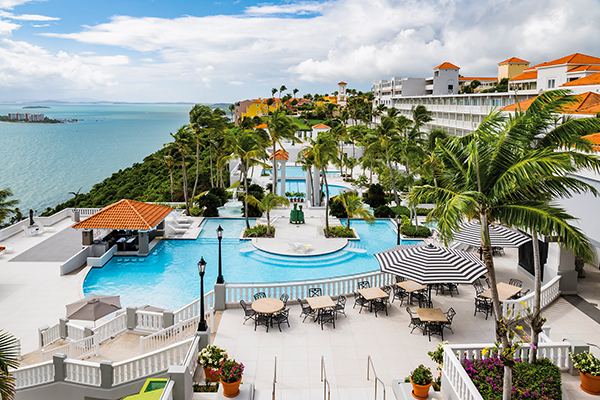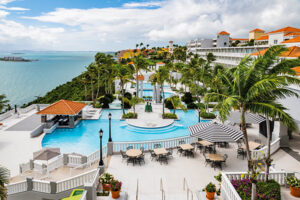 After major hurricane damage forced the resort to close for more than three years, it reopened on May 21, 2021. More than half of its 700 rooms, all with ocean views, have been totally refreshed; the rest will be available by the end of 2023. If a villa better fits your needs, book one of 42 one-, two-, or three-bedroom villas in the resort's hillside Las Casitas Village.
El Conquistador's list of amenities is impressive, including an 18-hole golf course, tennis courts, and four beautifully landscaped pools and hot tubs overlooking the Caribbean Sea. It even has its own waterpark, available exclusively to resort guests. Coqui Water Park includes three high-speed waterslides, a lazy river, and an infinity-edge pool. Guests also travel down to the Marina level to board a ferry to and from Palomino Island. Swim, snorkel, sunbathe, and enjoy watersports on this private 100-acre strip of sand.
Multiple restaurant choices, from casual to fine dining, are available within the El Conquistador complex, running the gamut from Italian and seafood to traditional Puerto Rican.
If and when you're ready to explore outside the resort, the concierge staff will help book excursions to El Yunque Rainforest and other attractions through SALT Tours (Sea, Air, and Land Tours).
CATAMARAN CRUISE TO ICACOS CAY
My travel companions and I packed several adventurous activities into our brief stay. From nearby Puerto del Rey Marina, we boarded a catamaran for a relaxing day cruise, complete with lunch and drinks, to Icacos Cay with East Island Excursions. Largest of the little islands that are part of La Cordillera Nature Reserve, it's perfect for snorkeling and combing the beach for shells. Cruise excursions to the island of Culebra are also offered.
Even if you've never ziplined, you'll feel totally safe with a Rainforest Zipline Park tour. We zipped through eight lines over the canopy level of the trees, marveling at the stunning rainforest scenery surrounding us. Next, we explored the foothills of El Yunque National Forest on horseback. Our guided hour-long excursion left from Carabali Rainforest Adventure Park where ATV and UTV rides can also be arranged.
Also available are nighttime kayak tours at The Laguna Grande Bioluminescent Bay to see the blue glowing effect that looks like fireflies in the water. Located 20 minutes from El Conquistador Resort, it is one of three in Puerto Rico and one of only five worldwide.
WHEN YOU GO
It's easy to get to Puerto Rico. At least 26 U.S. cities have nonstop flights to San Juan, and many others can get you there with one connection. I flew out of Evansville Regional Airport (EVV) on Delta Airlines through Atlanta (ATL) to San Juan (SJU). American Airlines through Charlotte (CLT) is another option.
Debbra Dunning Brouillette is an Evansville-based freelance writer and photographer whose passion is tropical travel. Visit her at tropicaltravelgirl.com.