Overcoming tremendous obstacles, Dave Clark is a self-made man who prefers to stay under the radar.
"I try to keep it discreet," Clark says. Although he has achieved a notable level of success, Clark hasn't forgotten his roots and stays firmly grounded. He grew up poor and remains humble.
Clark owns several businesses — so many, in fact, his friends don't always believe him. Take Steve Bennett, owner of the East Side restaurant Cork 'n Cleaver, who once said: "You don't own a tree business."
In fact, he does. Owner of two mortgage companies and a construction company, among various other businesses, Clark is a firm believer in the do-it-yourself theory. Tired of handymen not showing up to help after a storm to repair tree or roof damage, Clark simply started his own businesses in those areas. He purchased the necessary equipment and had his own handymen take care of the problem.
The January 2009 storm in which five inches of snow and 1.25 inches of ice fell on Evansville presented an opportunity.
"Trees were down on my rental properties," Clark says. "I told my guys, 'Find out where the ice storm wasn't.'''
His crew had to travel to Ohio to pick up tree equipment.
"Everybody said, 'You're nuts. Don't buy all that equipment.' I had to," Clark says. "I couldn't get anybody to show up."
"He's the hardest-working man I know. He's a workaholic," says Jonathan Weaver, a broker associate with F.C. Tucker Emge and an Evansville City Council member since 2012. "Everybody trusts him to get the job done. He's the number one problem solver in the community."
On one occasion, Weaver and Clark were talking on the phone about a small sapling somehow sprouting from Weaver's chimney. Instead of waiting for his crew, Clark grabbed a ladder, drove to Weaver's house, and took care of the problem himself.
"I hear a loud noise on the roof, and it's Dave picking up a little sapling," Weaver says. "He's always looking out for people."
Clark has had to work hard since he was young, when his family was in poverty. His father, George, died by suicide when Clark was 11. His mother, Connie, had cardiomyopathy and died at 49 when Clark was 25. He became a father while still attending Castle High School in Newburgh, Indiana. It all drove Clark to work that much harder.
Despite their hardships, the Clark family — including brothers Dale and Danny — managed to stay afloat with the aid of Social Security. Each family member also worked and contributed; Clark began mowing lawns at age 11. Their mother worked until her health began failing.
"I used to love government cheese with a sandwich and hot dogs through the microwave," Clark says.
A solid swimmer at Castle, Clark blossomed under the tutelage of Western Kentucky University coach Bill Powell, who retired in 2005 as the second-winningest NCAA Division I coach in history with 336 dual meet victories.
"I was fortunate to swim for such a great coach," says Clark, who earned the team's "most improved swimmer" award in 1990. He majored in advertising and marketing and minored in finance at WKU, graduating in 1992.
He was a senior at Castle when Michael Rosenbaum was a freshman.
They had mutual friends and gravitated toward each other as the years went on because both were so driven to succeed.
Clark knows what it's like to have nothing, says Rosenbaum, an actor who portrays Martinex in the recent Marvel movie "Guardians of the Galaxy Vol. 3" and is best known for his role as Lex Luthor in TV's "Smallville" from 2001 to 2008. (Rosenbaum is the stepson of this article's author.)
"He grew up very poor and lost his dad when he was 11," Rosenbaum says. "Obviously, that can be very damaging to a child. I believe it's why friendships are so important to him. You have to find your people, where you belong."
Problem Solver
Clark's road to success hasn't been smooth. Instead of panicking when the Great Recession collapsed financial markets in 2008, Clark didn't flinch. He doubled down.
"From 1992 to 2008, I worked my ass off, but I made a lot of easy money," Clark says. "But when the Great Recession hit, everything I did was shut down immediately. At the same time, taxes went up."
He had to change virtually everything he did in his business practices.
"I knew I could literally lose everything," Clark says. "Most mortgage companies shut down."
Instead of folding, he took the money he did have and started "buying low." His bold moves dramatically increased the solvency of the businesses.
"It was a game-changer," he says.
Brimming with confidence and determination, he simply outworked the problem.
Behind his strong work ethic is his understanding wife, Kimberly, a broker sales associate in real estate.
"She never questioned my work, and she never questioned my business decisions," Clark says. "She said, 'I know he knows what he's doing.'"
Rosenbaum says Clark is just a regular guy who faced a lot of adversity and made something of himself.
"I think what we share in common is that we both could have easily been content working a normal life and having a simple job, enough to get by," Rosenbaum says. "But I guess there was something deep inside of us that pushed us for wanting a little more than that."
"Maybe it has something to do with the underdog wanting to prove to everyone that he's not a failure, that he does have something to offer or about proving it to yourself."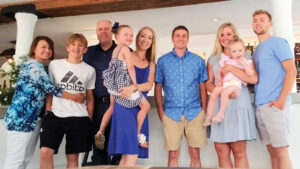 For Clark, it was never wanting to go back to figuring out where his next meal would come from.
"And being a father, he never wanted his children to go through what he went through," Rosenbaum says.
"We all have that something deep inside of us, something that makes us tick … a passion. Some of us ignore it, and some of us just can't. Dave and I have talked about how mean kids can be in any high school. Some would get real joy in putting you down once they figured out you had nothing. I can't say that doesn't light a fire under your ass sometimes."
"And when things end up working out … nothing is more rewarding," he adds.
Clark's son Jackson just completed his sophomore year at Castle, while middle child Ashley is a University of Southern Indiana graduate and married. His elder daughter, Meghann, now is 36 and also married.
Nate Monroe, who has known Clark for about 15 years, underscored that Clark is understated in several respects.
"To this day, I don't think I know how many organizations and businesses that he has involvement with, but he is very involved in real estate, which is also how I know him," says Monroe, a wealth advisor and senior vice president at Old National Bank. "Dave is my mentor in real estate rentals and is the reason why I have almost three dozen of them today."
Clark's secret to success? He likes to help people and cares about them, Monroe says.
"Dave surrounds himself with great people, but he is never shy about helping those that he stands nothing to gain from," Monroe says. "Invariably, many of these people become Dave fans. His ability to 'pay it forward' has been a key component to why people like Dave and why he is so well known and respected in many different circles in town. What he has given to me as a friend, mentor, and customer I can never fully repay, nor does he expect me to. He takes this attitude with all he comes into contact with. He gives more than he ever receives or expects to receive."
If you ever can't find Clark, it's because he is always working.
"He does so for his family's well-being, helping other people, and adding value to our community," Monroe says. "Dave is the kind of person that you trust. He never loses his cool and is quick to bring calm to situations when they escalate. I don't know how he manages all his businesses and organizations he is a part of. He is a master at time management and never seems like he is in a hurry."
Now 54, Clark jokes that he's slowing down a bit.
"I had an epiphany," he says. "I have enough money to send Jackson to college and enough money for retirement. A light flickered. I don't have to work 100 hours a week. I can start working 60."