With temperatures warmer, the weather sunnier, and spring vacations around the corner, many Tri-State residents are turning their attention to St. Louis, Missouri. A hub of beautiful gardens, world-class cultural institutions, and an increasing number of professional sports teams, the French-influenced city of close to 300,000 on the Mississippi River draws more than 28 million visitors each year.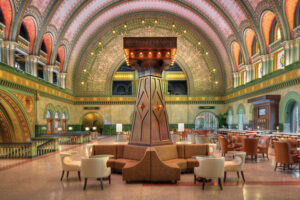 It's easy to immerse in the city's culture no matter where you go. Our group of travel writers started a packed, two-day trip at Union Station, which opened for train travel in 1894 and has since seen several attempts at rejuvenation since the last train left the station in 1978. Now a mix of retail shops, event spaces, restaurants, a Curio Collection by Hilton Hotel, and attractions such as the brightly lit St. Louis Wheel and the multi-level St. Louis Aquarium, Union Station again is crackling with energy.
Or is that the light show in the Grand Hall? Every evening, splashed across the 65-foot barrel-vaulted ceiling of the French-inspired former rail lobby is any one of 30 3D video vignettes set to soaring music. Our group enjoyed craft cocktails and appetizers under an animated montage of Queen's greatest hits.
Retiring to our hotel, the Four Seasons St. Louis meant fine dining with a sweeping view of the city's skyline could be had at the eighth-floor Cinder House and Bar. Chef Gerard Craft has curated a wood-fired, Brazilian-inspired menu of feijoada with chimichurri and orange, manioc polenta drizzled in tamarind hot honey, crab ceviche sporting a traditional Peruvian Huancaína sauce of yellow pepper and milk, and well-bodied South American wine. (Read more about Four Season St. Louis in our story "What a View.")
If the classically unreliable Midwestern weather is in your favor, spend a morning taking a horse-drawn wagon ride through Grant's Farm, the historic property built by President Ulysses S. Grant in the mid-to-late-1800s. Since 1903, it also has served as a private residence of several members of the Busch brewing family. Populated by the famous Anheuser-Busch Clydesdales and anchored by a German-style Bauernhof and Grant's own log cabin, the sprawling grounds are tucked just southwest of the city. When traipsing through a 273-acre farm works up an appetite, take a short drive north for lunch at The Clover & the Bee. The Webster Groves cafe and evening wine bar serves a menu of fresh-baked pastries, grilled sandwiches, filling soups, layered salads, and a nearly endless supply of caffeine options. If you need a pick-me-up, try a cup of the flavorful hibiscus elixir herbal tea.
No visit to the "Gateway to the West" is complete without a tour through its namesake Arch, which at 630 feet is the tallest human-made monument in the Western Hemisphere and a stainless steel-clad testament to St. Louis' complicated place in westward expansion. Visitors are ferried into the sky via 12 somewhat cramped trams, but the views from atop the Eero Saarinen-designed landmark are breathtaking. Equally impressive in Gateway Arch National Park — rechristened in 2017 from its original designation as Jefferson National Expansion Memorial — is the expansive museum chronicling 200 years of St. Louis' history at the monument's base, a $380 million renovation project completed in 2018 that included a sleek new entrance.
While you're enjoying the view from the ground, walk over to StilL 630, named for its storied neighbor. Founded in 2012 by David Weglarz, the multi-award-winning distillery handcrafts bold, high-quality spirits. Its whiskey, gin, rum, and bourbon selections have a growing regional following: In January, Weglarz visited Evansville for a meeting of the city's bourbon society.
Our sensory tour included a stop at Clementine's Naughty & Nice Creamery in Lafayette Square. The creamery has 40 boozy and vegan flavors to choose from: pumpkin toffee cake, pink champagne sorbet, mango tequila lime, honey lavender, challah bread pudding, and vegan tahini chocolate chip. You'd be hard-pressed not to please every palate in your travel group.
A quick drive through the 1,326-acre Forest Park reveals the enduring appeal of the site of the 1904 World's Fair. The 147-year-old public park balances forests and nature reserves with five of the region's major cultural institutions, attracting millions of visitors annually. If smaller arts venues are more your style, catch a show at .ZACK, a 202-seat black box-style theater in the historic Cadillac building in Grant Center.
Given the city's well-established French links — it was named for Louis IX, after all — dinner at Bistro La Floraison gave us the chance to sample that influence translated into food. A new venture by the team behind Take Root Hospitality, the bistro offers more than 40 French fine wines as well as Maine oysters in fermented chili hot sauce, Gruyère mousse with sea salt, and an earthy Fromage Floraison.
Craving a jolt of energy fit for the whole family? Head to City Museum, a 600,000-square-foot playground set in an old shoe factory — think brightly colored cylinders spinning along the winding, Gothic wrought iron staircase and shimmering glass-laden floor mosaics arranged in the shape of giant rainbow fish. The brainchild of sculptors Bob and Gail Cassilly, the multi-level museum's attractions include caverns and tunnels, a treehouse, a rooftop slide, and more than 29,000 colorful artifacts from around the world. As this issue of Evansville Living went to press, one of the 27 lofts above City Museum — with the same weirdly fantastic details as below deck — went up for sale and rightly landed on Zillow Gone Wild.
A proper visit to St. Louis involves a nod at the city's beer-making culture, and before departing, we raised glasses of IPAs, ciders, and sour ales at Schlafly's Midtown tap room. Over plates of poutine with cheese curds and Jagerschnitzel bathed in a mushroom-bacon sauce, the conversation turned to the city's already strong and still-burgeoning sports scene. Cardinals baseball and Blues hockey games remain big draws, but new are the Battlehawks of the revived XFL playing at The Dome at America Center and St. Louis City SC, a Major League Soccer expansion team that held its first home game on March 4 at the new CITYPARK. A testament to its "Sports City" reputation, no stadium is more than a 1.5-mile walk from the others in Downtown St. Louis. With spring soon in bloom, we sense a sporting event-laden long weekend is on the horizon.
Plan With:
EXPLORE ST. LOUIS explorestlouis.com
Dine Here:
CINDER HOUSE AND BAR cinderhousestl.com
THE CLOVER & THE BEE thecloverandthebee.com
CLEMENTINE'S NAUGHTY & NICE CREAMERY clementinescreamery.com
BISTRO LA FLORAISON bistrolafloraison.com
SCHLAFLY TAP ROOM schlafly.com
Go Here:
UNION STATION stlouisunionstation.com
GRANT'S FARM grantsfarm.com
GATEWAY ARCH gatewayarch.com
STILL 630 still630.com
FOREST PARK forestparkforever.org
MISSOURI HISTORY MUSEUM mohistory.org/museum
THE .ZACK THEATRE kranzbergartsfoundation.org
CITY MUSEUM citymuseum.org