Saint Louis, Missouri has a long history of producing beer and spirits, as well as an abundance of homemade wine, but its talent for adult beverages reaches far wider than the historic Anheuser-Busch company. Next time you make the 167-mile trip from Evansville for a Cardinals baseball game, zoo excursion, museum outing, or anything else the Gateway City offers, here are four choice places to sit back and imbibe.
STILL 630
David Weglarz yearned to have his own distillery. When the Michigan native landed in Saint Louis, where his wife has roots, he found Missouri laws to be accommodating. Inspired, he's transformed a former Hardee's into StilL 630, a spot to partake in and produce some of the finest spirits around.
The name is symbolic. The last "L" is capitalized — a nod to the city's "STL" abbreviation. The number 630 references the Gate- way Arch's height and width, the business' founding date of June 30, 2011, and the serial number of its Missouri-made pot still.
"We're a small but mighty little distillery right here in Downtown Saint Louis," Weglarz says.
How mighty? Products made by StilL 630 are in about 400 bars, restaurants, and stores. Top sellers include RallyPoint Straight Rye Whiskey, Missouri Straight Bourbon Whiskey, and the recently rebranded Confluence American Gin, which in May was named Best Craft Gin in the country by the American Distilling Institute.
4 HANDS BREWING CO.
It's hard to pass up a cold craft beer. While in Saint Louis, one place to fill your glass is 4 Hands Brewing Co.
Making its debut in 2011 in the LaSale Park neighborhood, 4 Hands has around 20 beers on tap, and it brews more than 40 varieties in a year. Eclectic samples include City Wide American pale ale, malty-noted Incarnation IPA, Belgian-style Ripple White Ale, citrusy Fountain Sodie, and fruit-flavored Sparkler Seltzer.
A new brew is inspired by the 1980s animated TV series franchise "Voltron," a collaboration involving NBC Universal and Saint Louis-based World Events Productions.
The brewery's full, family-friendly restaurant serves food by Saint Louis restaurateur Kevin Nashan. Menu choices like the Frisco melt and Phili bologna "are high fat, and the beer cuts through it really nicely," says Kevin Lemp, the brewery's owner and founder.
OLIVE + OAK
After opening in January 2016, Webster Groves eatery Olive + Oak has appeared on several best-restaurant lists in Saint Louis.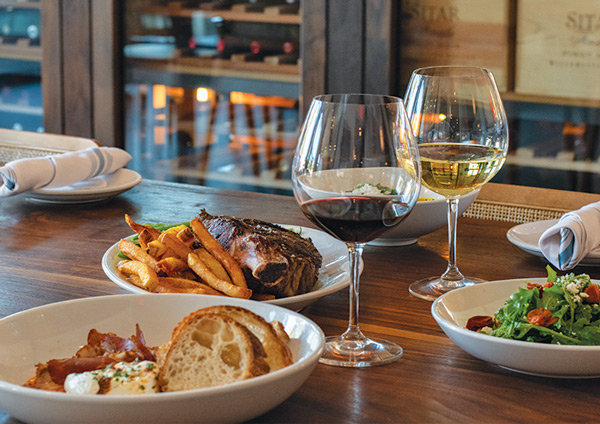 "We set out to be just a neighborhood restaurant, timeless, a place that will be here for the community for a long time," says Mark Hinkle, who with Greg Ortyl owns Olive + Oak. "We live in the community, and we want to have a place where people are comfortable and want to come back time and time again."
Olive + Oak offers about 20 wines by the glass, and its bottle list is 24 pages long.
"Our wine is from all over the place," Hinkle says. "We work with any wine-producing countries. We do a lot of domestic wine, but source from all over the world."
The Armory STL is an immense, high-sensory experience. Built in 1938 for the Missouri National Guard, it later was used as a sports and concert venue. Now, this 250,000-square-foot space on Market Street in Midtown offers drinks and food served at six bars, more than 40 interactive games and activities — including a two-floor slide — and a stage for live entertainment.
The Armory capitalizes on pregame and postgame sports business, as well as corporate and private gatherings, and those with a thirst for something new, exciting, and different. There's a robust menu of mixed drinks — some served in 64-ounce shareable bottles — draft beers, and spirits, but don't limit yourself to what's in your glass.
"This is a place where you can do more than have a drink," says Phil Hulse, found- er and CEO of Green Street Real Estate Ventures, which launched The Armory STL in December 2022. "You can entertain yourself."